At today's press event, Apple announced its all-new, long-awaited MacBook Pro in 13-inch and 15-inch versions, the first major redesign for the company's high-performance laptop line since 2012. The all-metal laptop is ditching MagSafe for USB-C and physical function keys for a secondary touch OLED Retina display.

The biggest update is a new touch panel called the "Touch Bar."
It's a skinny OLED Retina screen that changes based on which app is open. Its multi-touch display responds to gestures and taps. The panel can show contextual controls: music playback controls when iTunes is open, bookmarks in Safari, autocorrect and QuickType suggestions when typing, or Apple Pay when you're shopping online.
There's a Touch ID fingerprint sensor built into the Touch Bar, where the power button would typically be. You can use Touch ID to log in to your computer and authenticate Apple Pay.
Here are some examples of how the new bar works.
In the Messages app for Mac, it'll show an ~*emoji bar*~. It shows your frequently used emoji first. There's a neat tab preview feature in Safari. Just tap on the tab you want to go to. In Photos, you can scroll through the photo library, similar to the Camera Roll on the iPhone. Touch Bar has dedicated image editing shortcuts like rotate. For any edits that use sliders (like brightness and exposure), you can use your finger to adjust the slider back and forth.
FaceTime calls can be answered right from the Touch Bar. There's support for Terminal, Xcode, iMovie, GarageBand, and the entire iWork suite.
You can customize the Touch Bar with "Do Not Disturb" or shortcuts for brightness. Touch ID can recognize fingerprints for multiple users. If someone else scans their fingerprint, the OS will open in their account.
There are contextual commands in Photoshop, Pixelmator, Microsoft Office, and Final Cut Pro as well.
The laptop's keyboard is shedding its top row to accommodate the secondary display strip. That means no more F keys, ESC, or dedicated power button. But you can press and hold a function key to bring digital function keys back up.
It's also thinner and lighter.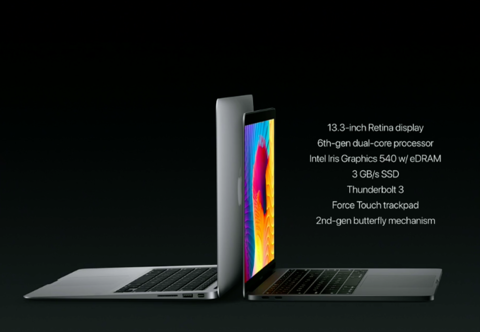 The new MacBook Pro is also slimmer, thanks to flatter, more shallow MacBook-style keys. The 13-inch model is 14.4 millimeters thick, making it 17% thinner than the previous version, which was 18 millimeters — and 12% thinner than the current MacBook Air. The 15-inch model is 15.5 millimeters thick versus 18 millimeters in the previous generation.

They're lighter, too. The 13-inch is three pounds, while the 15-inch is four pounds. Both are a half pound lighter than last year's model.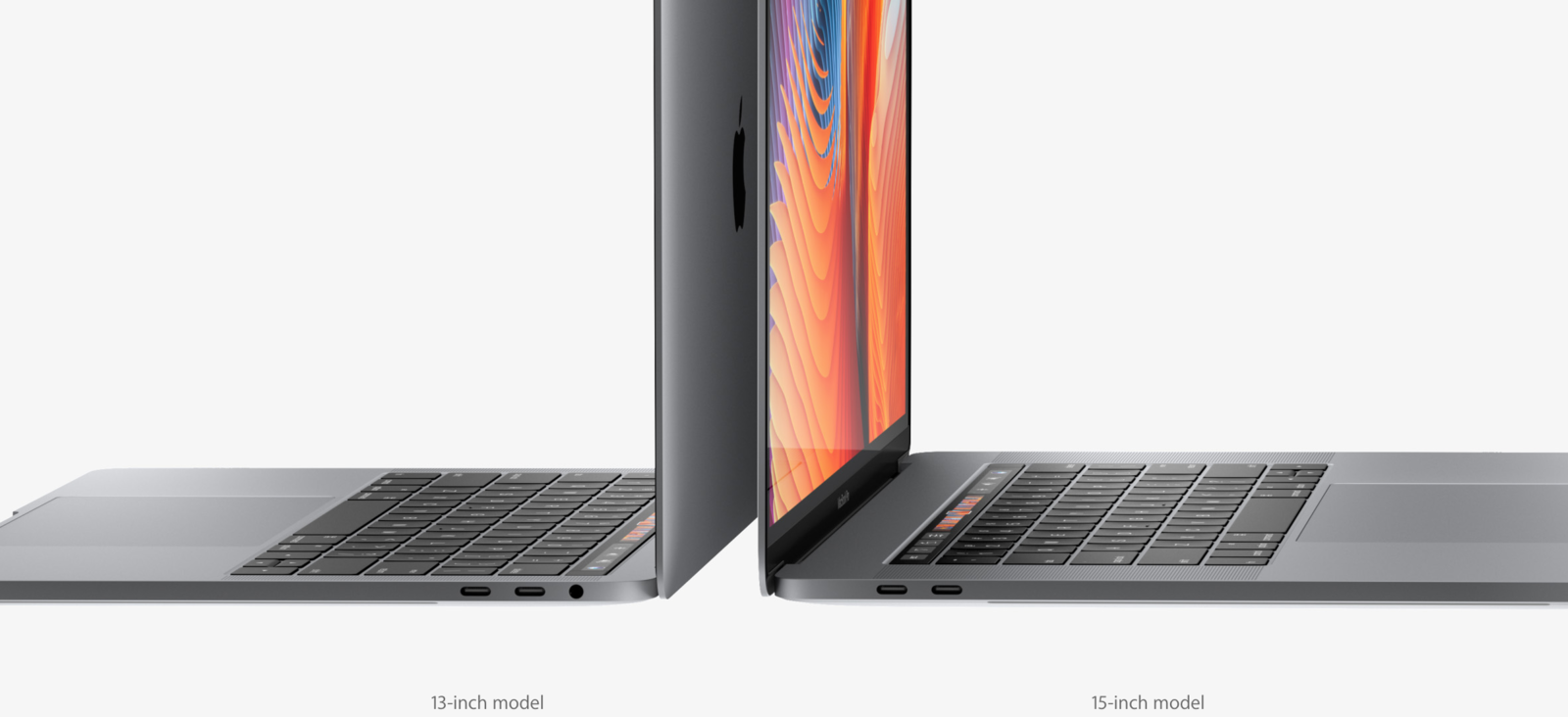 Because the bezels around the keyboard and screen are slightly thinner, the MacBook Pro has a smaller footprint with the same 15-inch display.

The new MacBook Pro has four USB-C ports, compatible for charging, Thunderbolt 3, DisplayPort, HDMI, and VGA. Apple did *not* remove the headphone jack in its newest laptop.
The MacBook Pro's internals have been upgraded too.
Under the hood, there's a new higher-performance processor and graphics chip.
The 15-inch MacBook Pro is powered by a quad-core Intel Core i7 processor and 2133 MHz memory. There's an AMD Radeon Pro graphics chip with Polaris architecture, 4GB VRAM, and up to 2TB of storage. The solid-state drive offers speeds up to 3.1GB per second.
The 13-inch version has a similar setup. It can be configured with a dual-core Intel Core i5 or i7 processor, integrated Iris graphics with 64MB eDRAM, and up to 2133 MHz of memory. The solid-state drive also offers 3.1GB-per-second speeds.
The Retina screen's brighter by 67%, has a 67% higher contrast ratio, and has 25% more colors than the previous version. Both models have 10 hours of battery life.
The Force Touch trackpad is twice as large as last year's model.
It's the first computer to ship with the Mac operating system Sierra, which includes Siri for desktop, a storage management tool, iCloud desktop, a new photos app, and Messages for Mac updated with screen and bubble effects.
There's also a new speaker design that has twice the dynamic range of audio than the previous model.

There's now a ~new color~.
The 2016 MacBook Pro ships in two to three weeks and starts at $1,799 for the 13-inch and $2,099 for the 15-inch. It's available in silver and space gray.

Another model will also be available for $1,499: a cheaper 13-inch version without the Touch Bar. This MacBook Pro will also be available with traditional function keys and two USB-C ports, to sway MacBook Air users to upgrade.

The MacBook Pro line has been in obvious need of refreshing.
The last major update was the announcement of the first Retina display model in 2012. Since then, Apple has beefed up the line's processors and graphics chips and, last year, increased the battery life and added a Force Touch trackpad to both 13-inch and 15-inch versions.

In an earnings call earlier this week, Apple said it had sold 4.9 million personal computers this quarter, marking four consecutive declining quarters and a 14% year-over-year decrease in Mac sales.
The new MacBook Pro could energize Apple's falling computer sales.