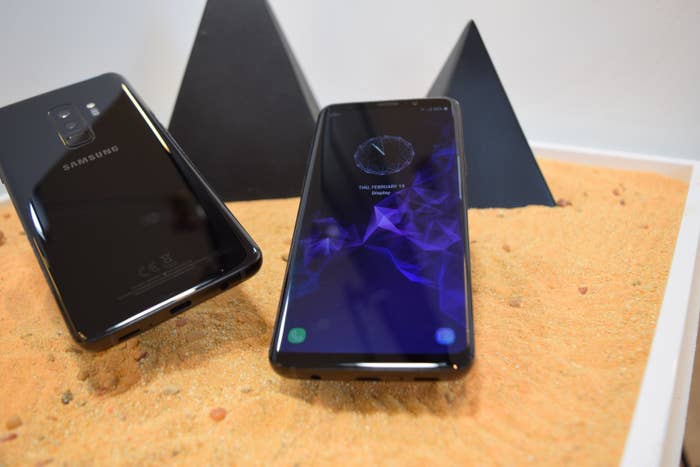 Today, Samsung unveiled this year's version of its top-of-the-line phone, the Galaxy S9.
With its nearly bezel-less display, curved edges, and Samsung's artificial intelligence software Bixby, the new Galaxy S9 looks the same, feels the same, and does many of the same things that last year's Galaxy S8 can do, with a few exceptions. The 9 comes with "super slow-mo videos," which is exactly what it sounds like, new Bixby capabilities, and "AR Emoji," which are custom, augmented reality–powered animations that look like a cross between the iPhone's Animoji and Bitmoji.
But it's still got Samsung-y features too, like a microSD slot for expanding storage up to 400GB, water resistance, wireless charging, and — drumroll — a HEADPHONE JACK. *crowd erupts in cheers*
There are two new phones: a smaller, 5.8-inch Galaxy S9 and a larger 6.2-inch Galaxy S9+.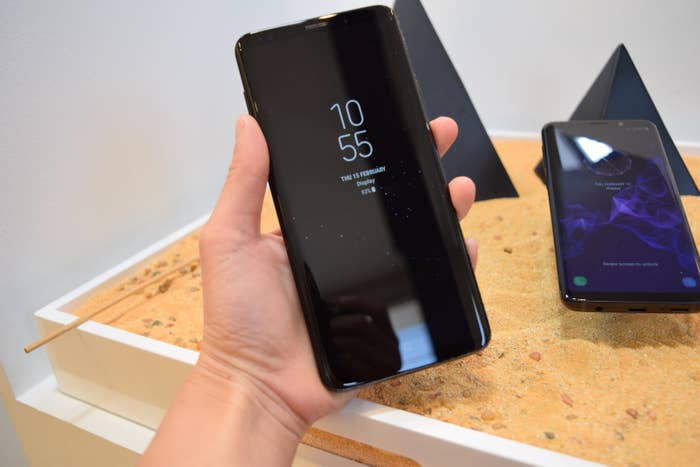 They look a lot like last year's Galaxy S8 and S8+.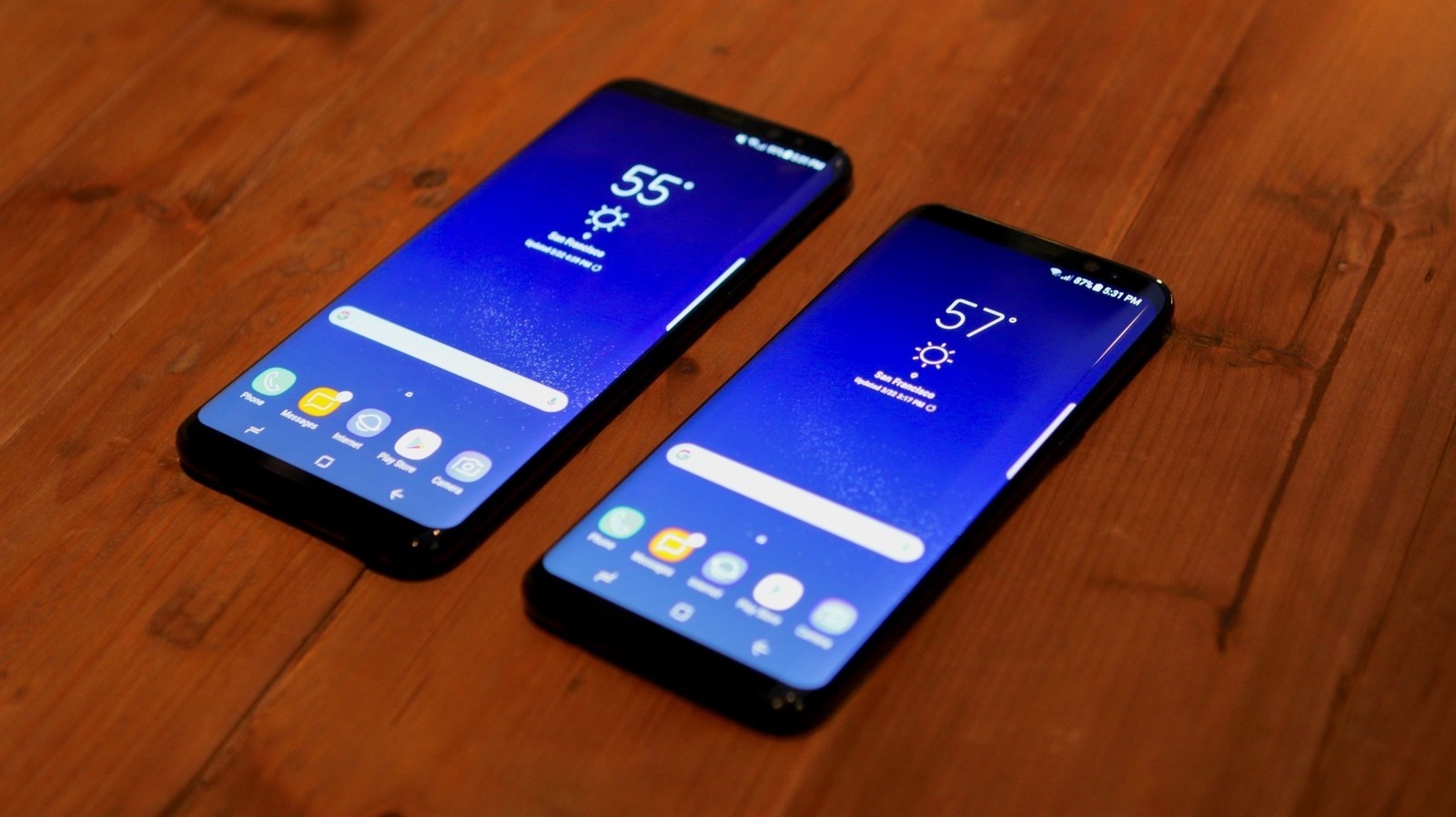 A tiny bit of the bezel — 1.2 millimeters — has been removed from the Galaxy S8's design, so the Galaxy S9 really does just feel like mostly screen and little else.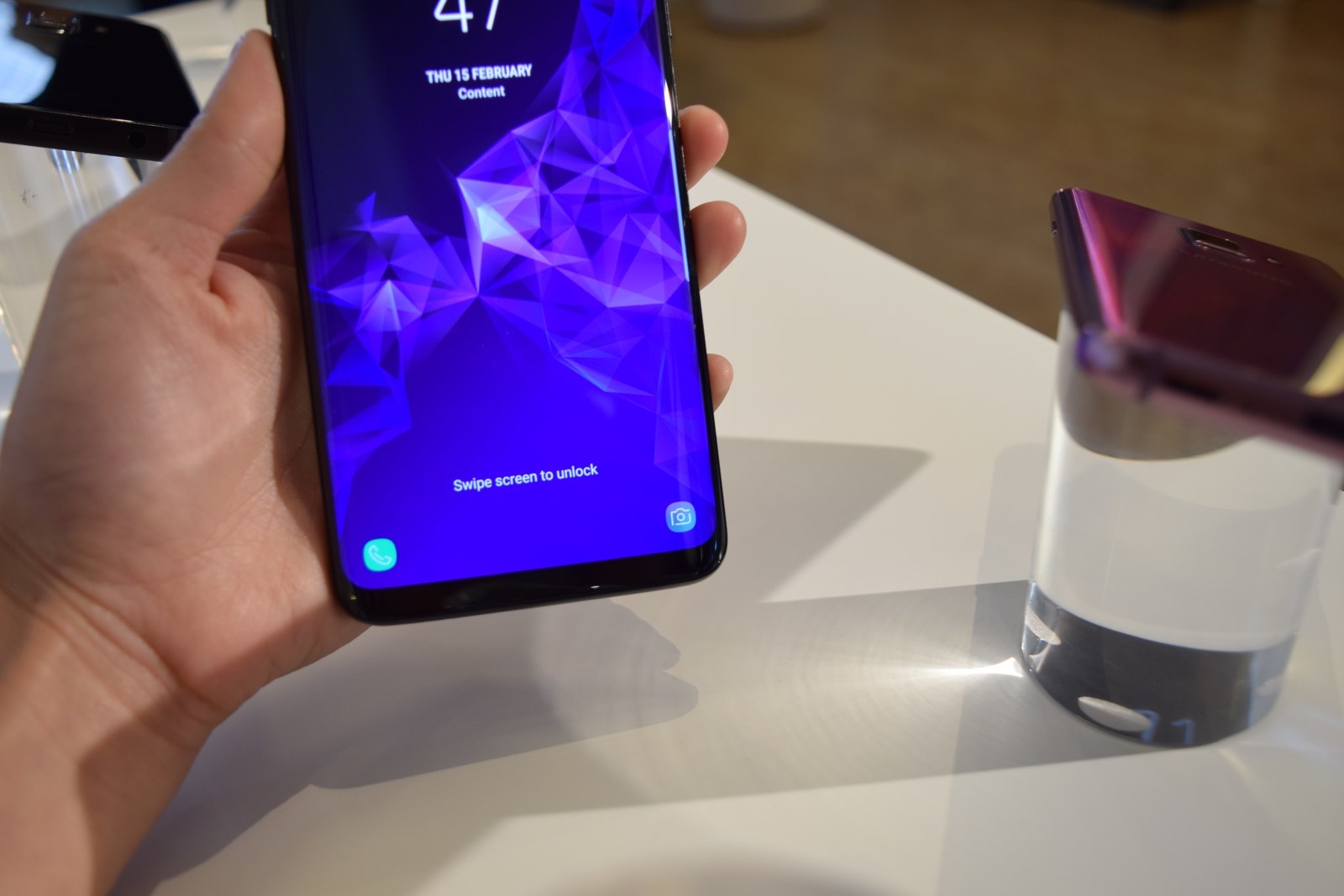 The display is brighter too, by 15%. Last year's Galaxy S8 already felt very bright, like they'd eventually burn my retinas.
Samsung reps wouldn't say what the new phone's battery life, which is determined by screen brightness, app usage, and other behaviors, is — just that the S9 has "all-day battery life."
The smaller S9 still has one camera lens (boo).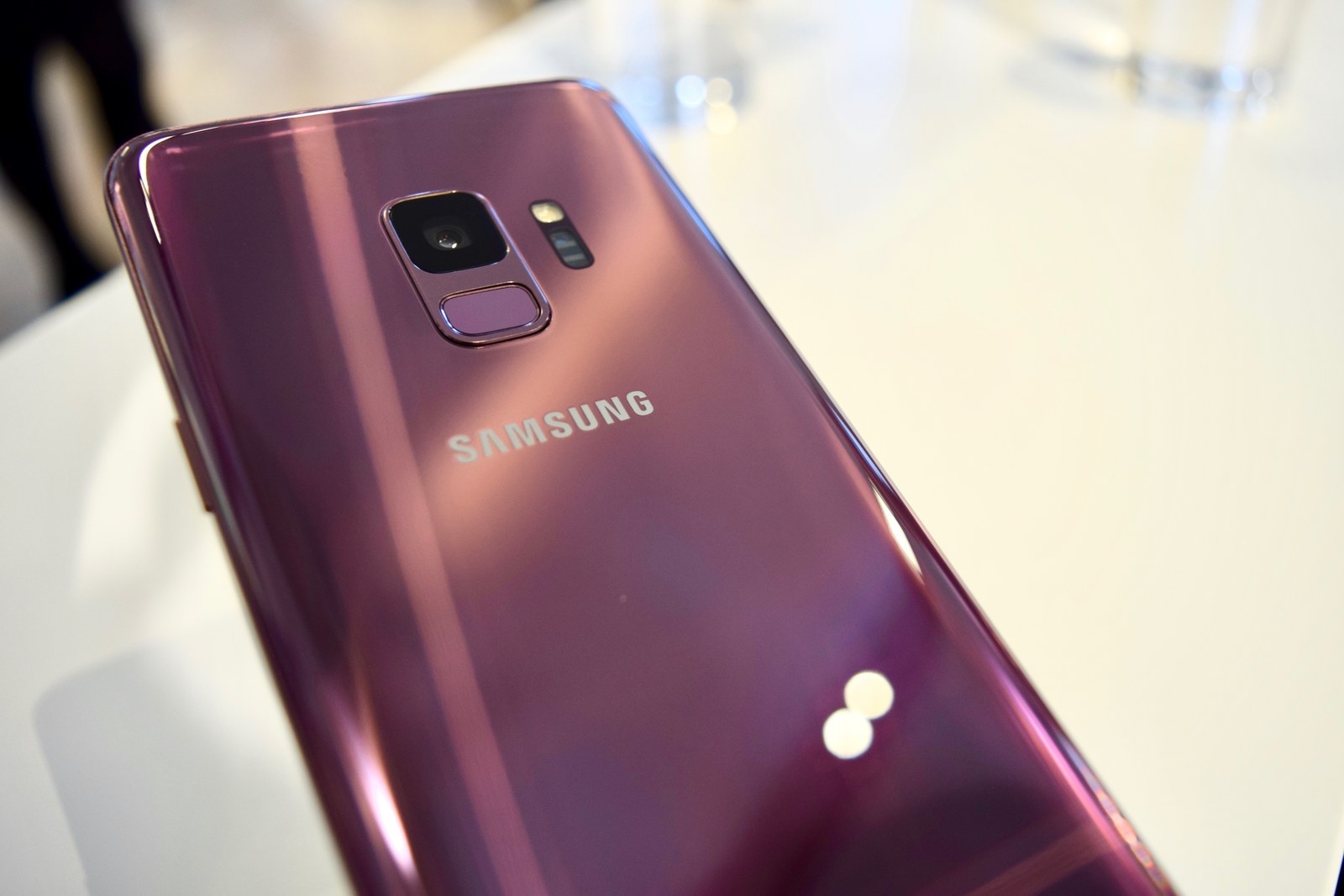 But the larger S9+ has two camera lenses, a telephoto lens for zooming in and a wide-angle lens for normal pics of things like your lunch or your dog.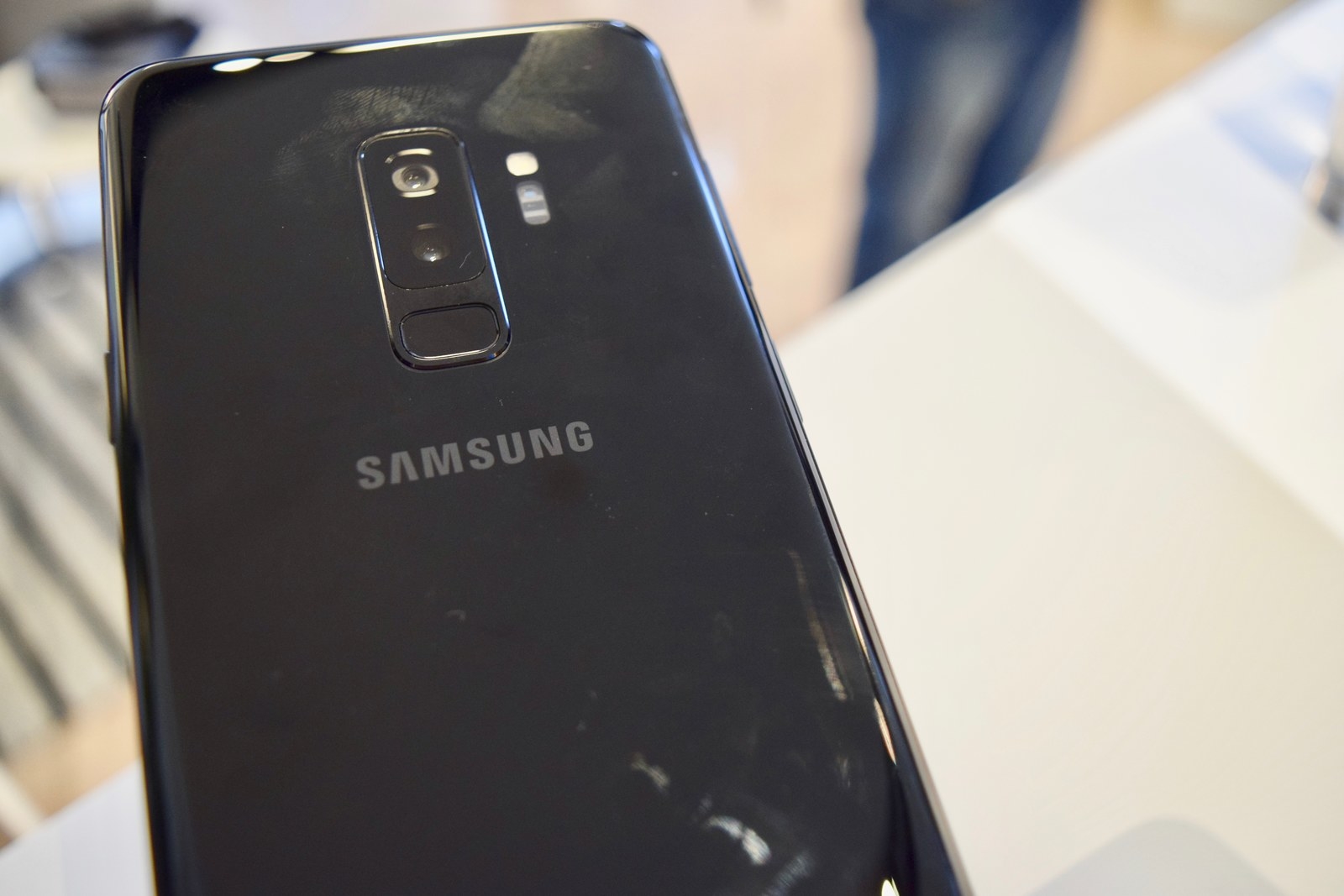 After Apple debuted the iPhone 7 Plus's two-lens setup, Samsung introduced a dual lens in its giant phone, the Galaxy Note 8, which, at the time, I deemed the best phone camera Samsung's ever made.

The camera on both phones has a new low-light capability as well.
Here's the technical bit for people who care: When you're taking a picture with the S9, the lens senses whether it's a dark or bright scene. If it's a dark scene, it'll adjust its aperture from f/2.4 to f/1.5 (the S8's only went up to f/1.7). This basically means it can let in 28% more light now, so your pics from ~the club~ will actually turn out.
Through some software magic (specifically, capturing 12 photos, choosing the best of those three photos, and creating a composite), the photos taken by the S9 have 30% less "noise" or grain than the S8, meaning they look sharper, clearer, and less like that Georges Seurat painting of people in a park.
That brings me to s u p e r s l o - m o.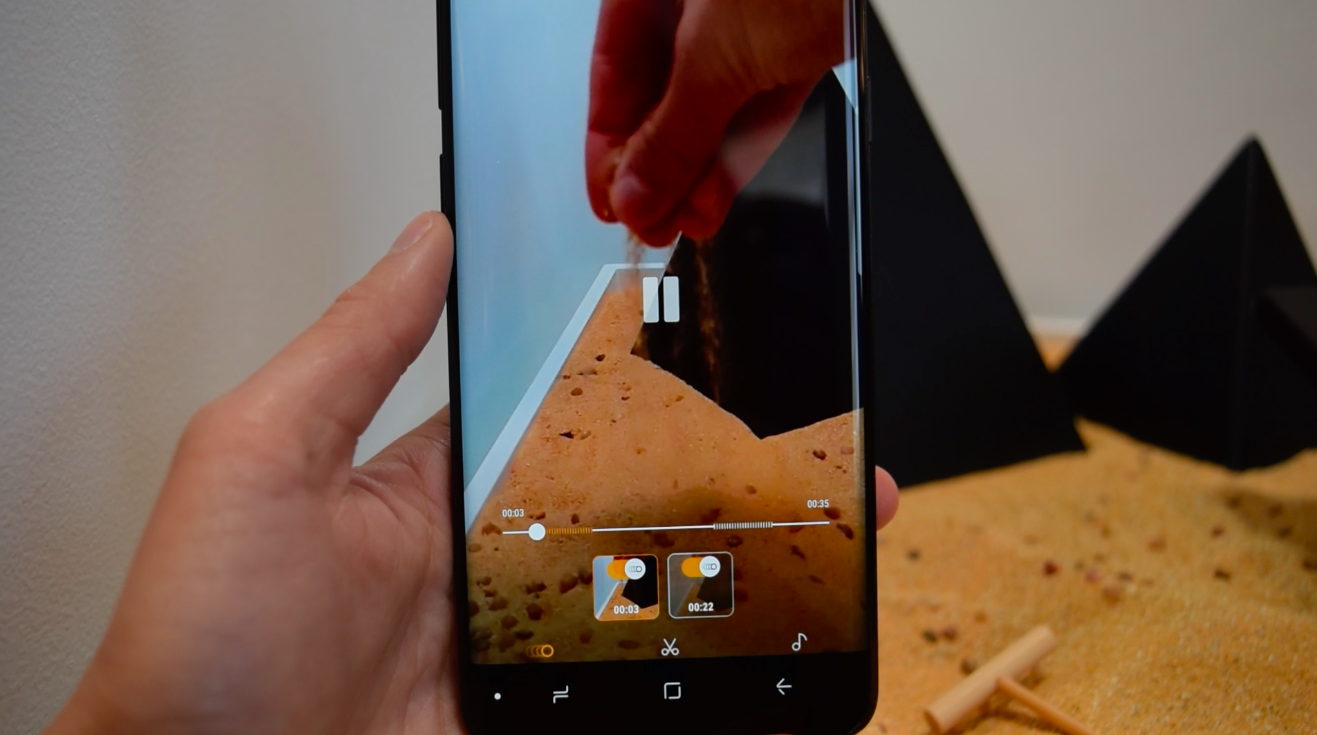 The Galaxy S9 can capture 960 frames-per-second video — in other words, super slow-motion — which is impressive, because most phones can only capture up to 240 fps. But only at 720p resolution (the iPhone 8 and X can capture 240 fps at 1080p). You can manually shoot super slo-mo, but Samsung's built a new feature that can also capture The Action automatically, using motion detection.
When it detects change in the frame, it'll auto capture the footage at 960 fps, and, because Samsung, set the footage to tacky music. :)
Nicole Nguyen / BuzzFeed News
(soundtrack not included)
AR Emoji is Samsung's version of Bitmoji.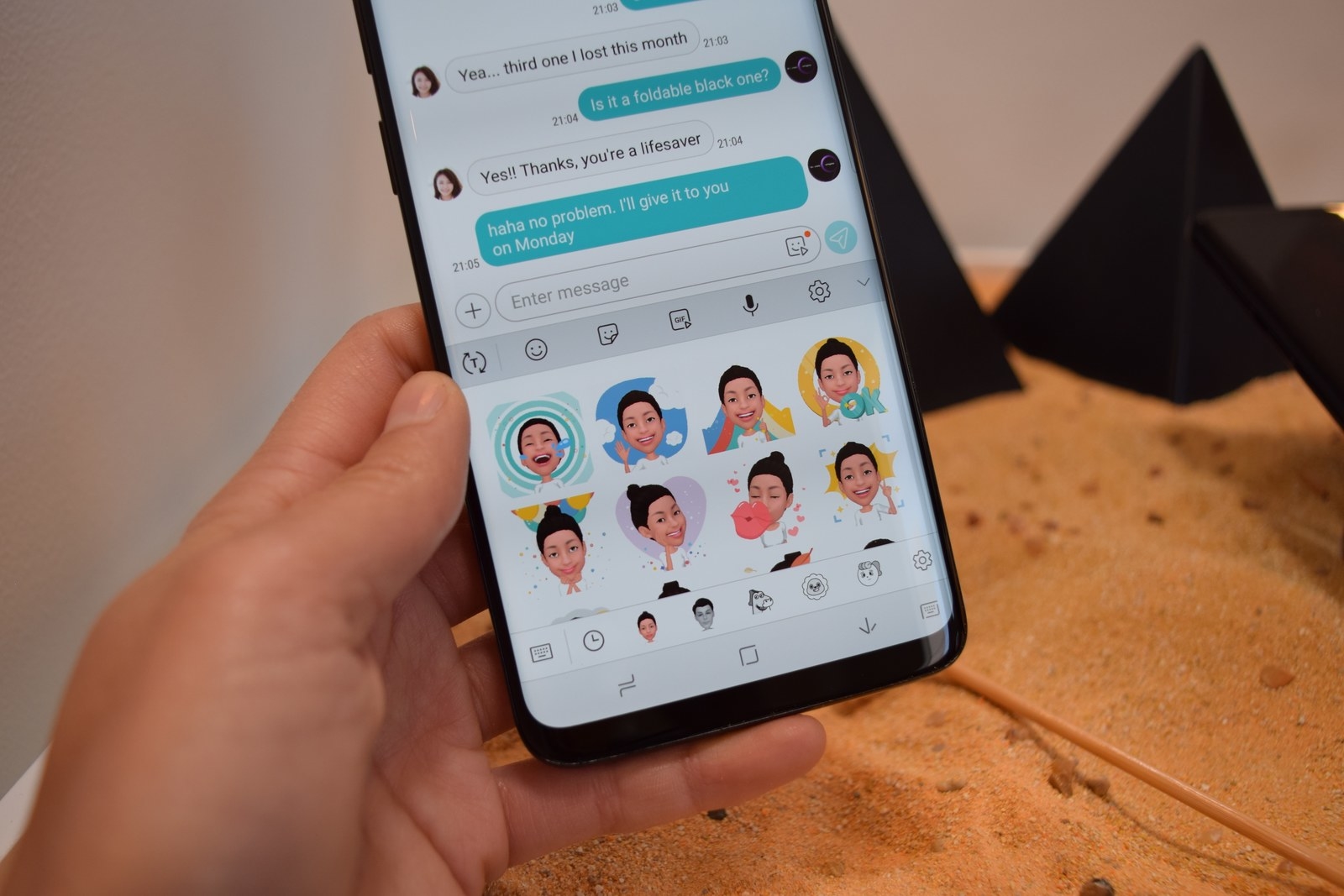 You can now make custom, textable animations via Samsung's augmented reality technology. The software taps into the front-facing camera to scan your face. After the scan, you can choose clothing and accessories.

Here's what I looked like the day of the Galaxy S9 briefing.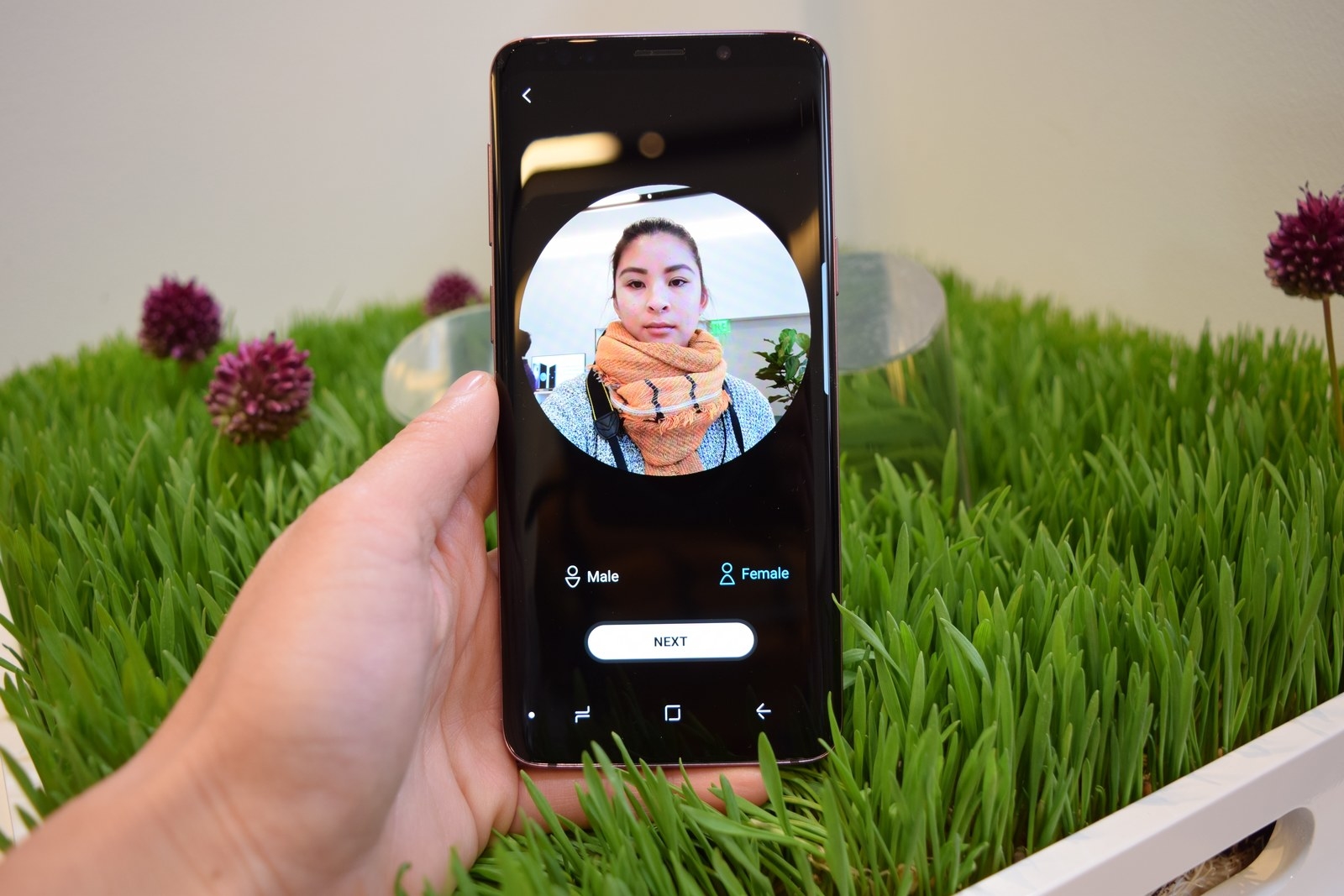 Here's the resulting emoji.
The eyebrows are pretty good. Weird hairline, tho.

Speaking of strange things the Galaxy S9 does with your face, the phone can now apply digital makeup from CoverGirl and Sephora.
It's part of the phone's "new" Bixby upgrades, which are really just tools that are already available in the wild, but are now built in to Bixby. In other words, the S9 — and especially its new Bixby capabilities — doesn't feel like a huge upgrade from last year's Galaxy device.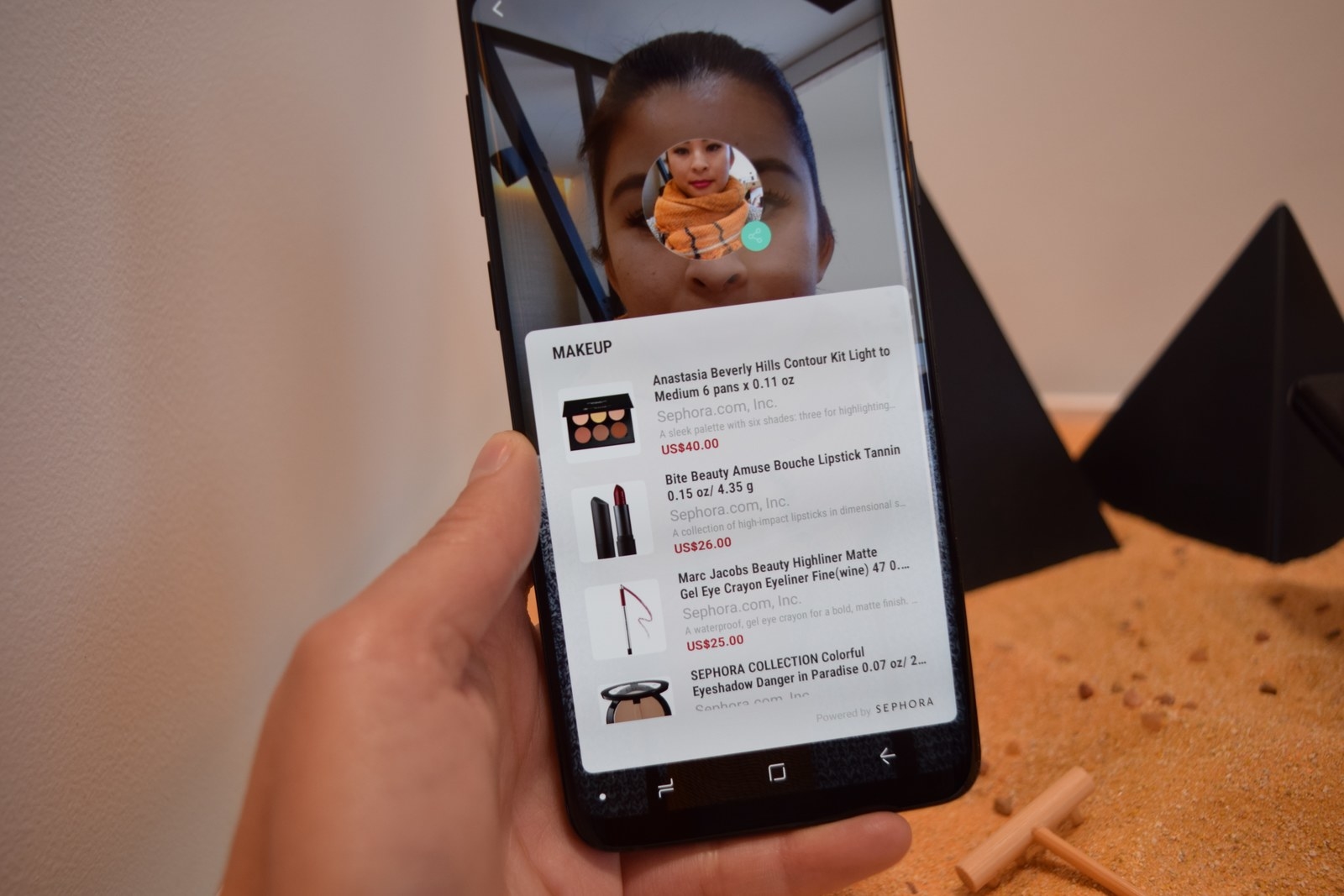 In the Bixby app, you can try on different makeup and "looks" before buying the products online. I nearly bought a lipstick shade before realizing it cost 50 whole dollars. AR makeup technology isn't new; it's just now built in to the Bixby app. Both Sephora and CoverGirl already have virtual makeup try-on apps.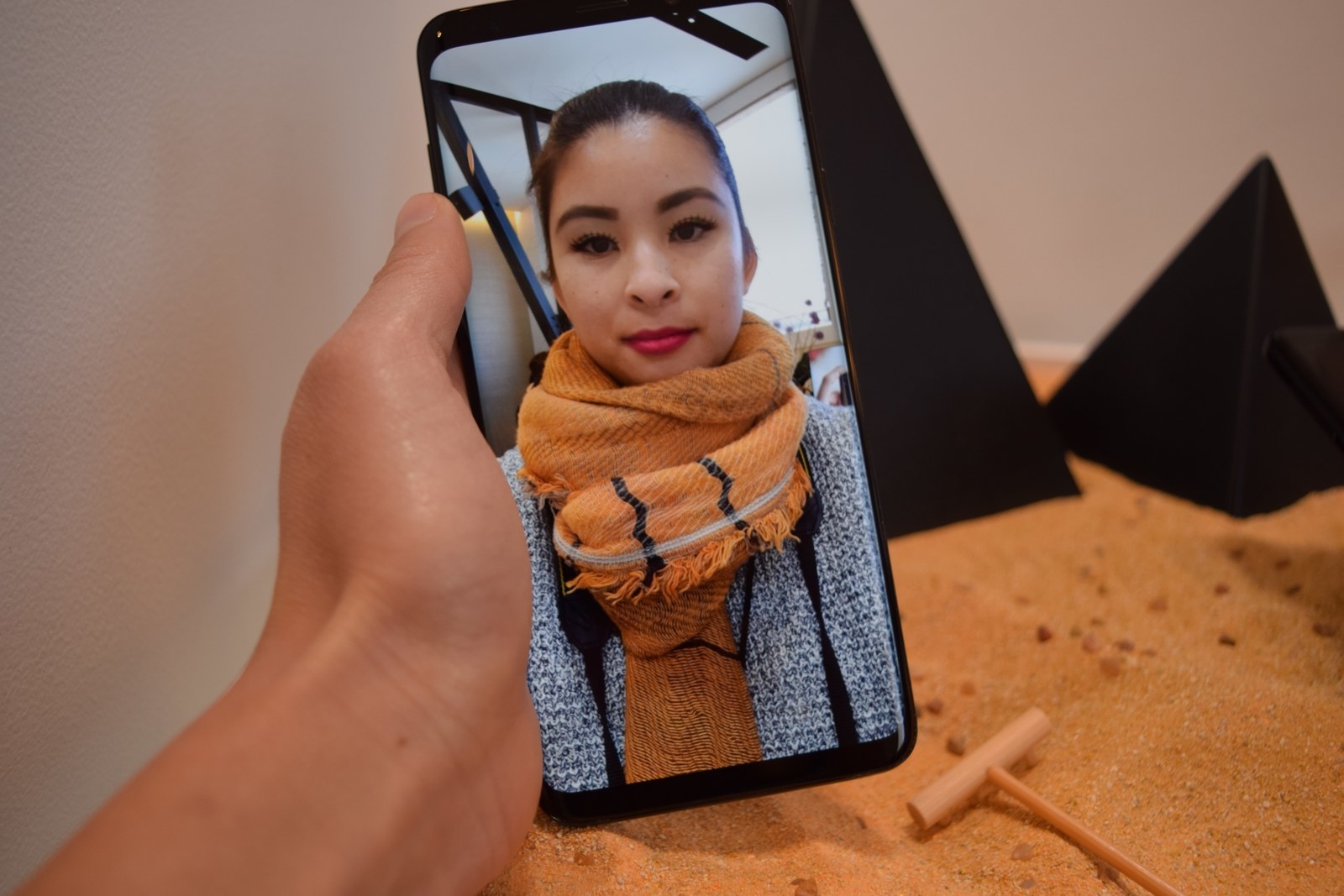 A Samsung rep confirmed that users uninterested in false eyelashes and eyebrow pencils can turn off the makeup feature in Bixby settings, but could not confirm whether Samsung would receive affiliate fees if a Samsung customer purchased a product through Bixby.

Bixby can also do live translation, allowing you to point your camera at, say, a sign and read what it says in your native language.
You can do the same thing — instant text translation — with the free Google Translate app. In fact, Bixby's live translation tool is powered by Google.
The speakers are better, too.
The S9 is the first with stereo (read: two) speakers, making its audio prowess 1.4 times louder, which could come in handy when showing your friends some random, viral YouTube video in the middle of the street.
That's the first look at the Galaxy S9 and S9+. Stay tuned for a full review, coming soon.
Preorders begin March 2 and ship March 16. Samsung hasn't announced carrier partners or pricing, but a spokesperson said it would be similarly priced to the S8 and S8+ (which start at $720 and $850 in the US, respectively).
Here's a breakdown of the S9's full specifications for ya nerds.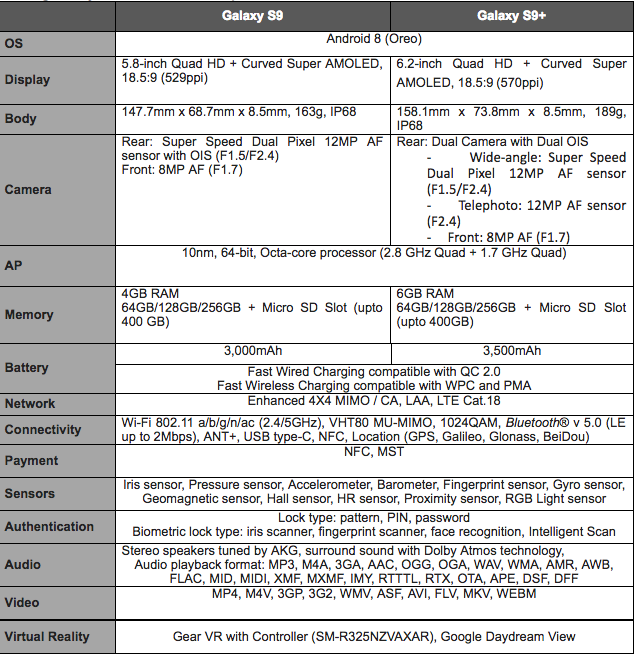 An unlocked version of the Galaxy S9 is $719.99, or $30/month for 24 months, and the larger unlocked Galaxy S9+ is available for $839.99, or $35/month for 24 months, sold through Samsung.com.

K bye.