Alexa! Echo! New!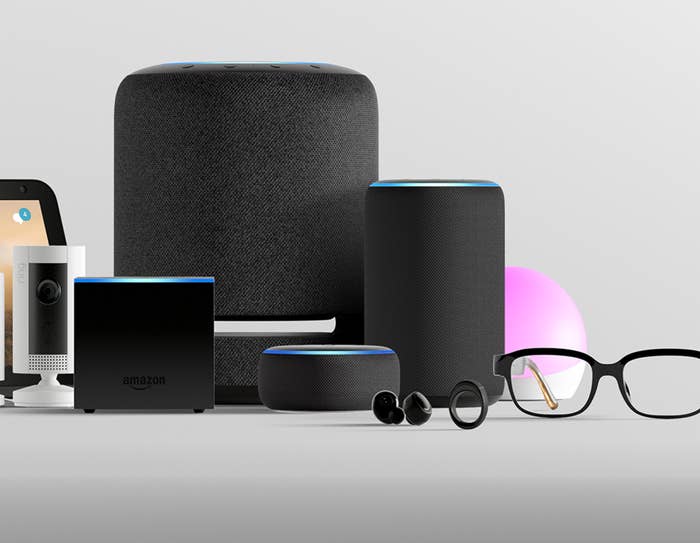 Dave Limp, senior vice president of Amazon devices and services, announced the company's new slate of products and features today.
The most notable releases: Echo Buds, wireless earbuds with Bose noise cancellation, and Echo Studio, a high-definition Alexa-controlled speaker. The event took place inside of The Spheres, a glass-encased orb filled with exotic fauna adjacent to Amazon's Seattle headquarters.
At a post-event reception, CEO Jeff Bezos made an appearance — and threw some shade at premium speakers like Apple's Homepod.
"I want to talk about Echo Studio. I've watched the product evolve over the past year and it's remarkable. It's a product that at a $200 price point outperforms many $500 products, and I hope the team is proud of what they've achieved," said Bezos.
The HomePod is currently $299, while Sonos' Play:5 speaker is $499.
Bezos also said he "welcomes regulation" as it pertains to privacy and facial recognition.
"I think there's a role for good regulations and a subpoena would be welcome by all the players. It makes a lot of sense for there to be some standards for how this all works. And that kind of stability would be healthy for the whole industry," he told the crowd.
On facial recognition regulation, which would affect the company's Rekognition business, Bezos said, ""It's a perfect example of where regulation is needed."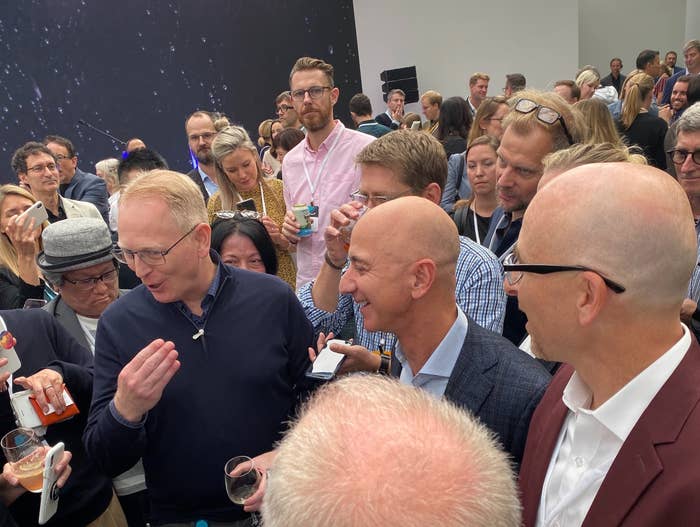 Amazon is shipping two experimental products: Echo Frames, eyeglasses with built-in Alexa and Echo Loop, a smart ring.
The two products are available by invitation only. Frames will be available for $180; the Loop, which has a microphone activated by a button tap, is offered for $130.
Echo Buds are Amazon's alternative to AirPods.
They're the same price as AirPods, $129, and available for preorder today. The wireless Bluetooth earbuds include five hours of battery life (20 hours including the case) as well as noise reduction by Bose. A double tap turns on noise reduction, and another double tap turns it off. Tap-and-hold activates your phone's native assistant, whether it's Siri or Google Assistant.
Ring Indoor Cam is an inside-only security cam that's also Ring's cheapest camera.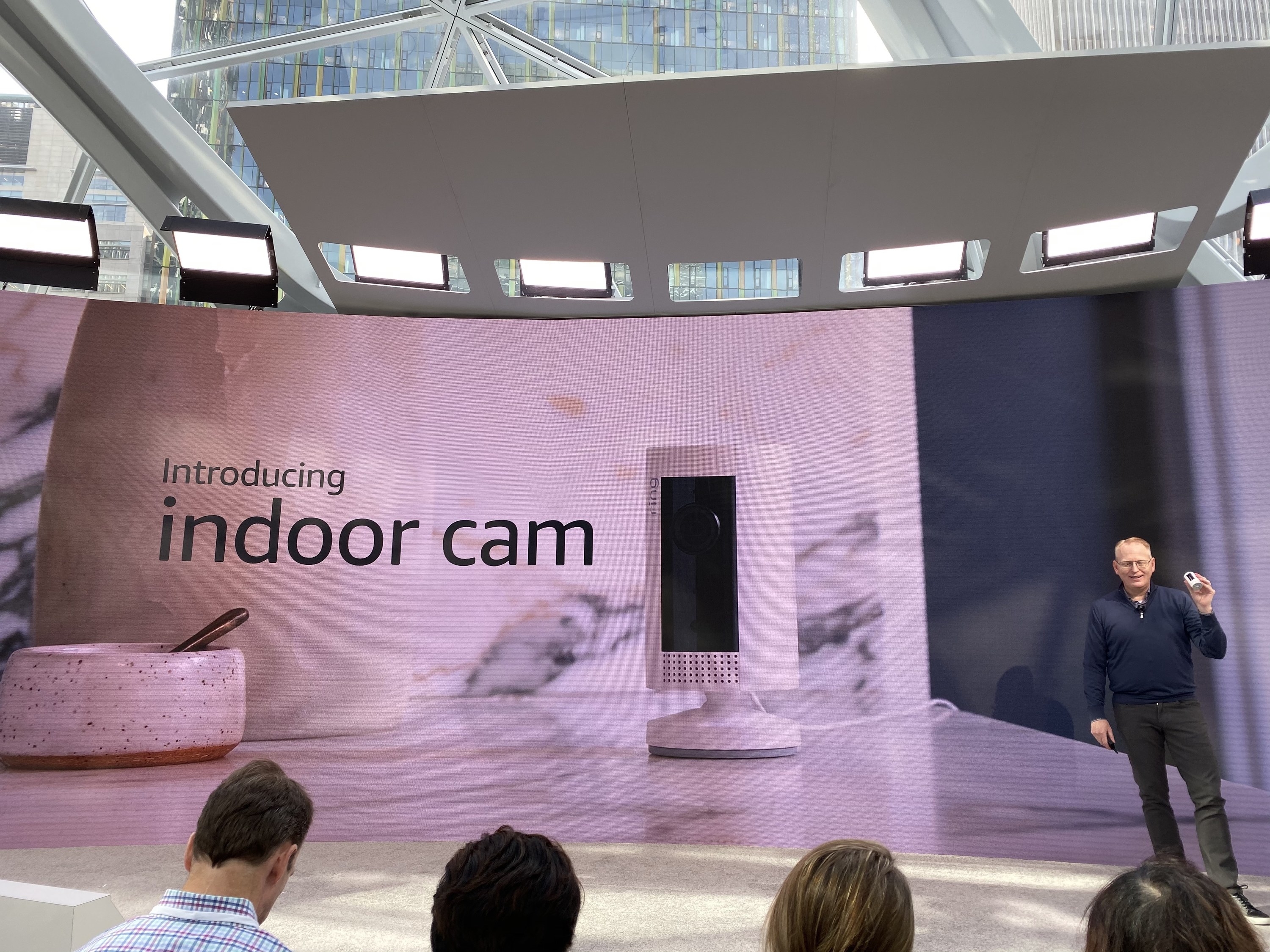 Ring Indoor Cam, available for $59, has a "home mode" feature that will disable audio and video recording when you are home, if you opt in.
Alexa Concierge can take messages from visitors and offer directions to delivery people via Ring's internet-connected video doorbells.
There's a redesigned Eero router.
Eero is a router company that Amazon acquired earlier this year. Today, Amazon announced a new redesigned version of the mesh Wi-Fi product, which is designed to be easier to set up and provides whole-home coverage through multiple nodes, instead of a single router.
The router can also be controlled by voice. New commands include "Alexa, turn on the guest Wi-Fi," "Alexa, pause Ryan's Wi-Fi," and "Alexa, turn off Playstation Wi-Fi." Asus and TP-Link routers will also include this Alexa capability.
The "all-new Eero" costs $99 and is available today in the US.
Echo Glow is essentially a smart nightlight, available for $29.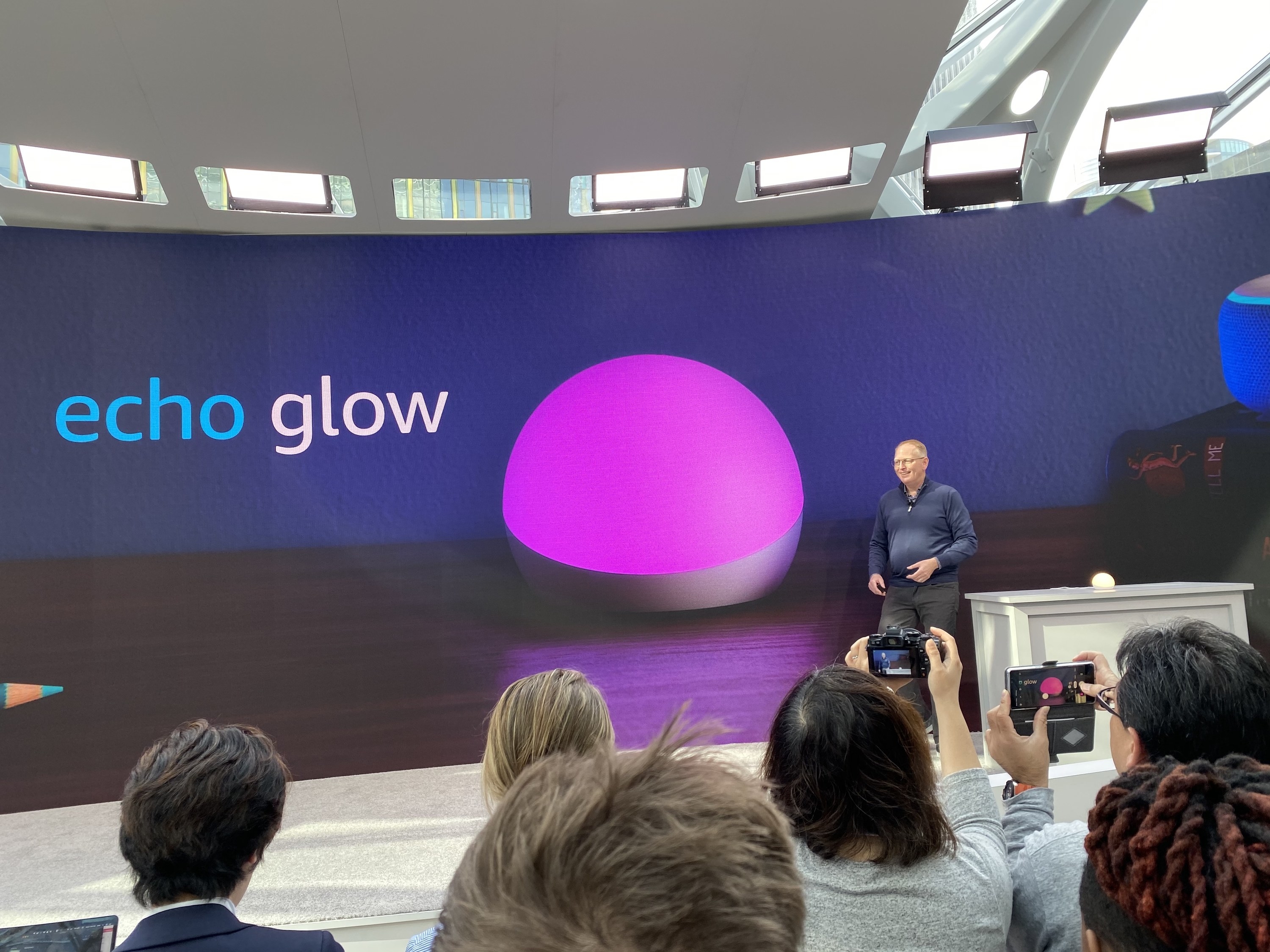 Amazon is leaning into more features for kids, including communications.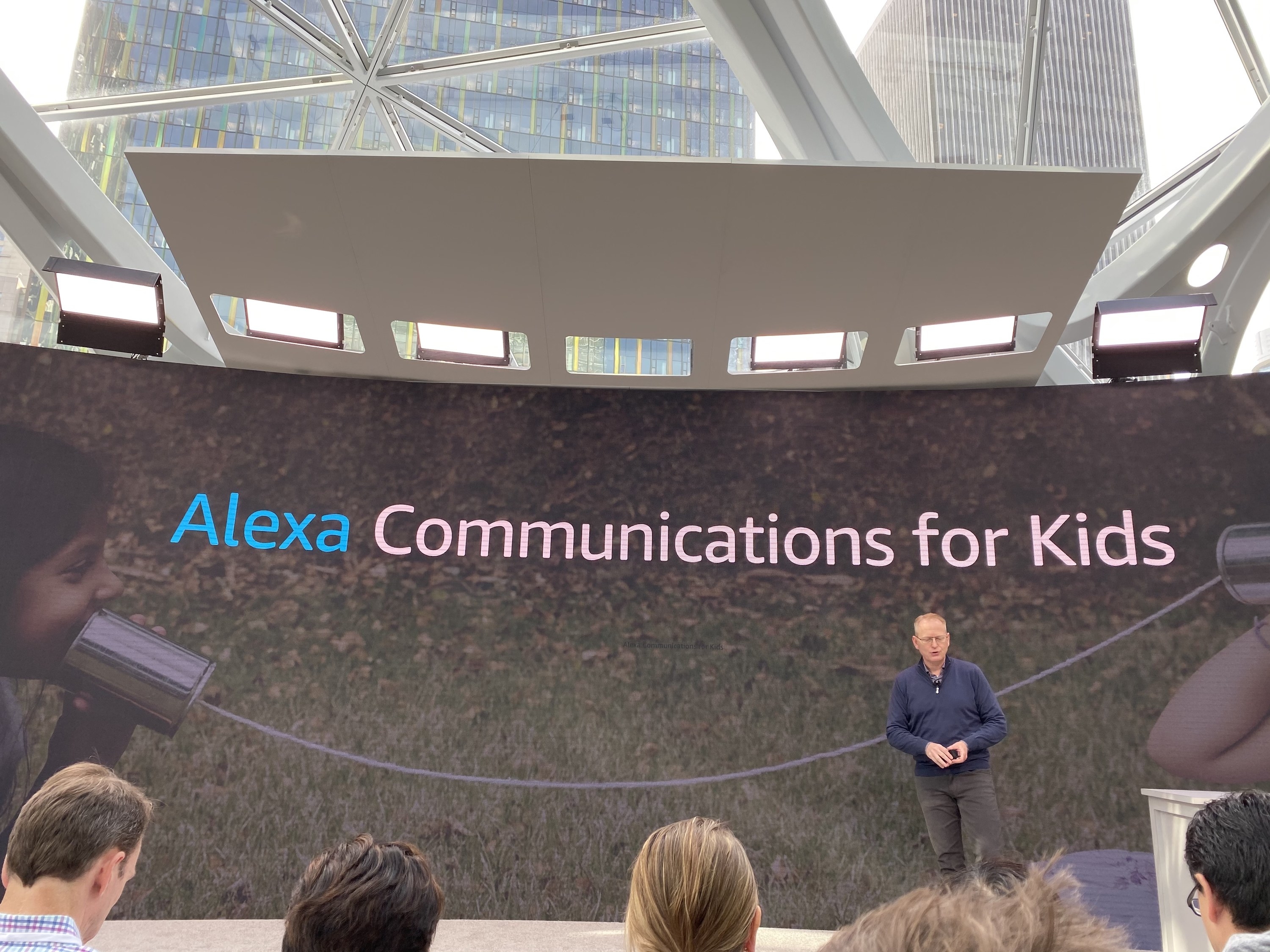 Parents must whitelist the contacts their kids can communicate with.
Echo Show 8 has a camera with a privacy shutter and an 8-inch display.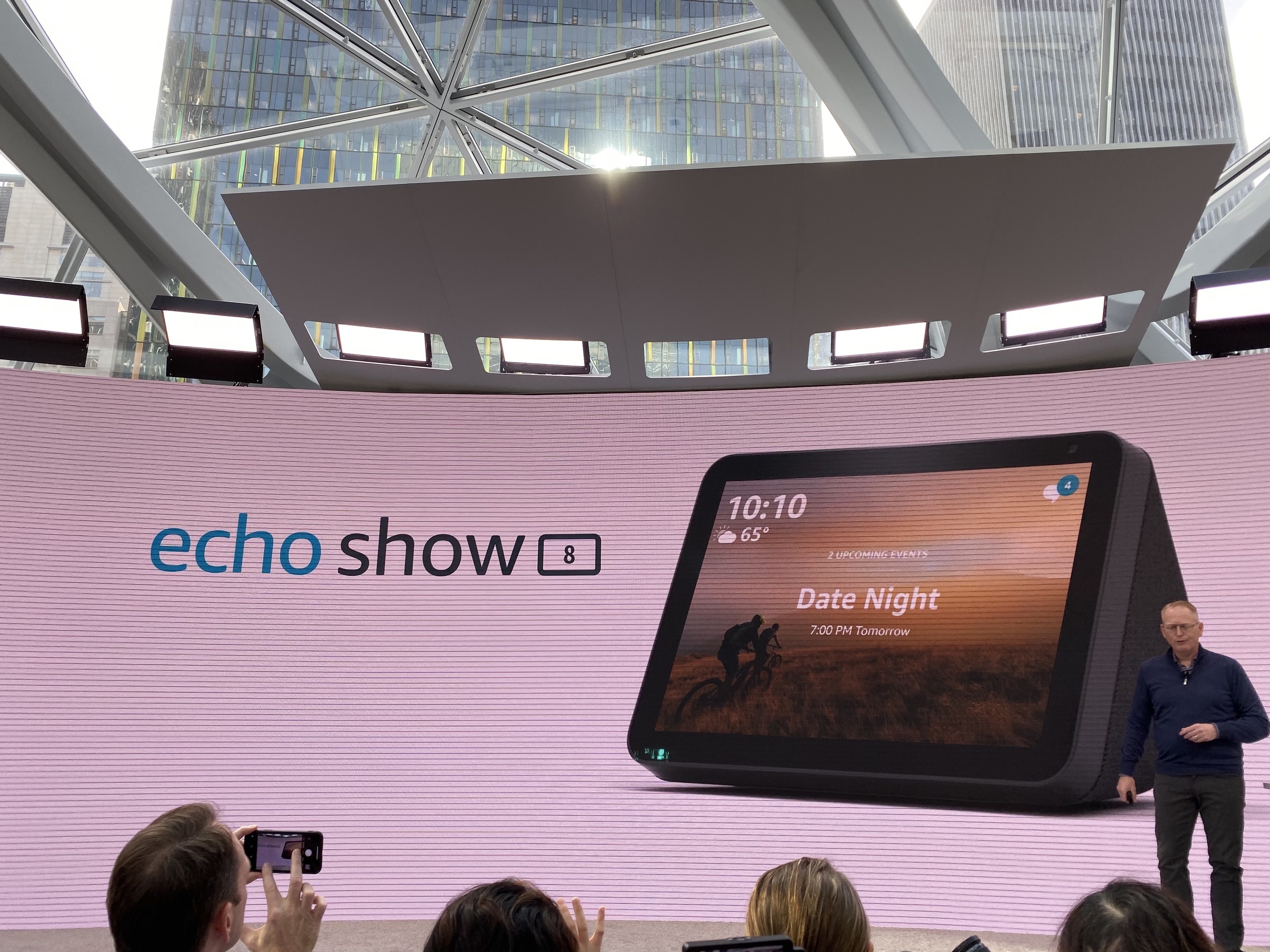 The new device costs $129 and can be preordered today. There are now three Echo Show offerings: a 5-inch, a 10-inch, and now this medium-sized 8-inch display.
The Show has a new recipe interface, including content exclusively from the Food Network.
Here's how the Echo Studio sounds.
Echo Studio is a new high-definition speaker offering 3D audio and Dolby Atmos support.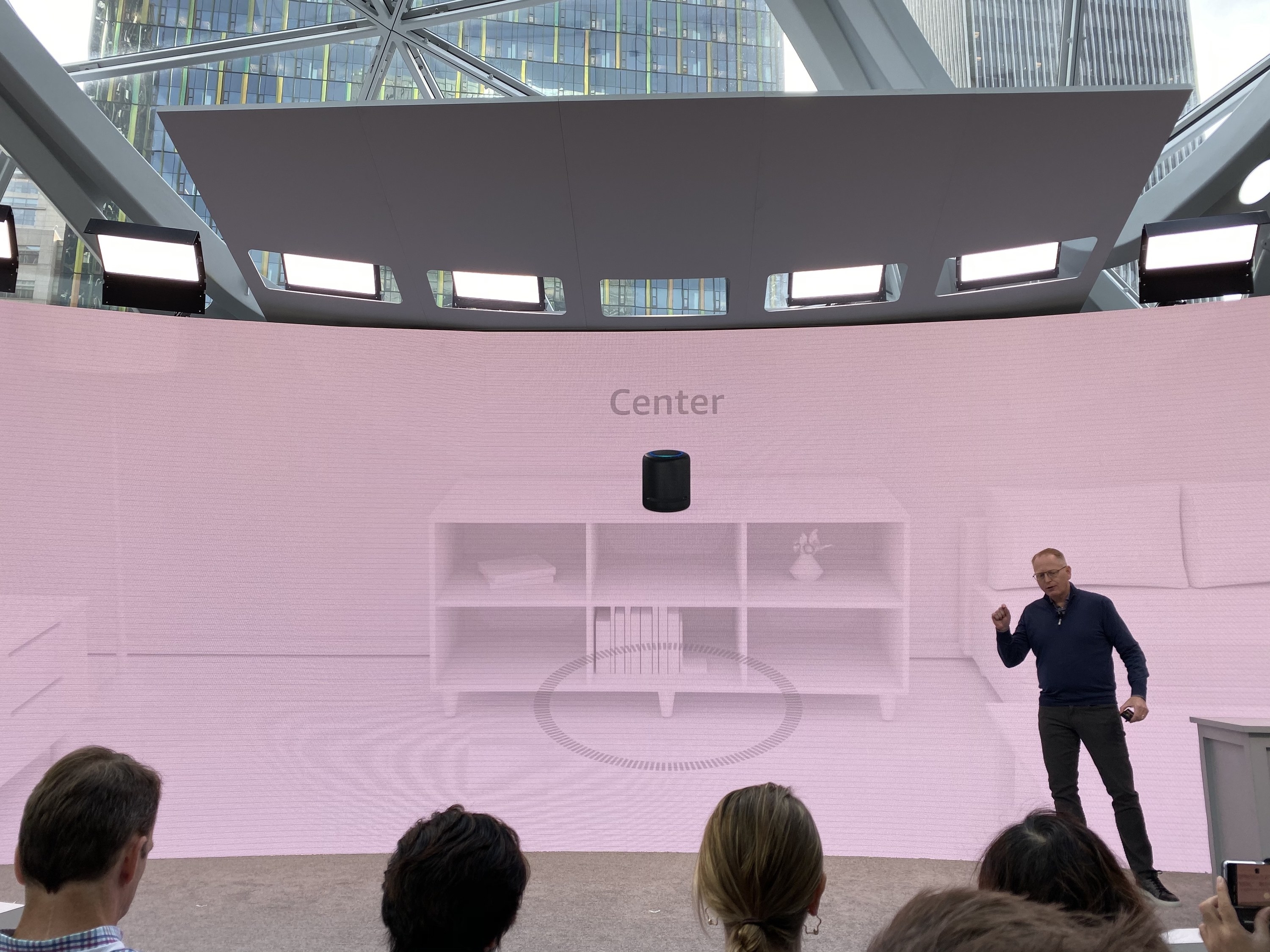 Alexa now understands when you're frustrated.
Amazon is working on detecting frustration in its customers' voices when requesting music. If Alexa doesn't deliver what you wanted, and you respond with what it understands as frustration, it will respond, "I misunderstood," acknowledging the frustration, and course-correct.
The feature will roll out next year.
Samuel L. Jackson's voice is rolling out to Alexa devices later this year.
There's a new version of Echo Dot...with an LED clock.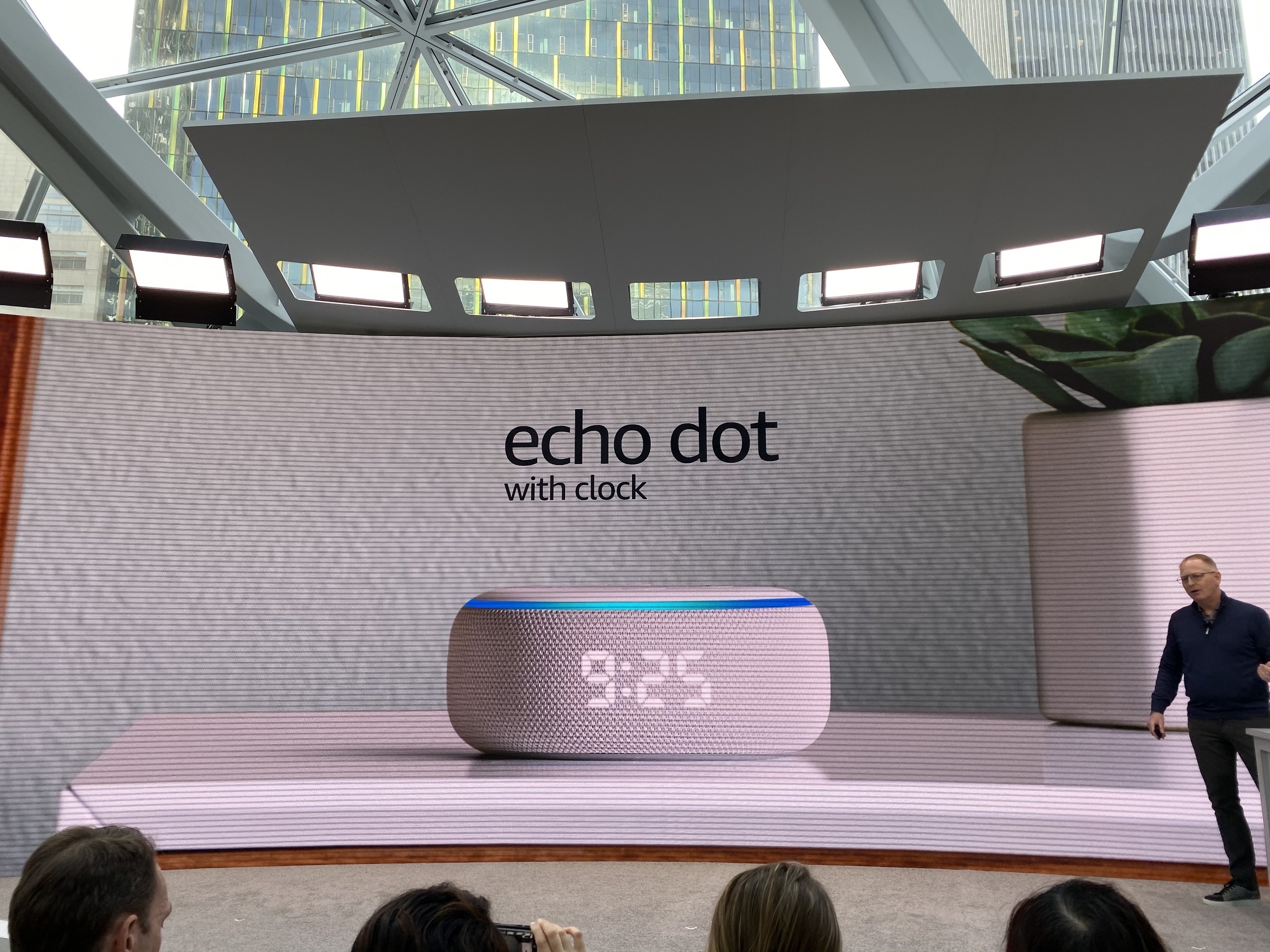 Alexa, turn off the alarms.