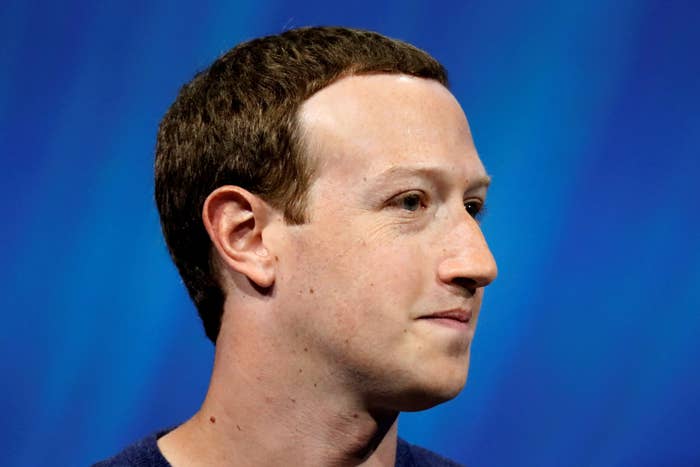 In an interview with Recode published Wednesday, Facebook CEO Mark Zuckerberg defended keeping far-right publication Infowars and content related to conspiracy theories — specifically, theories that deny the Holocaust occurred — on the social media platform.
The Facebook founder, who is Jewish, acknowledged that such beliefs are "abhorrent," but said that it isn't Facebook's role to censor users who are not "intentionally getting it wrong."
During the 90-minute conversation, Zuckerberg discussed Russian interference in the election via social media, the role of Facebook in society, and the distribution of news on Facebook. The topic of discussion then turned to fake news, an issue that has long plagued the platform.
In April 2017, in a segment called "Sandy Hook Vampires Exposed," Infowars' Alex Jones suggested that the event in which a gunman killed 20 children and 6 adults was an elaborate plot. Recode editor Kara Swisher asked Zuckerberg why Infowars, which has garnered over 900,000 followers on its Facebook page, hasn't been removed from the platform. "'Sandy Hook didn't happen' is not a debate. It is false. You can't just take that down?" she asked.

"I agree that it is false. I also think that going to someone who is a victim of Sandy Hook and telling them, 'Hey, no, you're a liar' — that is harassment, and we actually will take that down," Zuckerberg responded.
He continued: "I'm Jewish, and there's a set of people who deny that the Holocaust happened. I find that deeply offensive. But at the end of the day, I don't believe that our platform should take that down because I think there are things that different people get wrong. I don't think that they're intentionally getting it wrong."
Zuckerberg said that it's "hard to impugn intent and to understand the intent" of users, and that Facebook will allow content "even if people might disagree with it or find it offensive." He also said that it's Facebook's responsibility to minimize the proliferation of conspiracy theories and false news in the News Feed.
After the interview, Zuckerberg sent an email to Recode clarifying the statement:
I personally find Holocaust denial deeply offensive, and I absolutely didn't intend to defend the intent of people who deny that.

Our goal with fake news is not to prevent anyone from saying something untrue — but to stop fake news and misinformation spreading across our services. If something is spreading and is rated false by fact checkers, it would lose the vast majority of its distribution in News Feed. And of course if a post crossed [the] line into advocating for violence or hate against a particular group, it would be removed. These issues are very challenging but I believe that often the best way to fight offensive bad speech is with good speech.

The comments come after a press event, hosted by Facebook last week, raised questions about Infowars' presence on the site. During the event — which was billed as "a presentation about our work to prevent the spread of false news" — Vice President of News Feed John Hegeman said, "I guess just for being false that doesn't violate the community standards. I think part of the fundamental thing here is that we created Facebook to be a place where different people can have a voice. And different publishers have very different points of view."
Facebook recently released a 12-minute short film, "Facing Facts," about the company's commitment to fixing the problem of false news. The social media site was also recently hit with a £500,000 fine in the UK for violating data protection laws after data firm Cambridge Analytica collected data from millions of Facebook profiles without user consent.
CORRECTION
John Hegeman's name was misspelled in an earlier version of this story.
UPDATE
Emailed response from Mark Zuckerberg has been added to the text.