Jaybird, the company that makes my favorite headphones for running, is shipping its first pair of wireless earbuds, called Run, later this month.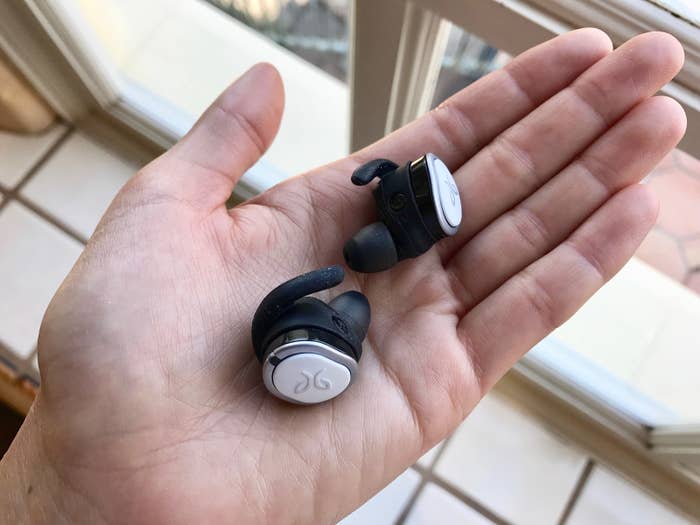 I'll start with the bad: The charging case can hold up 12 hours of battery life, but the battery on the buds themselves isn't great.
And now, the good: The fit felt great, right out of the box.
They stay in really, really well.
video-player.buzzfeed.com
My main issue with the AirPods was that the little stick that juts out past the ear kept catching onto my hair whenever I tried to tuck my locks behind my ear. They'd also go flying every time I took off my sweater.
Once the Run are in, they stay put (see: headshake test above).
I biked and ran with the buds (read: sweat all over them) — and neither felt like they were going to fall out, not even once.
Most importantly, the earbuds also *sounded* really great, even with a lot of outside noise.
The Run handled it all: from pop (Rihanna's "Work") to bass-bumping trip-hop (Massive Attack's "Teardrop") to chill alt rock (Yo La Tengo's "Everyday"). Audio on the Bragi Headphone was often muddled by the whirring of its noise cancellation feature. And the AirPods, because of their one-size-fits-all design, don't sound great for those they don't fit well.
The Jaybird app has some extra features, like showing the last location you paired your headphones.
If you're a runner looking for wireless earbuds, I'd get these ones. But the Run wouldn't be my pick for all-day wear.
If you want wireless earbuds at the office or at home, I'd pick the AirPods because they're so lightweight (plus, easy Bluetooth syncing for Mac/iOS users), or the Bragi Headphone for its noise-cancellation capabilities.
The Run will be available for preorder at JaybirdSport.com, BestBuy, and Amazon and, according to Jaybird, ship early October, but do not have a specific availability date.