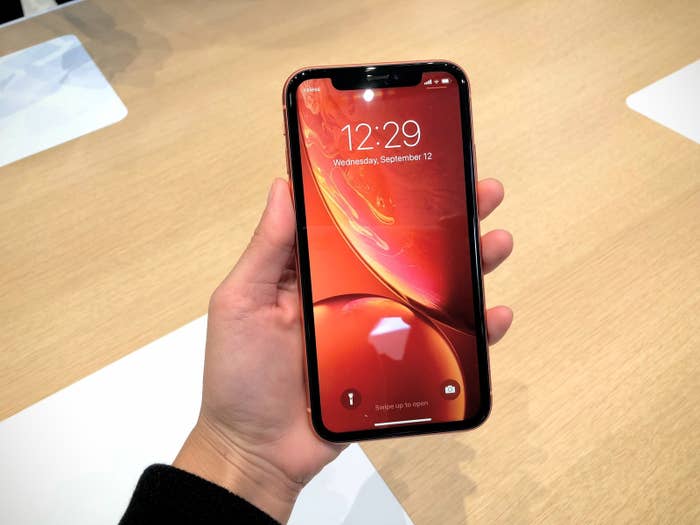 The iPhone XR is an iPhone designed for normals. It has the best battery life of any iPhone, takes Portrait Mode pics, includes a giant, almost edge-to-edge screen, can be charged wirelessly, and uses Face ID facial recognition tech, just like Apple's more expensive phones.

The XR's best feature is that it's an iPhone under $1,000, with the features of an iPhone over $1,000.
The XR — pronounced Ten "R" — isn't without its faults. The thing feels big, thick, and heavy compared to Apple's other, ultra-svelte phones. Occasionally, the phone's lower-resolution LCD display, compared to the high-contrast OLED in last year's iPhone X, and lack of a telephoto lens were noticeable. It also doesn't have 3D Touch–enabled "peek and pop," a feature included in every iPhone since the 6S in 2015. Without it, I missed being able to preview web links and having a shortcut to call one of my favorite contacts from the homescreen.
But so far, after five days of reviewing the device, the biggest problem with the iPhone XR is that it's mostly good — which makes picking an iPhone in 2018 more confusing than ever.
Before I dig into which iPhone you should get, here's what it's like to use the XR: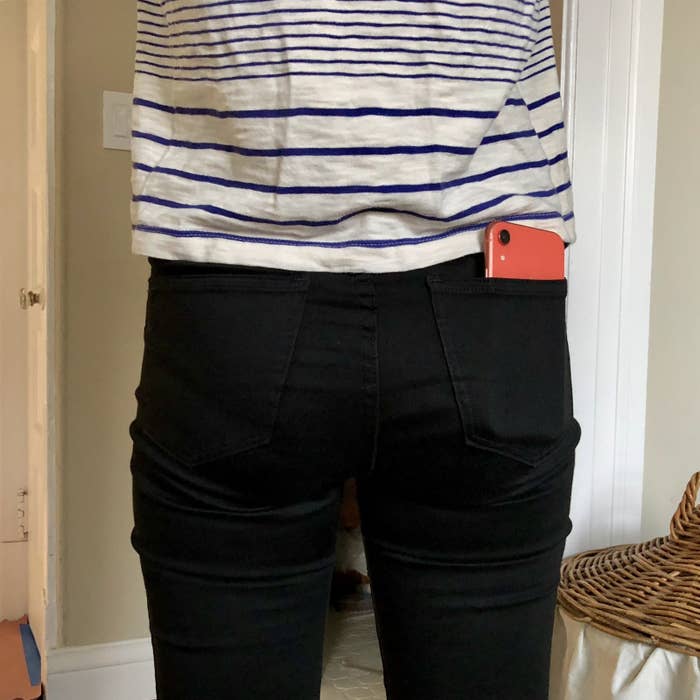 The device's size is somewhere between an iPhone 7/8 and iPhone 7/8 Plus. It's significantly taller and wider than last year's iPhone 8, and slightly taller and wider than last year's iPhone X. It's a bit thicker, too. For someone with small hands, these tiny size increases make a meaningful difference: The phone protrudes a bit more out of pockets, and its added bulkiness makes it that much harder to use single-handed while standing on the bus.
But I've also come to accept the new normal. Smartphone makers seem committed to making screens bigger while killing off smaller models (RIP, my beloved iPhone SE).
I don't blame them. When you're comfortably seated or standing in one place, the giant display — 6.1 inches diagonally, compared to the 8 Plus's 5.5 inches — is wonderful. People with visual impairment who use large text sizes will appreciate the extra room.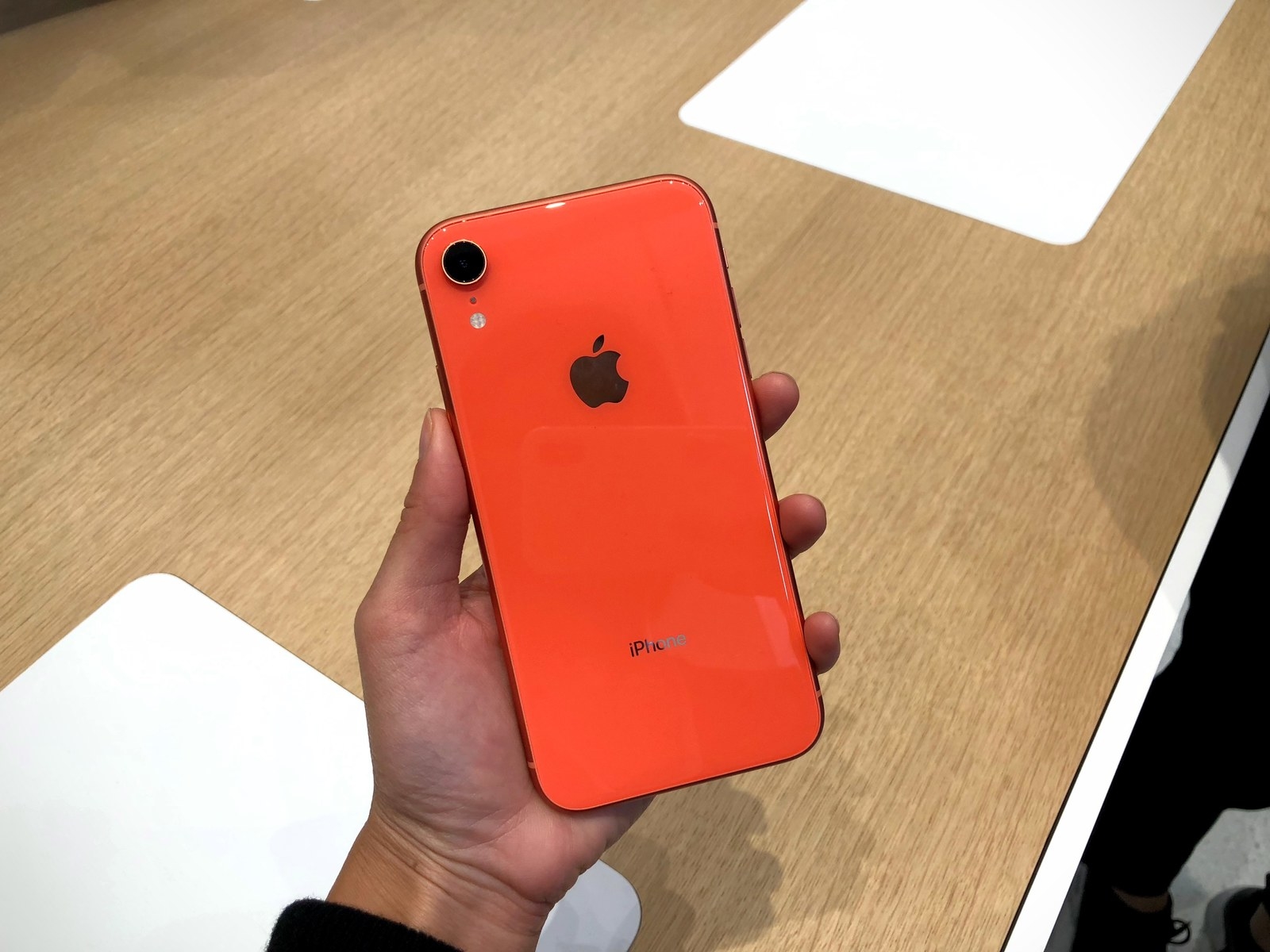 The screen has a much lower resolution (326 pixels per inch) than the OLED screens of the more expensive iPhone X, XS, and XS Max models (which all have 458 ppi displays). Even last year's iPhone 8 Plus has a better-resolution screen (401 ppi).

These numbers mean that the XR isn't equipped to render all of the color of an HDR (high dynamic range) video, or all of the detail in a high-resolution video. When you're watching 4K HDR content on YouTube or Netflix on the XR, the difference is noticeable but subtle. (I've watched this nearly a dozen times now.) On the iPhone X, which can play HDR videos, scenes with sunlight looked less overexposed, and more shades of green and red came through, compared to the iPhone XR.

For everything else — reading the news, Instagram stalking, texting — the XR screen was completely sufficient. The contrast between dark and light colors is better on the X/XS/XS Max (which isn't surprising because OLED screens have better contrast than LCD screens, generally), but the resolution difference doesn't feel dramatic. For the most part, you can hardly tell.
The type of people who are interested in the XR likely don't care about best-in-class screen specifications, anyway. They just want a good phone that takes good pictures.
And the pictures are good. The iPhone XR has a new feature called "Smart HDR" that makes an image's highlights less exposed and its shadows less dark, like the new XS models.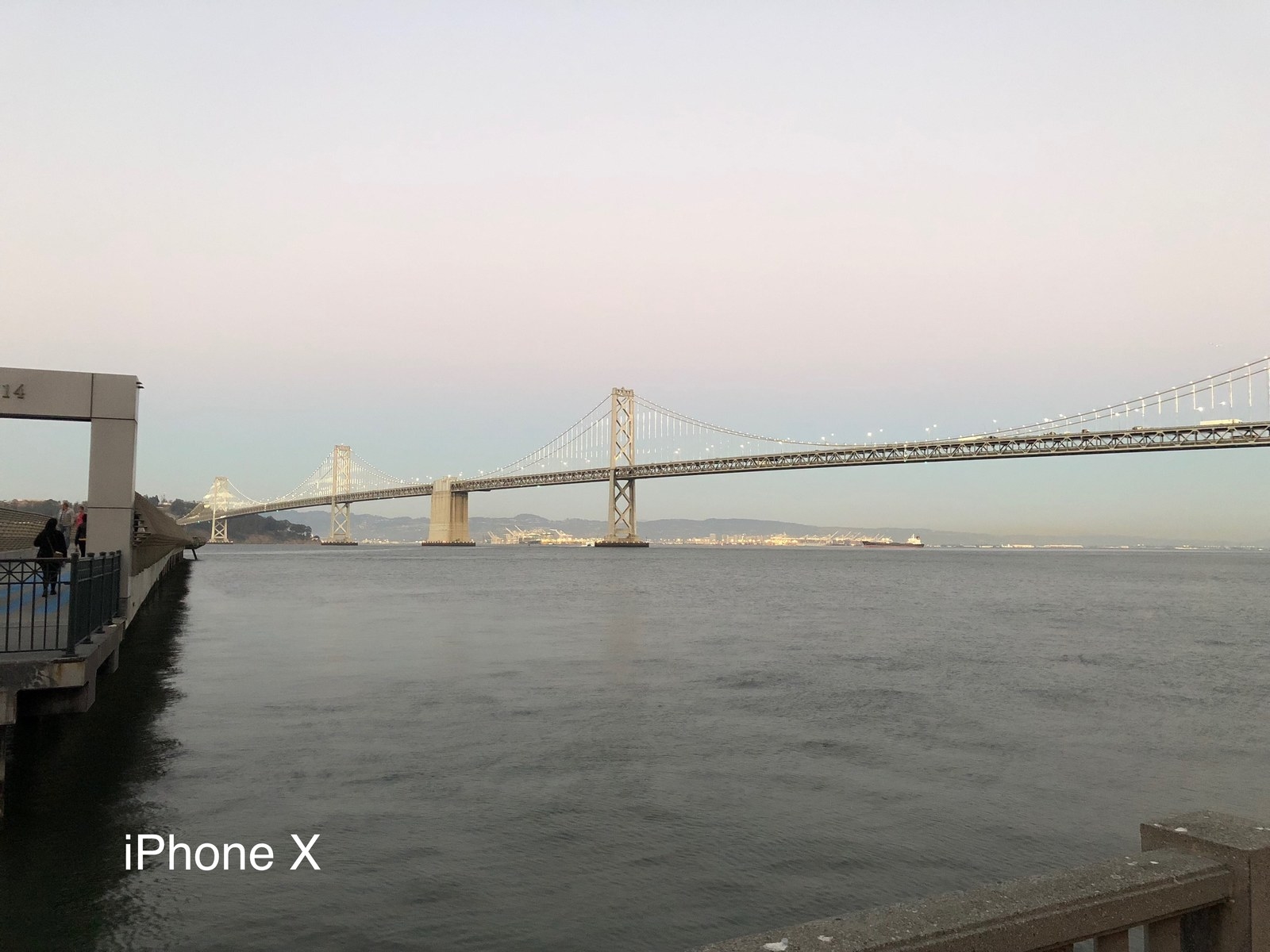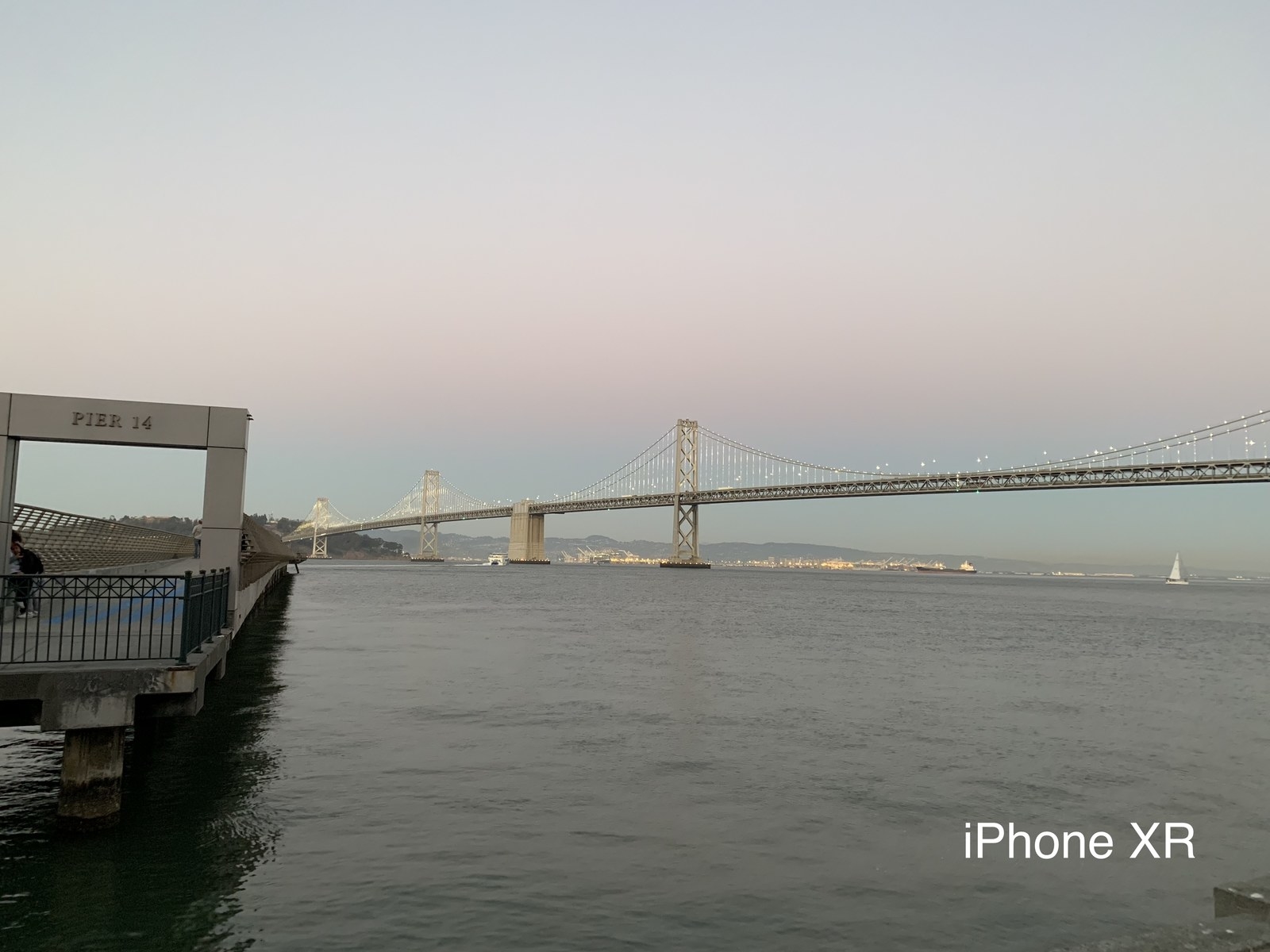 In scenes where the sun is blasting through, the photos turned out warm, balanced, and detailed.

Previously, iPhones needed two lenses to take Portrait Mode photos, which gives photos a gauzy, DSLR-esque soft-focus background. The iPhone XR is the only iPhone with just one rear camera — a single, 12-megapixel wide-angle lens — that can take Portrait Mode images. It adds the blur digitally, like the Google Pixel, to images. A new editing tool also allows you to adjust the blurriness of the photo.

Portrait Mode on the iPhone XR has its quirks. For one, it is not designed to work on photos of animals or food, only humans, which is a real bummer if you want to take epic pictures of dogs.
In fact, there were a number of missed dog opportunities during the five-day review period. I caught an actual dog SURFING (below). Tragically, because the iPhone XR has no telephoto lens, the digitally zoomed-in footage looks pixelated.
For comparison, here's the iPhone X's telephoto lens at work. With the iPhone XR, you need to zoom with your feet.

What the iPhone XR does have is a monster battery. Caveat: All new batteries perform well, and five days is definitely not enough time to fully test its limits. But Apple says this iPhone has the best battery life of any current iPhone (15 hours of internet usage). Most days, I went to bed with about half of the battery left, with Saturday as the exception because, by the time I had gotten home, it was Sunday. I used the included five-watt power adapter to charge the review unit, but you can "fast-charge" the phone using a 30W USB-C adapter, or charge it wirelessly with a Qi accessory.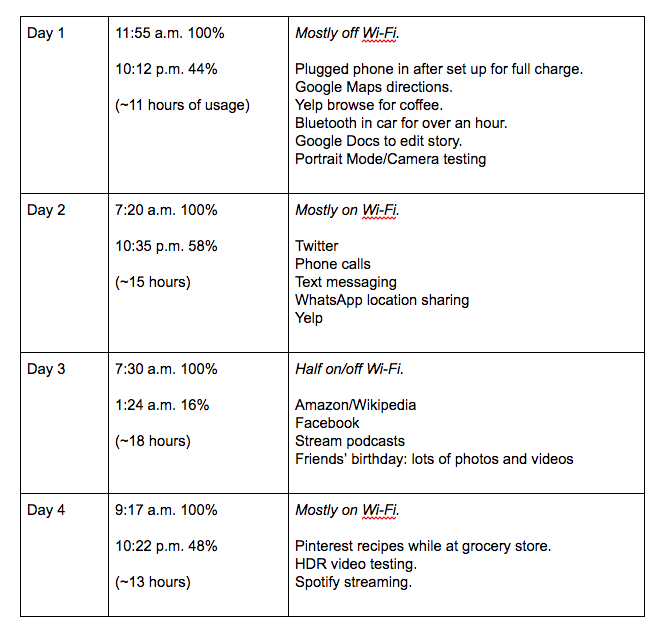 The XR comes in four different ~fun~ colors (blue, yellow, coral, and red), and also black or white. I gravitated toward the coral because I was nostalgic for my iPhone 5C from years ago in the same shade. Coral is really more of a salmon than a pink. It's bright, it's loud, and it immediately attracted the eyeballs of everyone around me whenever I whipped it out.

If you want something more inconspicuous, I'd get the black or white. You should be protecting the phone with a case anyway, so the color won't matter.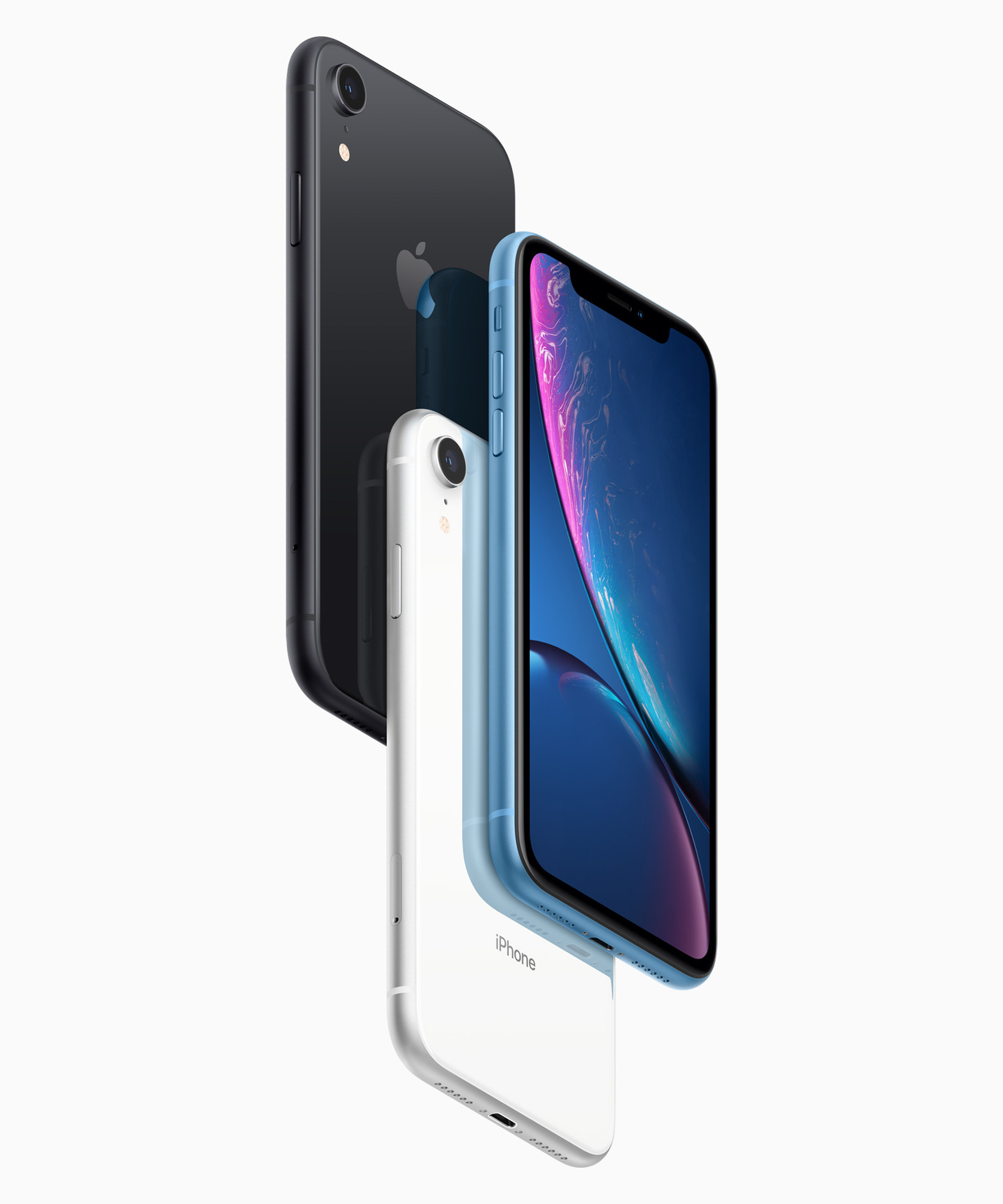 One logistical note: At launch, the XR must be purchased with your carrier. The unlocked and SIM-free model, which would allow you to easily switch wireless services or use local SIMs while traveling abroad, isn't available yet. Most US carriers do unlock devices, but only after a certain set of criteria is met, including an often months-long wait period.

Apple will offer an unlocked iPhone XR at a later date, and it will roll out eSIM compatibility that allows you to have two numbers (including a local one while traveling abroad) on one device at the same time. Apple hasn't yet announced when that feature is launching, only that it's coming "later this fall."
The bottom line is that the iPhone XR makes Expensive iPhone features more accessible. While the XR's $749 price tag isn't exactly chump change, it's certainly more palatable than the XS's $1,000. Apple's previous "cheap phones" — the iPhone 5C ($99 on contract!), and the iPhone SE (just $399!!) — had clear trade-offs. They had smaller screens, significantly less storage capacity, and worse cameras. The XR, meanwhile, doesn't feel like it's compromising on the stuff that matters to normal people: performance, battery, and photography.
Apple is now selling *seven* different phones, not including recently discontinued (and now discounted) models, like the iPhone X. They're all Good Phones, and what you should get depends on what you can afford and what you need.
First, consider whether you really need an upgrade. You may not — plus you'll save money and reduce the amount of toxic e-waste that ends up in our landfills.
If your iPhone is starting to feel sluggish, it's likely that you don't need an upgrade — just a battery replacement ($29 until Dec. 31, after which it will cost $69 for iPhone X and newer, and $49 for other models).
Check your Settings App > Battery > Battery Health, which shows your battery's maximum capacity. After 500 charge cycles (about 1.5 years), the battery starts to degrade and only retains up to 80% of its original capacity. When your phone hits 79% capacity, you need a battery replacement. (After a year, my iPhone X's capacity is at 95%.)
There are a few ways to get the most out of your current phone. Add Low Power Mode as a shortcut to your Control Center. Go to Settings > search "Control Center" > Customize Controls > add Low Power Mode — and use it liberally.
Next, use a protective case, gosh darn it! The case should extend across the port and speaker mesh (Apple's silicone and leather cases don't). Tech21's Pure Clear cases offer great lightweight protection, while Lifeproof's Next and Otterbox's Symmetry collections are more heavy-duty.
If you do, in fact, need an upgrade, here's where the iPhone XR fits in Apple's current lineup.
Budget + small hands + don't care about wireless charging = iPhone 7
Budget + big screen + don't care about wireless charging + Portrait Mode = iPhone 7 Plus
Budget + small hands + decent processor = iPhone 8
Budget + big screen + Portrait Mode + battery life = iPhone XR
Serious about photography + small hands + super high-res display = iPhone X (probably used)
*Very* serious about photography + small hands + super high-res display = iPhone XS
*Very* serious about photography + mega big screen + super high-res display = iPhone XS Max
Which phone is the best for you, depends largely on your 1) budget and 2) needs. Do you want all the *new* iPhone features and great battery life without spending $1,000? The iPhone XR is probably your best bet, especially if you plan on reselling or trading in your phone in the next few years.
But last year's iPhone X is also compelling. You can buy a preowned iPhone X with 256 gigabytes, in mint condition, in the $710–$825 range, while new units are sold at carriers and Best Buy for about $900– $1,050.
There are risks to buying a used smartphone but, with the iPhone X, you'd get nearly every iPhone feature Apple has to offer (except for Smart HDR and adjustable depth of field) for a sub-$1,000 price, even at the largest storage capacity. Because I have small hands and really love that 2x optical zoom, a used iPhone X would be my pick.
Note: Many Swappa sellers include a screenshot of the phone's battery health. Look for battery capacity in the 90%–99% range.
If you're unsure, here's a chart: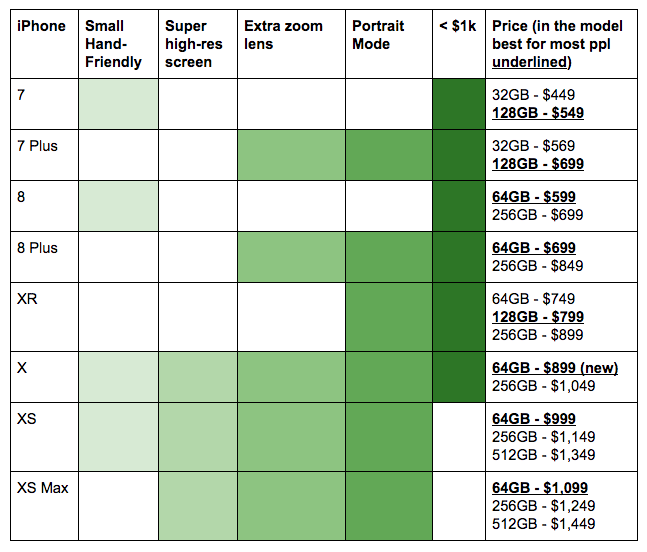 If budget is your priority, the iPhone 7 (a dang good phone! and water resistant!) is available for $449. If you want the BEST, NEWEST thing, the XS or XS Max is more your speed.

Ultimately, when it comes to buying an iPhone: Upgrade only when you must, and (obviously) buy only what you can afford.