Today, Facebook and (Facebook-owned) Instagram are announcing a new set of tools that aim to help users limit the time they spend on social media. The features are part of Facebook CEO Mark Zuckerberg's commitment to making sure that "our services aren't just fun to use, but also good for people's well-being," which he said in response to mounting criticism that technology platforms do more harm than good.
On both Facebook and Instagram, you'll soon be able to see an activity dashboard that shows average time spent on each app that week and a breakdown of activity by day. There's also a "daily reminder" option, which you can set to alert you after you've used the app for a certain amount of time. Additionally, you can mute push notifications temporarily (for as little as 15 minutes and up to eight hours), which prevents you from seeing pop-ups on your homescreen. (However, you'll still see notifications when you open the app.)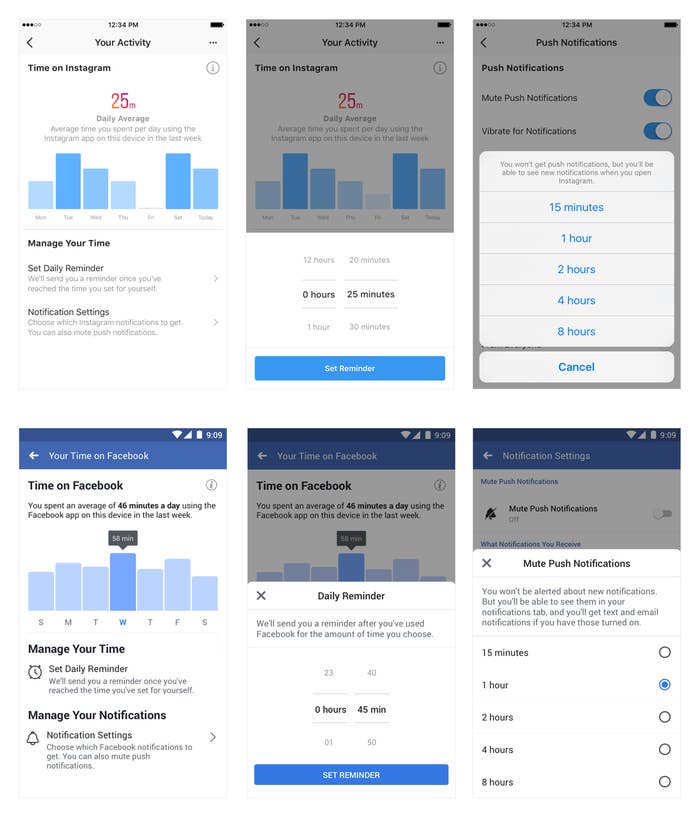 The time management features will roll out to both apps' users over the next few weeks. You will need to set daily reminders and mute push notifications separately for each app.
In Instagram, go to the settings page > Your Activity, and on Facebook, go to the Settings & Privacy page > Your Time on Facebook. There you'll be able to view the dashboard and specify a window of time for app usage and muted notifications. The dashboard does not include web browser (desktop computer or laptop) activity, and the new notification options aren't available when you're browsing Facebook on a computer.
During a press event, Ameet Ranadive, product director of well-being at Instagram, said, "The goal of these features is to help people be more mindful and intentional about how much time they're spending on Facebook and Instagram, and really give them that power and control over how and when they want to engage."
Facebook won't release usage numbers publically, but as of August 2017, Instagram users under the age of 25 spend over 32 minutes per day, on average, in the app, while users over age 25 spend 24-plus minutes per day on average. A 2017 study published in the American Journal of Preventive Medicine found that those who used social media for more than two hours daily were twice as likely to report feeling high levels of social isolation, compared with people who spent less than 30 minutes per day using social media.
Facebook isn't the only tech company looking at time management tools. In June, Apple announced an upcoming feature called Screen Time, which offers weekly reports on how much time you spend on different categories of apps and lets you set time limits for different apps. A month earlier, Google showed off a Time Spent dashboard, a feature that reminds users to take a break, and a new grayscale mode for devices that is "less stimulating for the brain," according to Android vice president Sameer Samat.
The idea behind the new Facebook and Instagram features is to prevent passive consumption like endlessly scrolling through your Instagram feed, which studies show leads to people feeling worse. In 2015, a University of Michigan experiment found that students assigned to read Facebook for 10 minutes were in a worse mood than students assigned to publish a post or talk to friends on Facebook. "The bulk of the academic research out there tells us that — what is beneficial for wellbeing and what might not be — is whether [social media use] is intentional, whether it's active engagement, or whether you're sort of passively, mindlessly scrolling on the screen," said David Ginsberg, director of research at Facebook.
Facebook's announcement is seemingly at odds with Instagram's recent launch of IGTV, an in-app platform for videos up to one hour long, along with other "persuasive technology" tricks programmed into its apps, like infinite scroll and autoplay, which are designed to encourage users to spend more time on their apps.
Still, Ranadive emphasized that "well-being" — or, at the very least, offering controls to limit app usage, should a user wish to do so — is a priority for Facebook: "There may be some tradeoffs with other metrics for the company, and that's a tradeoff we're willing to live with. In the long run, this is something that's important for the community and something we want to invest in."