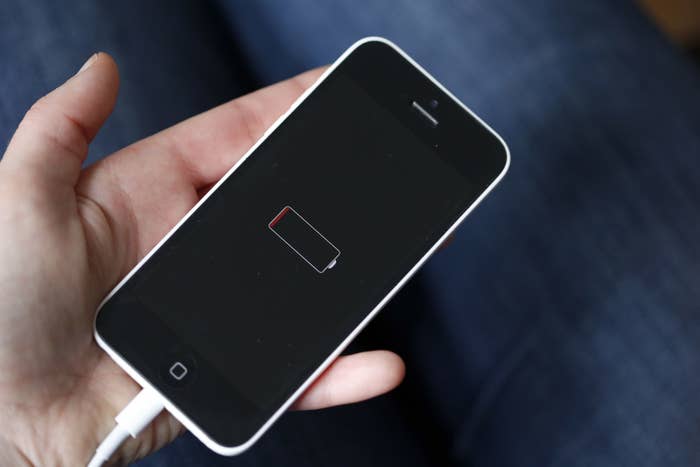 If you're still waiting for an iPhone replacement battery due to backlog, there's another way to stop your phone from being sluggish: the new iOS 11.3 update, available for download today.

In December, Apple admitted to something people had long suspected: It slows down iPhone performance speeds in devices with older batteries to prevent unexpected shutdowns. After customer outcry, the company lowered the price of battery replacements from $79 to $29, and promised to add an option that would allow users to toggle the slowdown "feature" on and off. A beta version of this new setting, called iPhone Battery Health, is included in today's new version of iOS.

Today also happens to be the day of a legal meeting in Atlanta that will determine if dozens of individual suits over slowed iPhones will be combined into one class-action case.
Anyway, here's how to prevent an iPhone with an older battery from slowing down — and why you might not want to disable the slowdown setting after all.
You'll need to update your iPhone — but first, back up your device (I know it's annoying, but please do this!).
There's a small chance that updating your software could delete your data or "brick" (i.e. render useless) your device, which means it's a really, really good idea to back it up.
To back up with iCloud, you'll need to be connected to a Wi-Fi network. In Settings, tap on your name at the top > select your device (it'll say "This iPhone" right underneath) > iCloud Backup > Back Up Now.
If your iCloud storage is full (story of my life lol), you can also back up via iTunes on your computer. Connect your device to your computer and open iTunes. Select the device, and under "Automatically Back Up" select "This Computer" then "Back Up Now." If you ever need to restore your device (or a new one) from backup, plug it into this computer and open iTunes to do so.
BTW, a good way to clear up space is identifying what's taking up so much space. Go to Settings > General > iPhone Storage. If photos and videos are the storage hogs on your device, consider using Google Photos, which offers unlimited storage at 16-megapixel or less resolution and has a setting that automatically removes media that's already been backed up. Amazon Prime members receive unlimited photo storage through Prime photos (but only 5GB worth of videos).

After you've backed up, update to iOS 11.3.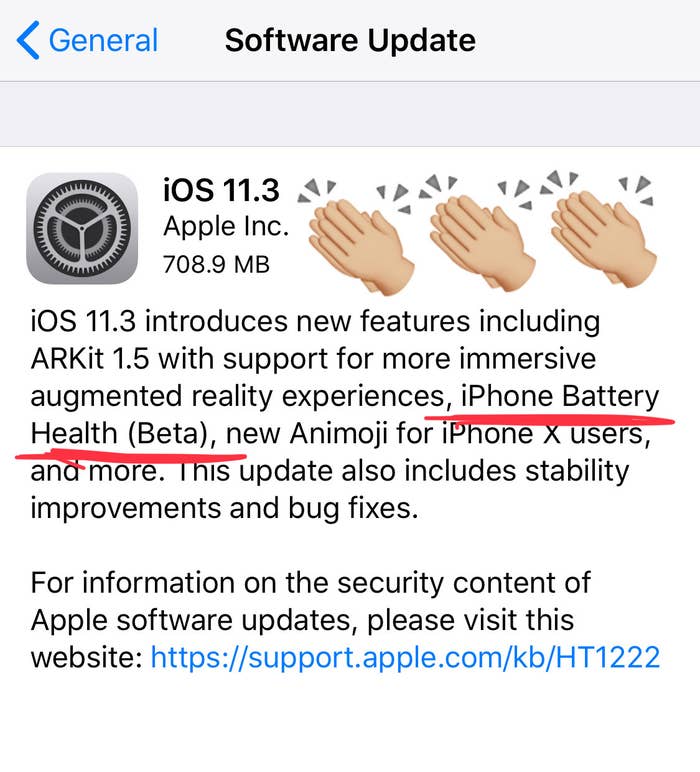 Go to Settings > General > Software Update. Make sure you're connected to a Wi-Fi network!

Then, to look at your iPhone's battery health, go to Settings > Battery > Battery Health (Beta).
FYI: You'll only see this feature if you have an iPhone 6 or newer (sorry iPhone 5S holdouts 🙁).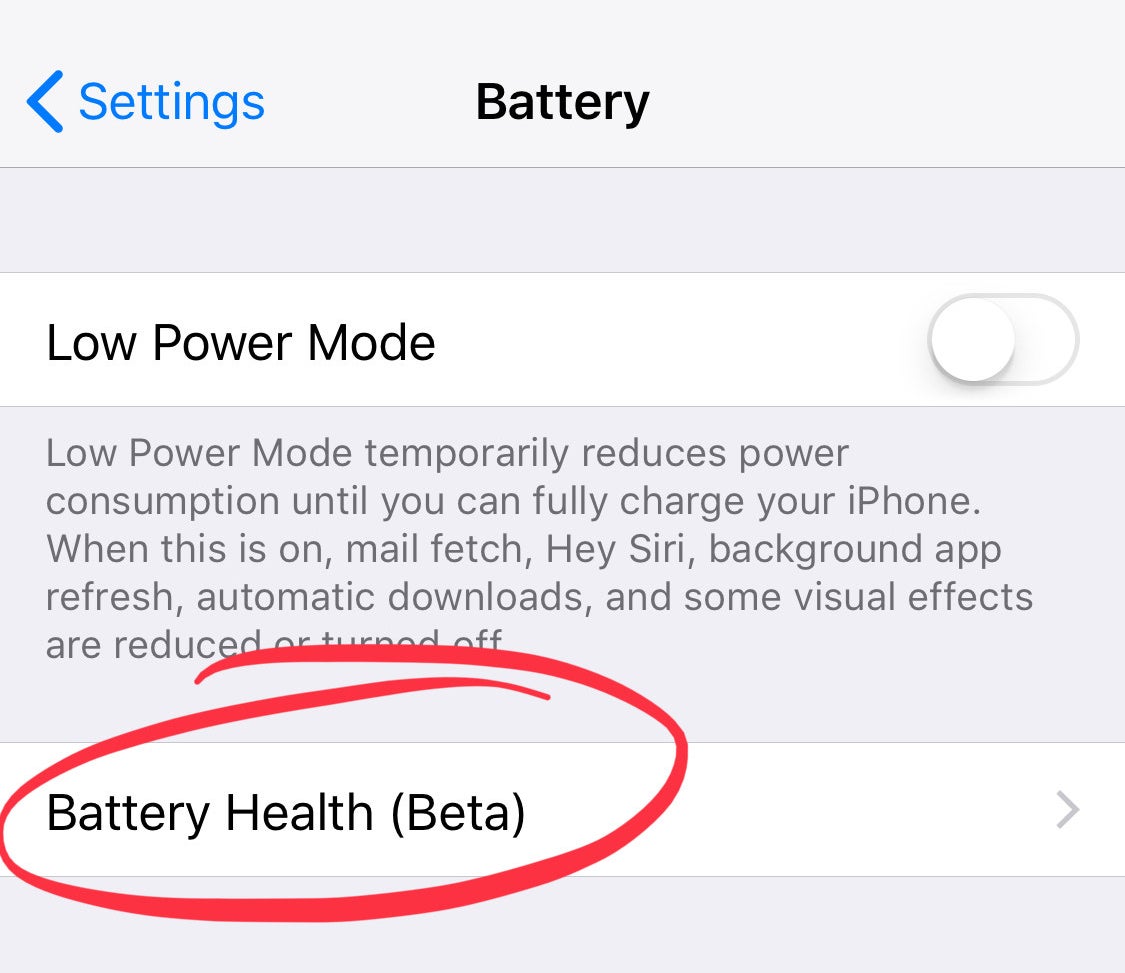 This battery settings page is where you'll be able to see if your battery needs to be replaced. If your phone does not support "peak performance capability" (read: your iPhone battery is old and Apple sometimes slows down your device as a result), you'll see an option to disable the "power management" feature (in a very small blue font at the bottom). Tap "Disable…" to turn it off.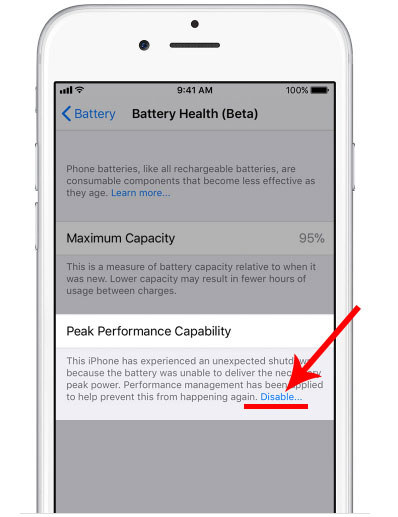 It should be noted that while you may see increased speeds, turning off the device's power management feature may not result in the best experience.

As your iPhone's battery gets older, it decays over time, and as it degrades, it can no longer handle demanding tasks, like running processor-intensive games, as well as it once could. After 500 charge cycles, the iPhone battery is designed to retain only 80% of its original capacity. So depending on use, you may start to see your iPhone's battery life dwindle after a year or so.
That's why Apple slows down your iPhone's processor when it's running on a decayed battery. When the processor is running full throttle, your iPhone is at risk for malfunctioning and shutting down unexpectedly. You may see this kind of shutdown more often if you turn the "power management feature" off.


It's great that customers now have more control over how their iPhones perform, and a better understanding of why it feels sluggish. But, instead of buying a new device, the *ultimate* best fix for slow performance is replacing your battery!