Today, at Google's I/O developer conference, the company announced a number of updates for Google Photos — with shared libraries, suggested sharing, photo books, and an integration with Google Lens being the biggest announcements.

The app — which currently boasts 500 million users just two years after its launch — offers photo storage and management for iOS, Android, and the web, and allows users to upload unlimited images (though the size of the individual photos is capped if you don't have a Pixel) for free. The app also leverages Google's AI technology to recognize faces, images, and places, so that users can search their libraries for things like "Mom," "lakes," or, as demonstrated by Google VP of photos Anil Sabharwal during the I/O keynote, "Anil pineapple Hawaii."
Suggested sharing
Suggested sharing will use Google's artificial intelligence to pick your best photos, determine who's in them, and then suggest you share them with those people. If you've shared pictures with another Google Photos user, the app will identify related photos, whether that's by the location where they were taken or the people in them, for you to continue sharing.

You can share images with a non-Google Photos user, too, via email or text message. Your recipient will receive a link to a webpage where they can view or download the pictures.

Shared libraries
With shared libraries, you can now share a library with another Google user, and have photos with certain people in them automatically uploaded to the new library. Onstage, Sabharwal created a new album with his wife, and set it up so that photos from each of their libraries of her and their kids would upload to the shared collection. Right now, you can only share your library (or a subset of your library) with one other person.
Sabharwal took a selfie with a cardboard cutout of his kids, which Google Photos recognized and immediately sent to his wife. The new shared library shows up in the menu as "Photos from [person you entrust your photos to]," with all of the photos taken by them, as well as "Shared with [person you entrust your photos to]," with all of the photos taken by you, and sent to them. After selecting your entrusted person, you can opt to autosave all of the photos from your trustee or just a subset of those with specific people in them. The feature resembles the Shared Albums feature within Apple's iOS Photos app, but Apple's version does not identify people within the photos and doesn't enable automatic sharing.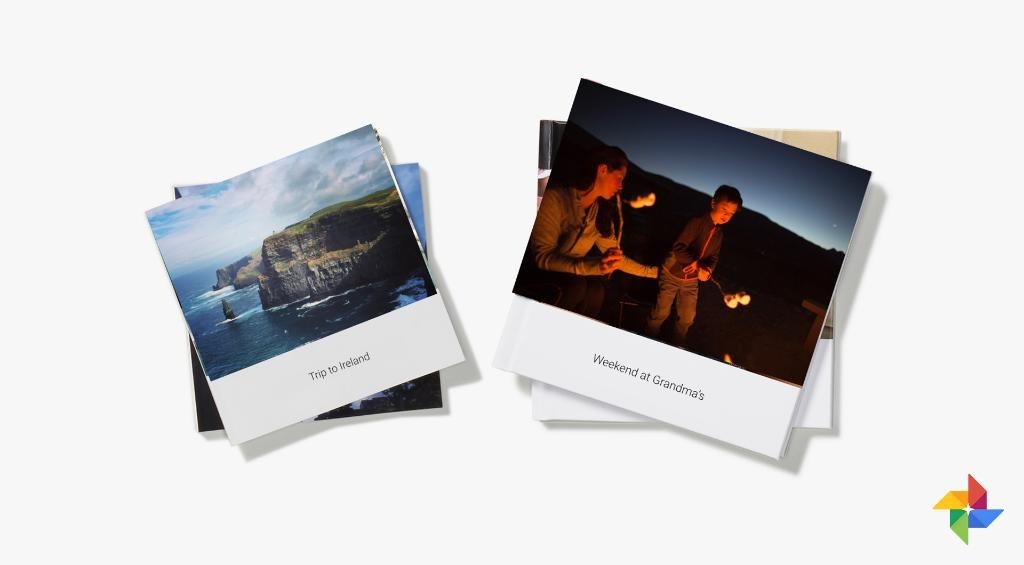 Google announced a shopping update to Google Photos that resembles the service Shutterfly: You can now buy physical books — hardcover for $19.99 or soft for $9.99 — within Google Photos. Using machine learning technology, the app can group related photos together, select the best photo out of a set of duplicates, and suggest a name for a possible book, in the same way that the Suggested Sharing feature identifies the best photos from your collection. It's designed to make the process of publishing a photo book as easy as possible. But, at least for now, you can't add captions to any of the images.
Google debuted a hardcover book onstage and offered a free one to all attendees at I/O.
Integration with Google Lens
Finally, Google's AI-powered Google Lens software will also be deeply integrated with Google Photos. Lens can identify different elements of a photo and make them interactive. For example, if you someone sends you a screenshot of a website with a phone number on it, pressing the Google Lens icon will make that number clickable and drop the number in the phone app. Lens can also identify types of flowers and places, so you'll be able to search your library for things like "poppies" or "Willis Tower."
CEO Sundar Pichai also showed off an impressive capability not available in Google Photos yet. Google can use computational photography (or computer science applied to photographs) to digitally remove the appearance of chain-link fence from a photo of a girl playing baseball. The software can do this by taking multiple photos taken from different angles, and stitching them together to create a chain-free photo. Similar technology is available in Google's PhotoScan app, which gets rid of glare, but it's unclear whether or not the company plans on adding the feature as an editing capability to Google Photos.