Google's CEO Will Testify Before The US House Over Claims The Tech Giant Is Biased Against Conservatives
Google CEO Sundar Pichai will appear before the US House Judiciary Committee later this year to address arguments that the search engine displays bias against conservatives.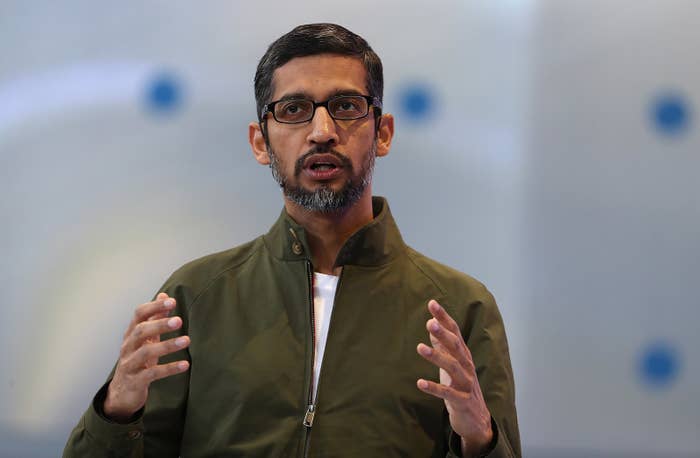 Google's chief executive, Sundar Pichai, will appear before the US House Judiciary Committee later this year to address concerns that the search engine is biased against conservatives, a senior Republican told Reuters.

On Friday, Pichai met with more than two dozen Republicans in a private meeting to discuss the issue. According to a White House official speaking to Reuters, the executive plans to meet with Democrats and White House economic adviser Larry Kudlow, as well.
In a statement, Pichai said, "The last two days' discussions with a wide range of congressional leaders were constructive and informative. As we've done for over a decade, including testifying to Congress 22 times since 2008, we remain committed to continuing an active dialogue with members from both sides of the aisle, working proactively with Congress on a variety of issues, explaining how our products help millions of American consumers and businesses, and answering questions as they arise."
"I am personally committed to testifying before the House Judiciary Committee in due course," he added. The hearing is expected to happen in November after the midterm elections, according to Reuters.
According to a Washington Post report published Friday afternoon, and confirmed by BuzzFeed News, the White House said that Pichai agreed to attend an upcoming tech executive roundtable with the President and other tech giants.
President Trump has accused Google of rigging search results against him by showing "only the viewing/reporting of Fake New Media." Earlier in September, a leaked video showed Google's senior leadership, including Pichai, as well as cofounders Larry Page and Sergey Brin and CFO Ruth Porat, reacting to Donald Trump's presidential win in 2016.

Google was notably missing from a Senate Intelligence Committee hearing earlier this month about Russian interference. Both Facebook COO Sheryl Sandberg and Twitter CEO Jack Dorsey were present at the hearing.
UPDATE
Now includes details about an upcoming roundtable hosted by the president.