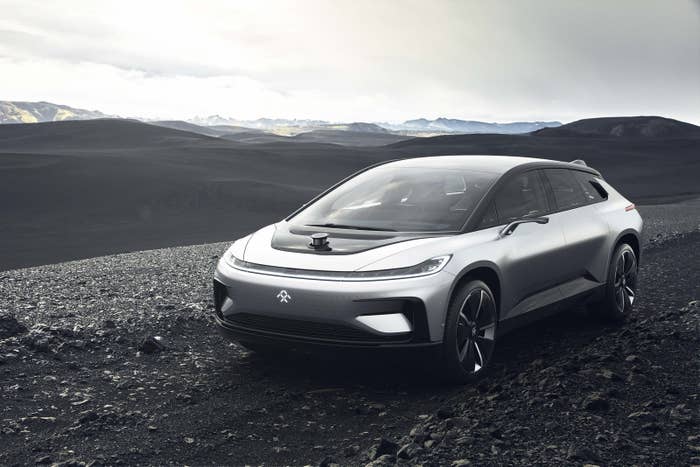 With a 130 kilowatt battery, 378 miles of range per charge, and a 1,050 horsepower engine, Faraday Future's new car, the FF91, could prove to be a true Tesla rival – if the financially troubled company actually manages to ship it.
Unveiled at a splashy Tuesday evening event ahead of this week's CES 2017 conference in Las Vegas, the FF91 is Faraday Future's first production vehicle, one the company describes as a "new species" of car. It boasts some impressive specs: a giant 130 kilowatt battery, 378 miles of range per charge, and a 1,050 horsepower engine that Faraday claims will go from 0-60 miles per hour in 2.39 seconds. That's faster than any other car built today. Tesla's flagship Model S, in comparison, has an up to 100 kWh battery, a 310 mile range, a total of 762 horsepower, and a 0-60 mph time of 2.8 seconds.
The FF91 also has high-speed internet built-in, intelligent self-parking, a car-length panoramic roof that can provide shade and privacy with the touch of a button, and, most notably, the ability to create a unique profile, called an FFID. This custom experience employs facial recognition to identify drivers or passengers and unlock the car for keyless entry. In addition to your facial expression, your FFID stores seat adjustments, favored temperature settings, frequent destinations, schedule, music taste and even scent preferences. "We are about extreme technology," said Faraday SVP of engineering Nick Sampson.
Nicole Nguyen / BuzzFeed News
After showcasing a car design widely dismissed as vaporware at last year's CES, Faraday Future's task this week was to prove that its long-promised production vehicle is more than just a concept. And in that, it appears to have succeeded, albeit with a few hiccups.
The FF91 is positioned to be more powerful and more advanced than any other electric car currently on the market, should Faraday manage to ship it. Production of the FF91 is slated to start in 2018 — assuming the company resume and complete work on its three million square foot factory in Northern Las Vegas. In the meantime, Faraday is accepting $5,000 refundable deposits from those interested in reserving a car (no word yet on what the the FF91's retail price will be).
A BuzzFeed News report published in mid-December revealed that Faraday Future was heading towards its big CES reveal after a year fraught with financial troubles, employee attrition, and lawsuits. "Month to month, the money was never there," one former employee with knowledge of the company's finances told BuzzFeed News. "Funds were lower than what Faraday needed to cover operational costs and commitments to suppliers."
Shortly after that report was published, Faraday's chief brand officer and VP of marketing left the company. Last week, Ding Lei — co-founder of Chinese tech giant and Faraday investor LeEco — abruptly stepped down from his role as Faraday's "acting global CEO."
In response to BuzzFeed News' report and a subsequent piece in Jalopnik, Faraday tweeted: "Skepticism and negativity only strengthens our conviction to redefine sustainable mobility. Decide for yourself on Jan 3rd," referring to today's event.