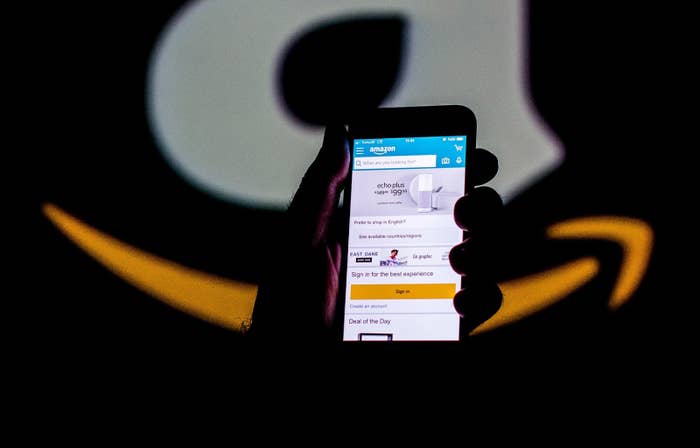 Online reviews can be useful when you can't see, touch, or try products before you buy them, like you can in a store — but they're often manipulated by opportunistic third-party sellers, especially in Amazon's highly competitive marketplace where positive reviews are their best chance to stand out. While bogus reviews don't necessarily mean a product sucks, they make it hard for even savvy shoppers to know if the product is actually good or bad. Fake reviews are an indication that you should do extra research before adding the item to your cart.
There are many time-intensive ways to determine whether review manipulation is present — including looking at each reviewer's rating history and analyzing the language of every review — but here are some telltale, easy-to-spot signs that a product is stacked with fake and paid-for reviews. Keep these tips in mind when you head online to start Black Friday or Cyber Monday shopping.
If the product has hundreds of reviews and an average customer rating of five stars, that's suspicious.
Take a look at this Galaxy S8 screen protector. Click on the link for "609 customer reviews" at the top and, in the reviews section, you'll see that 100% of those over 600 listed reviews are five stars. That's usually an indication of review manipulation.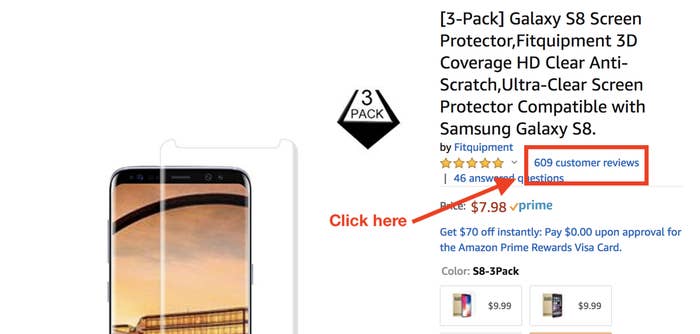 It's possible that some of those reviews are genuine — but the majority of those positive ratings appear to be fake, even if they are marked as "verified purchase." Sellers enlist legitimate Amazon customers to buy products and refund them later, so the reviews appear as a "verified purchase."

Look to see if reviews are for a completely different product.
Review recycling is a tactic where sellers take an existing product listing and replace the listing's titles, photos, and description to show an entirely different product. The new product looks tested and legitimate when, in fact, the reviews aren't related to it at all.
At the top of a listing, next to the average star rating, click "[x] customer reviews," which will take you to the bottom of the page. There, you may see customer images and reviews that don't correspond to the product.
That's the case with the previous Galaxy S8 screen protector. The listing was previously a flask masquerading as a sunscreen bottle and an animated DVD collection, which allowed the seller to amass hundreds of genuine reviews...but for two completely different products.

In this listing of a headphone adapter for iPhones without audio jacks, not a single review — of the 445 listed! — mentions the adapter. The listing was clearly a pair of Audio Technica headphones in its previous life. This posture corrector listing used to be for a bathroom scale and a knife sharpener. These are just a few examples of the many, many cases of review recycling on Amazon.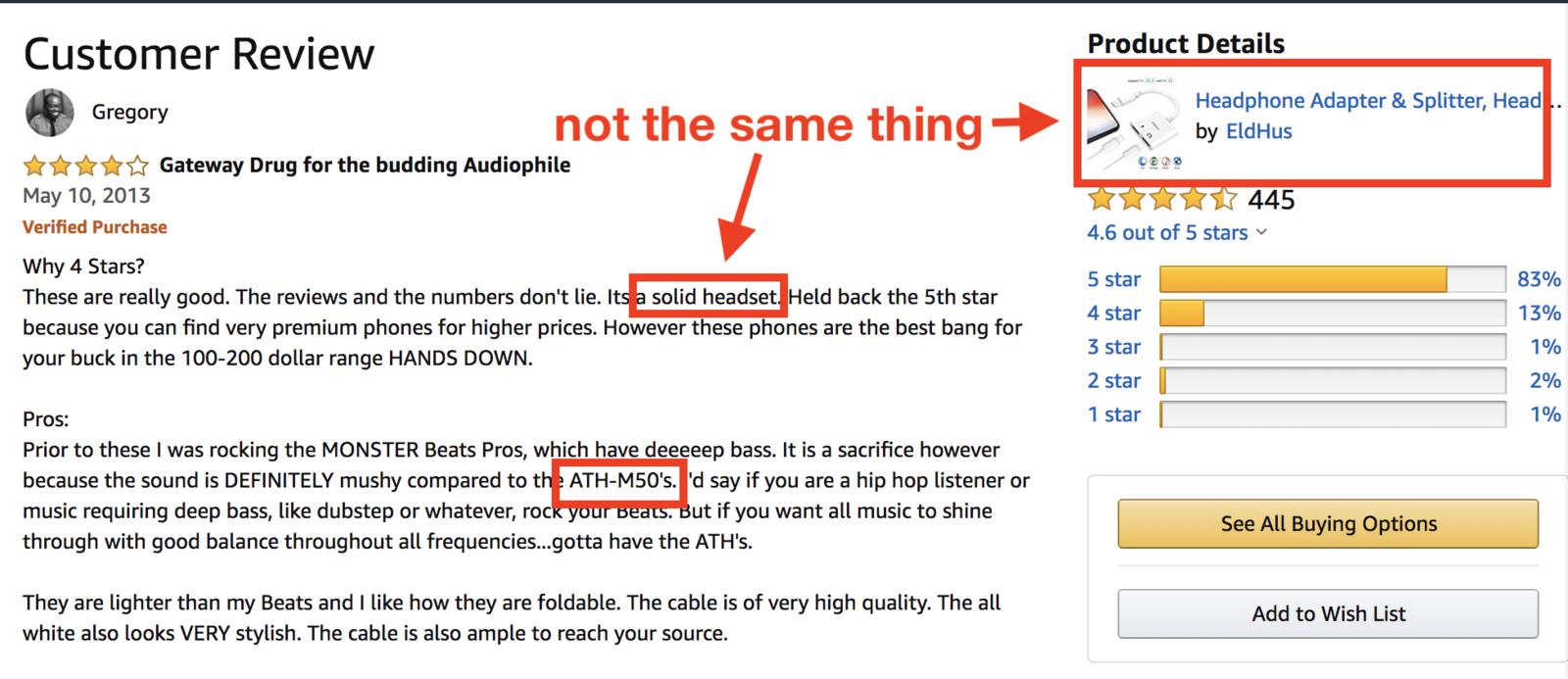 ReviewMeta, a website that analyzes Amazon reviews, tracks product title changes. You can paste a link to a product you're considering on its site, and a red warning will appear on product listings where it detects review recycling.

In a product's Customer Reviews section on Amazon, the keywords under "read reviews that mention" are another clue. A quick glance at the word cloud can indicate if other products were sold under that listing.
Some sellers don't even try to hide when they reuse a listing. On a product page, click "[x] customer reviews" at the *bottom* of the page to see all of the listing's reviews. In the "filter by" section, under "all formats," there may be an option to select reviews for one particular product. But remember: Review recycling is a technique intended to deceive unsuspecting consumers, so you should be wary of any seller who employs it.
Buying a brand name? Double check the seller.
Another, more insidious form of review hijacking is when an unknown company sells its item — often counterfeit — under the listing of a well-known brand, and therefore co-opts the legitimate item's positive reviews.
Does the manufacturer sell products to authorized Amazon resellers? In the case of smaller retail companies, former Kickstarter-funded projects, and many Apple accessories, the answer is no, and you may be tricked into buying a knockoff.
On the product's page, look for text in small print, just below where it says "In Stock." You should see "Sold by [x]," and maybe even "Fulfilled by Amazon." If x isn't the brand name of the item or it isn't sold directly by Amazon.com, you should look more closely at the seller. Do they have a website denoting whether it's an unauthorized reseller?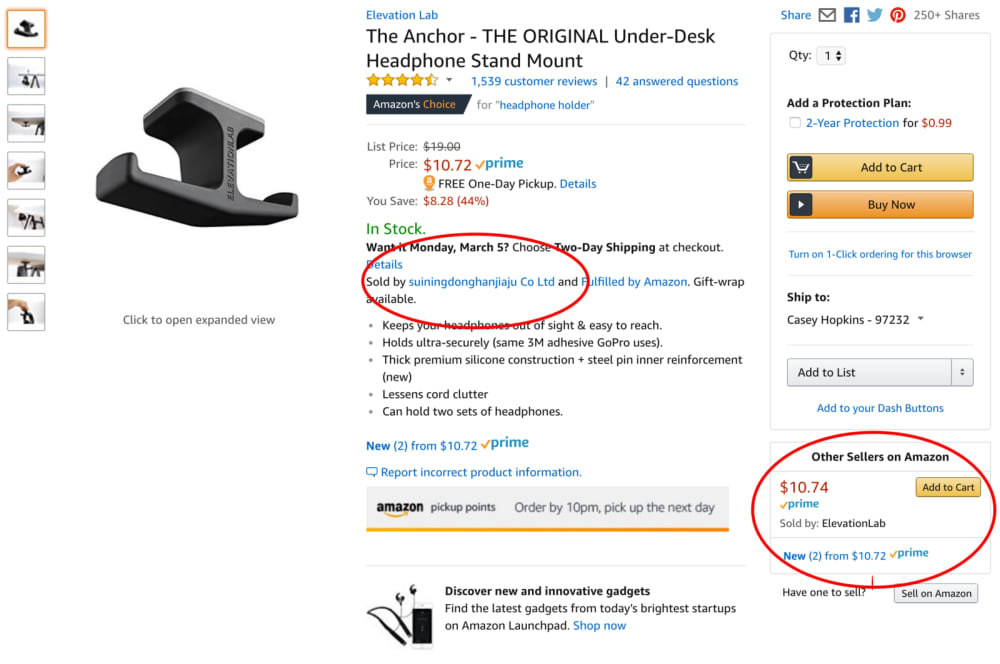 Then, comb the reviews. Do any customers mention receiving a counterfeit item? Near the bottom of the page, in the customer reviews section, click where it says "[x] customer reviews." There, you'll be able to search reviews for terms like "counterfeit," "fake," and "knockoff."

Look at review dates. Were a lot of them published right before the holiday weekend? If so, that may be a red flag.
The Thanksgiving holiday weekend is a huge sales opportunity for Amazon sellers. Last year, the sales period between Thanksgiving and Cyber Monday was the biggest ever for sellers on Amazon.
Some sellers, in order to take advantage of the shopping frenzy, stack their products with positive reviews right before the sales. Earlier this year, a best-selling chef's knife had 96 five-star reviews, all published the day before Prime Day (Amazon's annual made-up sales event in July).
Amazon later removed the reviews and, as of this story's publication, it prohibits customers from reviewing the product. A notice on the page stated that "This product has limitations on submitting reviews. There can be a number of reasons for this, including unusual reviewing activity."
The takeaway is: Be extra careful about buying items online during shopping holidays.
In a review of the top 10 searched Black Friday products on ReviewMeta's website, "every single one of the products had some major problems with their reviews, including thousands of deleted reviews," the site's founder Tommy Noonan told BuzzFeed News.
"Reviews disappear from Amazon as a result of a few different things, some of them completely benign. For example, a reviewer might close their account and delete all their reviews. However, when we see products with a substantial number of deleted reviews, it can be a sign that Amazon has taken some action against the seller," he added.
That's the case for ReviewMeta's number one item, an anti-aging cream from PureBiology, which had 2,671 reviews last year and now has none.
Amazon will have lots of good deals for legitimate items you actually need, but you'll want to verify the quality of items sold by companies you've never heard of.
From my extensive reporting on the issue, these kinds of items are prone to review manipulation: beauty products, health supplements, fitness wares, electronics, and gadget accessories.
But fake reviews can be anywhere. Take a look at any paid-for review group and club (just type "Amazon Review" into Facebook), and you'll see that sellers are paying customers to positively review every item under the sun, from leggings to wall calendars to snore stoppers.
If you suspect a product is flooded with paid-for reviews, report the abuse — and send them to me at nicole.nguyen@buzzfeed.com.
Every Amazon product page has a link to "Report incorrect product information." Select "Other product details," and explain why you suspect that product is engaging in review manipulation. You can also email community-help@amazon.com if you receive an offer for compensation to change or leave a review from a seller.
Below each review, there's also an option to "Report abuse," but if it's a legitimate review for an item no longer sold on the listing, you may suspend a customer's reviewability without any consequences to the seller.
I'd also love to hear about any fishy products you come across. Feel free to email me at nicole.nguyen@buzzfeed.com, or message me via Signal or SMS at 415-943-0446.