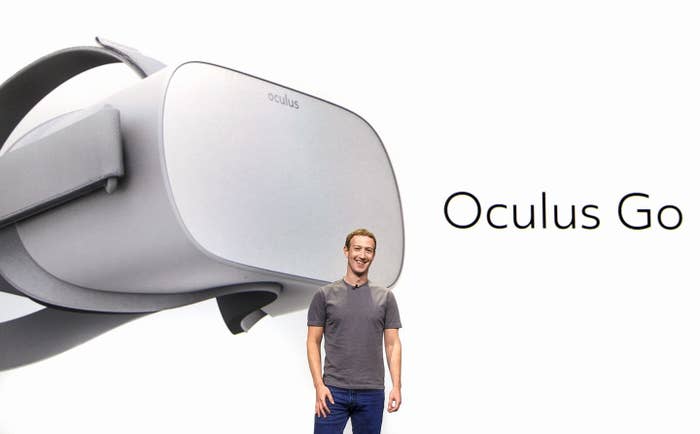 At Facebook's F8 developer conference in San Jose, California, Tuesday, the company took pains to present itself as a privacy-friendly company that prioritizes its users' safety following a scandal-ridden year.
Yet while it touted encryption, secure data storage, and private interaction, Facebook continues to press forward with more ways for users to engage with the platform, leaving plenty of data behind.
Facebook introduced a new feature that will help people date their friends, which some onlookers immediately pointed out seems destined to end poorly. And it said its larger dating product would roll out in the US at the end of the year. Facebook is also adding new features to Messenger that would allow users to watch video with multiple people as it tries to be more competitive in video chat. And it announced new shopping features like shipping and payment for Facebook Marketplace, Instagram, and WhatsApp as it eyes e-commerce giants like Amazon and eBay.
Regarding privacy and safety, Facebook said it would make groups a more prominent part of its product, creating more space for sharing and interacting with smaller communities. It said it's testing removing the like counts from posts in Instagram's feed in an attempt to make people feel less bad about themselves as they scroll through. And it said Messenger will go end-to-end encrypted.
As they introduced new features, Facebook's product executives said the word "privacy" over and over. But with its dating and shopping features, the company opened up potential new avenues to learn about who we are.
Instagram has a new Create Mode.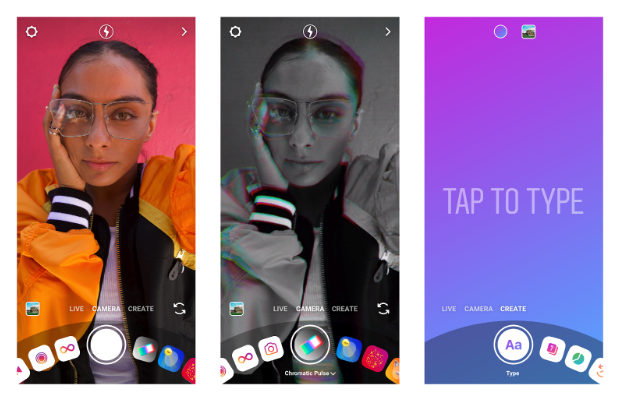 The camera in Instagram Stories is getting an overhaul, making it easier to find and use some of the extra quirky features, which have been sort of hard to figure out for lots of users.
Create Mode will let you create an image for Stories that isn't a photo or video – something users have been doing ad-hoc for a while by blacking out images or posting big blogs of text. Now, it'll be easy to just post a solid color background with text or GIFs over it.
Instagram is hiding like counts from followers in a test to see if you'll feel less horrible.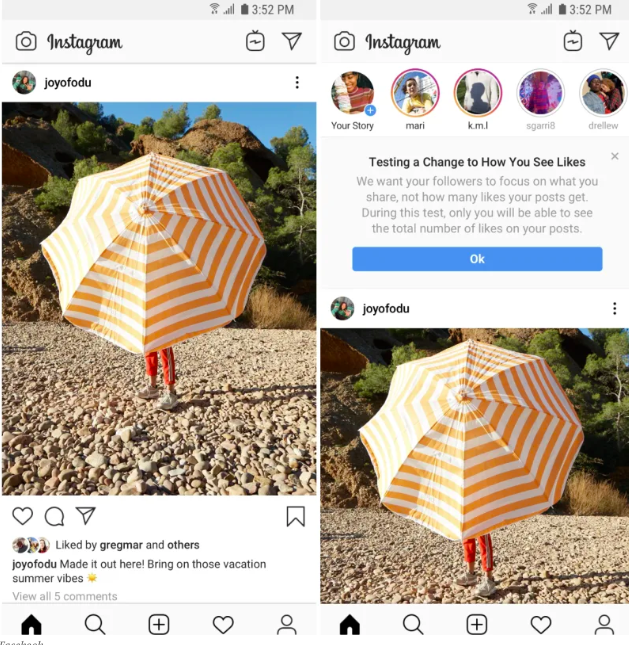 Instagram will test hiding the like count from photos and view count from videos in an effort to get users to pay attention to the content itself and not their associated engagement metrics, the Facebook-owned app announced Tuesday at F8, Facebook's annual developers conference.
In the test, followers won't see a photo's total likes or a video's view counts in their Instagram feeds or when visiting a user's profile. The account owner will still be able to access their own metrics and see the total likes or views for a specific post, although they will need to tap through a post to view those metrics. Instagram said that the "private likes" test would begin later this week for users in Canada.
Read more here.
Facebook is making it easier for you to date your friends too.
A new feature called "Secret Crush" allows users of Facebook Dating to pick nine of their friends that they have a crush on. If any of those friends also picked you, you'll get notified. If your love is unrequited, the other person will never know. While it's possible that this could help people who are too shy to make a move fall in love, it's also possible this is…a creepy and terrible idea that no one wants debuting at a time when Facebook is widely viewed as particularly creepy.
Read more here.
Oh btw, Facebook wants to help you meet new friends.
The company told reporters it is introducing a feature called "Meet New Friends" that lets you, yes, meet new friends. It's opt-in and connects people who share schools, jobs, and cities. Which is funny since a product manager at Facebook recently remarked on Twitter that: "1. No one wants to hangout with the friends who need the app: socially awkward 20-somethings 2. Most Americans just go to work, watch Netflix and die."
WhatsApp will let businesses display entire product catalogs directly on their profiles.
Businesses using WhatsApp can already have their own profiles with business descriptions and contact information, but WhatsApp will now let businesses display entire product catalogs directly on their profiles within the app that customers can browser through. "Now you can see what is available with a business," said Zuckerberg. The feature could help millions of small businesses that don't have websites in countries like India, WhatsApp's largest market, to lay out their goods directly on WhatsApp.
Some influencers can now add shopping tags to posts.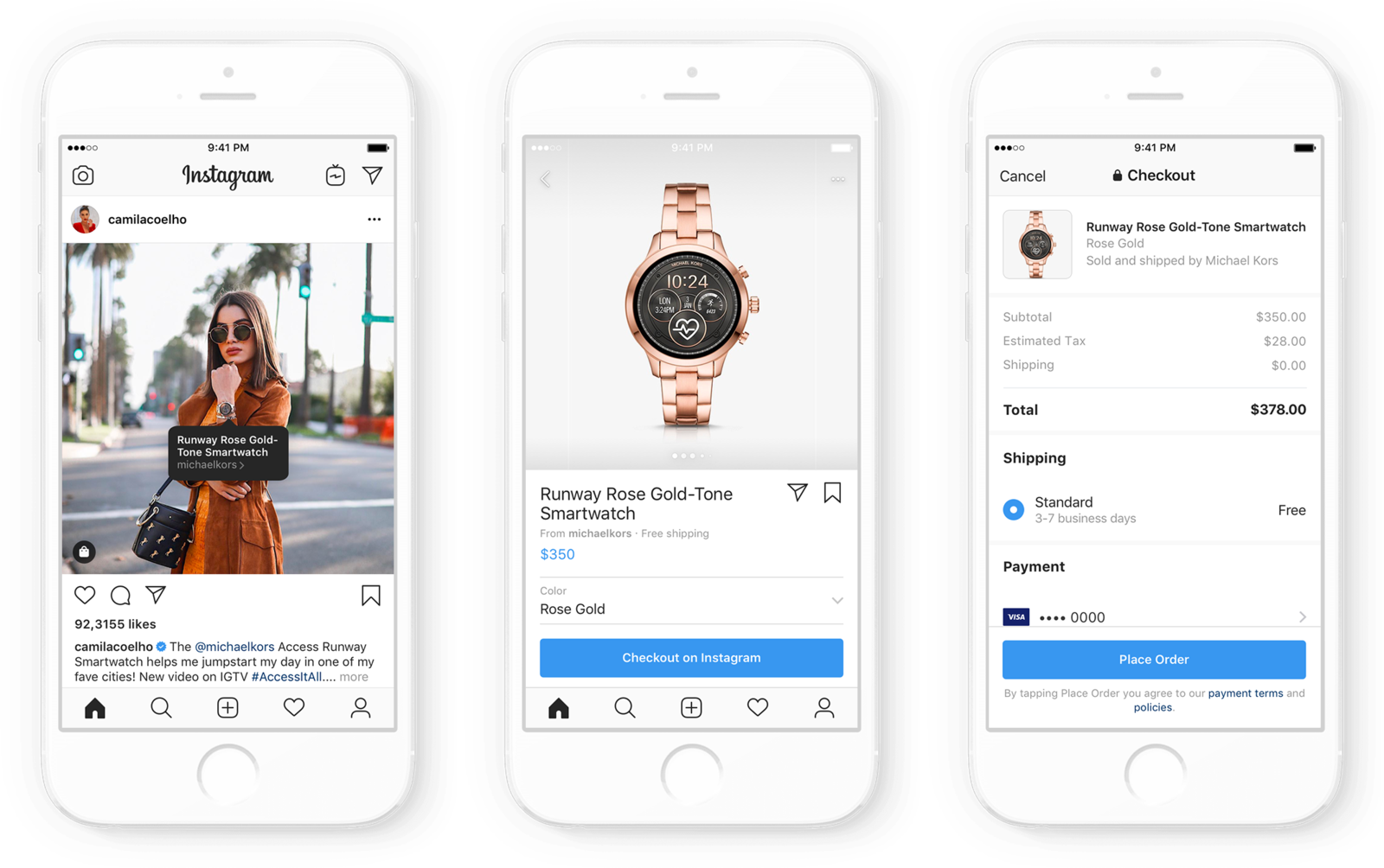 Instagram's push into shopping continues. The ability to buy products from certain brands and check out directly through shopping tags on the app was introduced last month. Now the company is expanding that capability to influencers, including Aimee Song; celebrities, including Kim Kardashian West; athletes, including Candace Parker; and publications, including Refinery29. Instagram is limiting shopping tags to over 60 accounts right now, and only products from participating brands can be purchased from the app. The feature is available to people in the US.
Instagram's new "donation stickers" allow people to raise money for charity through stories.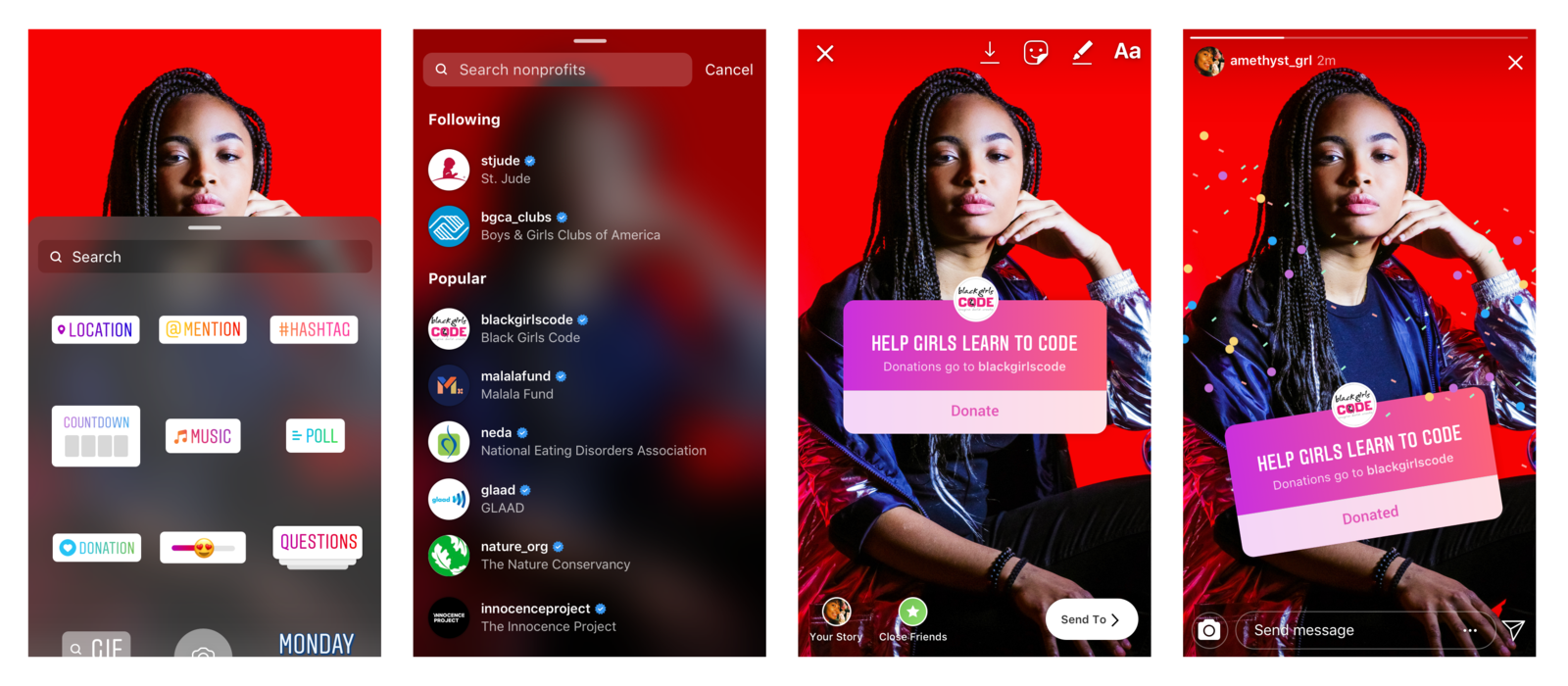 In February, Facebook announced that it would help people donate to nonprofits on Instagram, similar to Facebook's Charitable Giving feature, where people can raise money for their birthday. Starting today, people can use the newly launched "donation stickers" in stories and choose from a group of organizations, including Black Girls Code, GLAAD, and No Kid Hungry. The feature, which does not include any transaction fees, may be a good way for Facebook to get people to use — and save — their credit cards on the platform. For its shopping and direct checkout feature, Instagram touts not having to reenter a credit card number as a perk.
Groups will be a more prominent part of Facebook.
Facebook has recently been promoting groups — smaller, interest-based online communities where sharing feels more natural. More than 2 billion people use Facebook, so many of its users are connected not only to their friends, but their distant relatives and acquaintances. Sharing to such vast networks via the News Feed can be intimidating.
In 2017, Zuckerberg said 100 million Facebook users were part of meaningful groups. Today, he said 400 million people are part of such groups. Facebook will continue to increase groups' prominence in its product. It's improving discovery, making it easier to share from groups, and introducing a slew of new features build specifically for group type, like an anonymous posting option for health-related groups.
No more blue. Facebook's new design rolls out today in the US.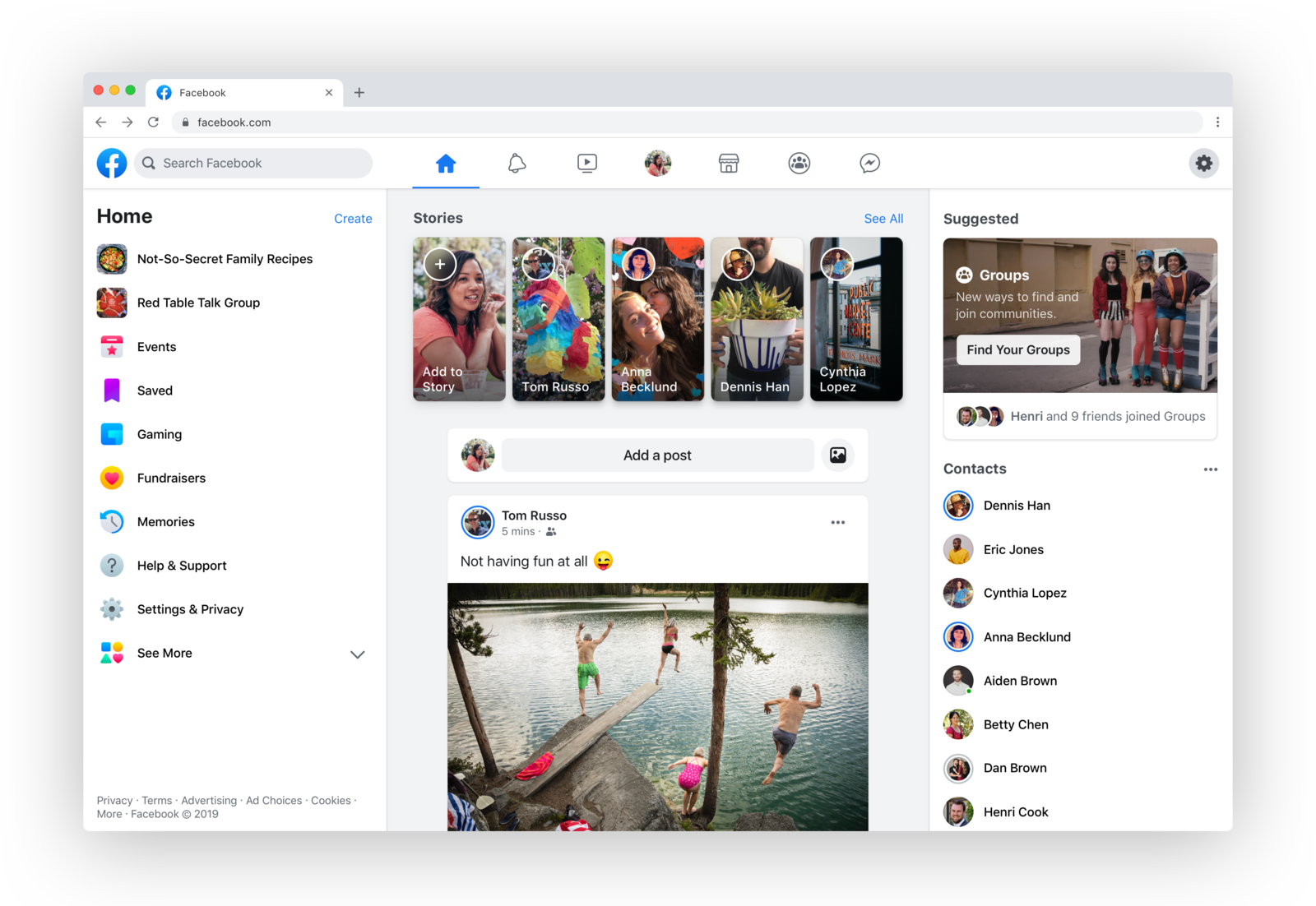 The redesign, the most significant since Facebook's launch, launches today in the US, and for the rest of the world in the coming weeks. A spokesperson said: "The redesign on mobile has been happening in stages. It has already begun on both iOS and Android and will continue over the coming months. The desktop redesign, which will begin testing in the next few months, will update the web design to look and feel more modern and fresh, similar to the mobile app."
Facebook Messenger is getting a desktop app for Windows and Mac.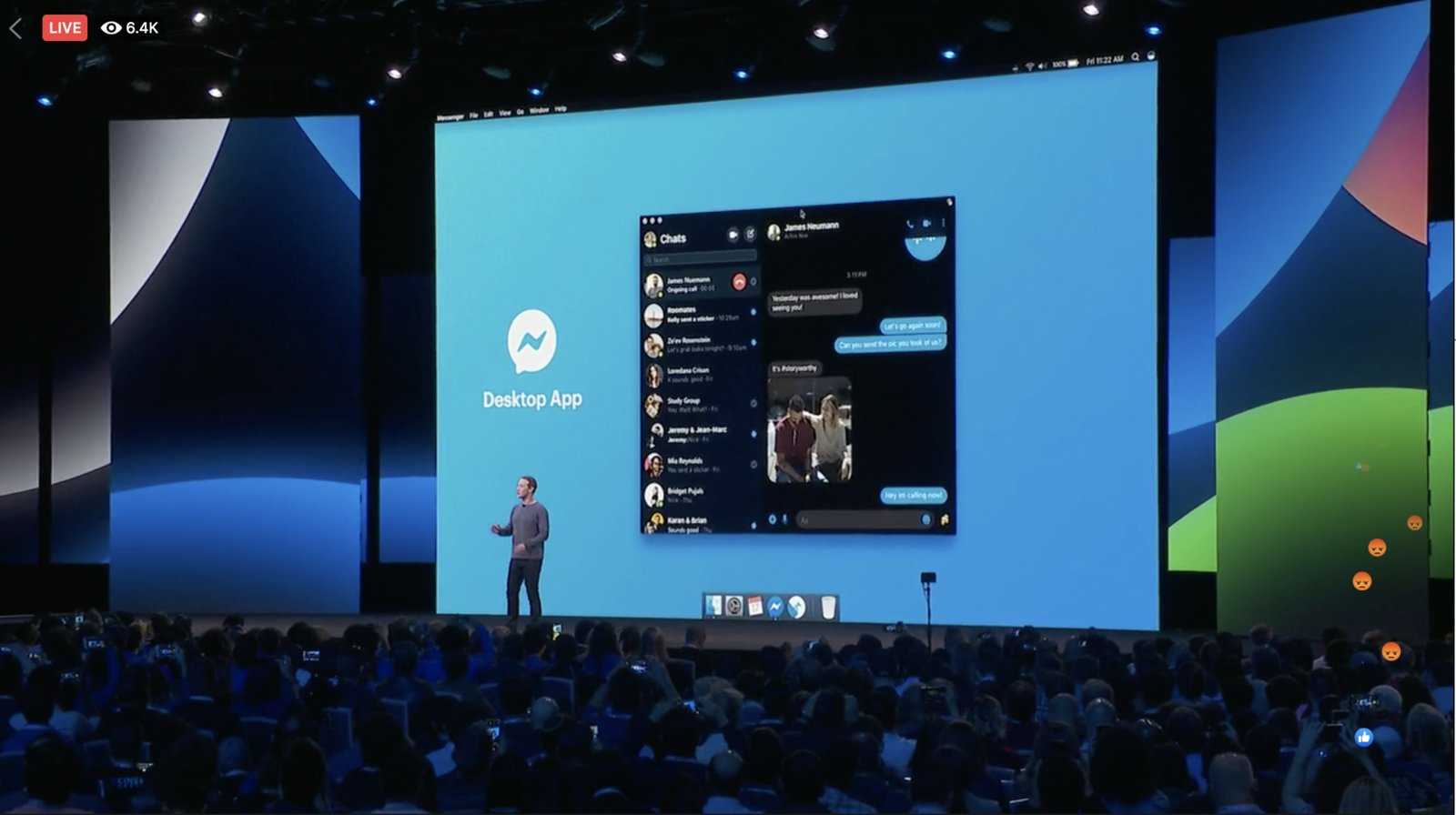 As a part of the company's play to take over Apple's FaceTime and iMessage, a version of Facebook Messenger is launching for laptops. Previously, people could use Messenger from a web browser, but couldn't use certain features on the platform like group calling. The desktop version of the app includes those capabilities. Facebook has said that private messaging is one of the fastest growing areas of online communication, and according to the company, the amount of time spent in video chat on Messenger has grown 40% year over year.
And you will be able to watch a video with multiple people, in real time, over Messenger now.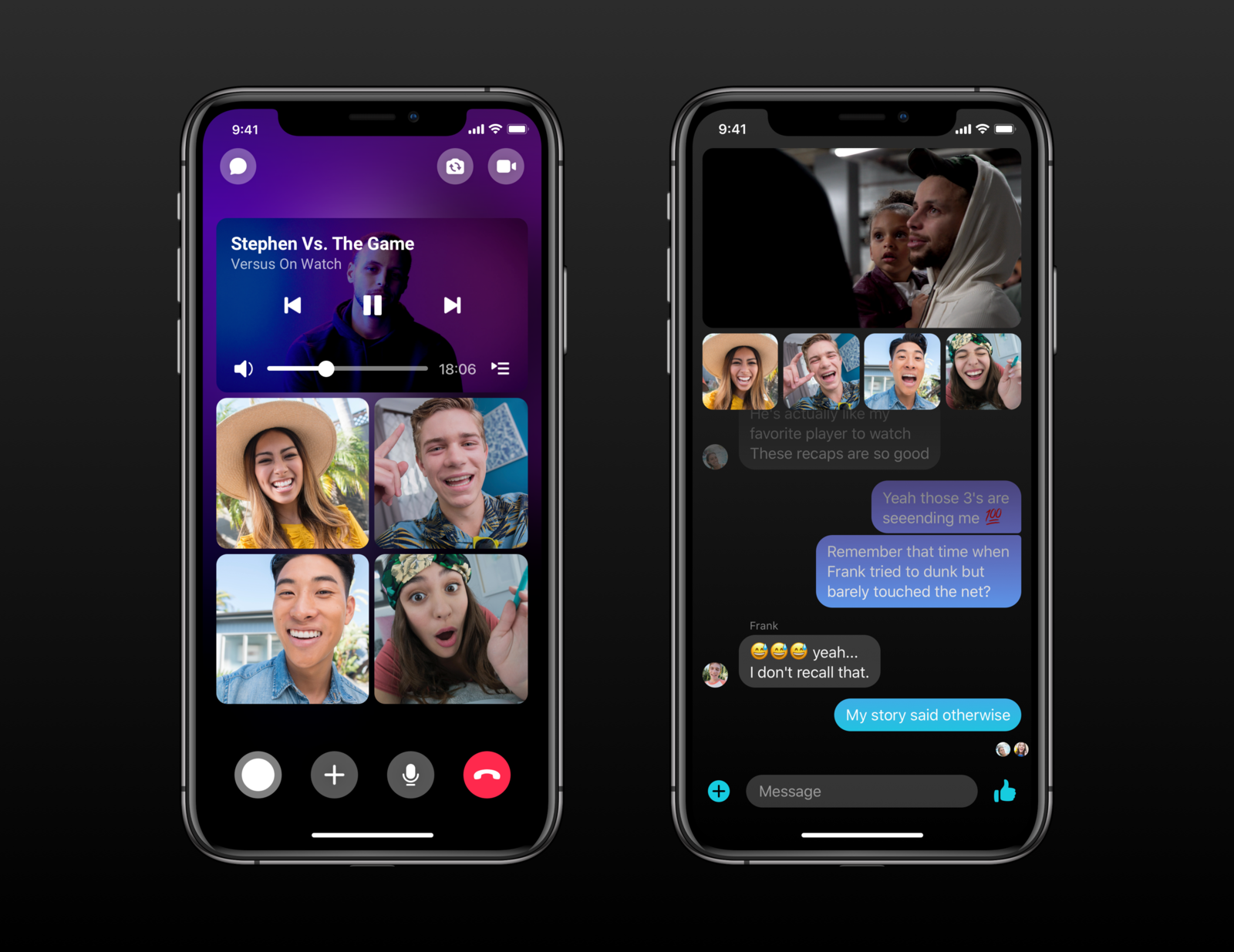 Facebook is testing a "group watch" feature, where people can invite others to watch a video together in real time while messenging or on a video chat, like a private Twitch.
"The future is private."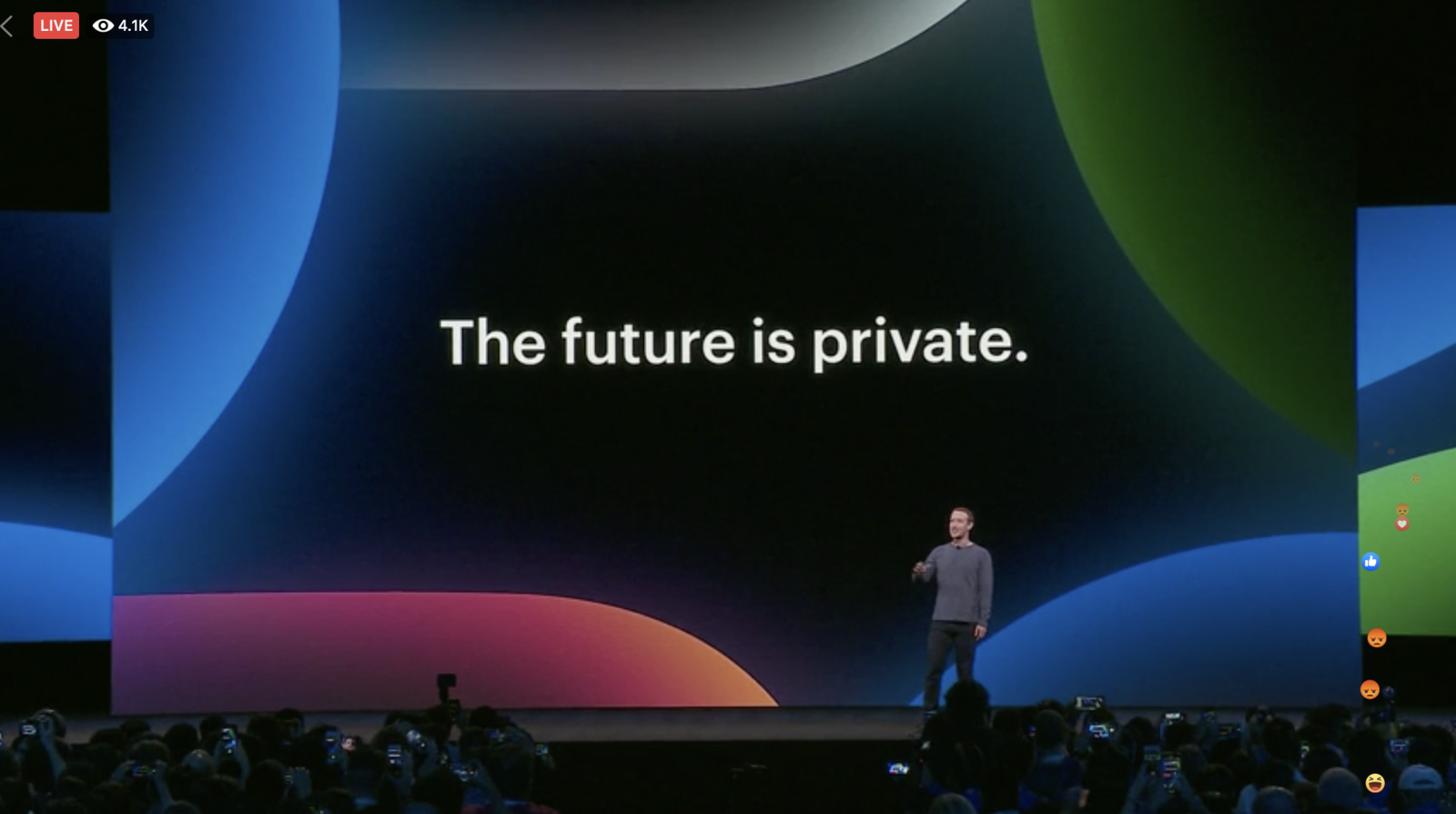 Facebook CEO Mark Zuckerberg kicked off his keynote with a privacy-focused speech. "Privacy gives us the freedom to be ourselves ... so it's no surprise that's the fastest way we're communicating online is small groups," Zuckerberg said. "That's why I believe the future is private." Following the comments, the CEO said, jokingly, "I get that a lot of people aren't sure that we're serious about this. I know that we don't have the strongest reputation on privacy right now."
Zuckerberg outlined Facebook's push to create a "private social platform" across all of its apps, including WhatsApp, Messenger, Instagram, and Facebook.
The past year has been a long privacy catastrophe for Facebook, which includes the Cambridge Analytica scandal involving the procurement of tens of millions of Facebook users' data without their consent and multiple security breaches.