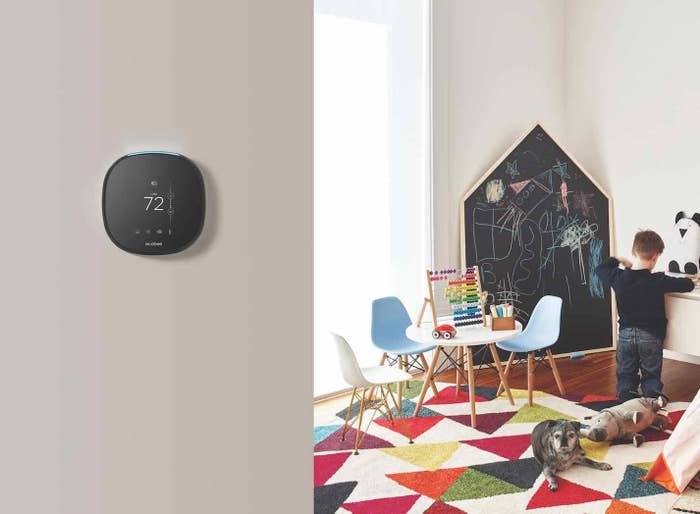 Ecobee's new smart thermostat now has an edge over its competition: a speaker, microphone, and Alexa built-in. The Ecobee4, a Wi-Fi–enabled device similar to Google's Nest and Honeywell's Lyric, is the first thermostat with Amazon's voice-enabled Alexa software on board. It can understand "Alexa, turn down the temperature," "Alexa, read me the news," and hundreds of other prompts primed for Amazon's voice assistant.

Another feature that sets Ecobee apart from other smart thermostats is that it works with small, floss dispenser-sized individual room sensors (up to 32). The sensors, which can be affixed to a wall or stand on their own, detect each room's occupancy and temperature so Ecobee can better manage a home's hot and cold spots. The central thermostat and its sensors communicate with each other to determine whether you're actually at home and where you are in your house — better than other thermostats with a single hub, according to Ecobee — and adjusts the temperature accordingly. That way, you can save money on your energy bill by not running the AC or heat while you're away.

In addition to the Ecobee4, the company is also launching new smart light switches that double (triple?) as an Ecobee room sensor and Alexa speaker in one. The light switches, which will be available later this year and are sold separately (price has not been announced), connect to Wi-Fi, so you can turn off your kitchen lights remotely with your phone. They also have tiny speakers and a microphone that spread Amazon's voice assistant throughout your house.

Ecobee's two new products are part of what the company is calling the "whole home voice future." They're a good option for consumers who want the magic of the Alexa voice assistant in every room — but keep in mind that their itty-bitty speakers don't exactly produce hi-fidelity sound (more on this later). If you use Alexa to listen to music or podcasts, you'll probably still want an Echo or Echo Dot.

Ecobee's partnership with Amazon seems almost inevitable. In 2015, Amazon opened Alexa to third-party hardware makers, like Ecobee, Huawei, and Ford, for free. That same month, Amazon also unveiled the Alexa Skills Kit, which developers can use to create custom voice capabilities, like being able to request an Uber or listen to daily Oprah affirmations. There are now over 12,000 skills.

The development kits were a hit with developers. At this year's Consumer Electronics Show in January, some reports, noting the dozens of Alexa-enabled devices on the showroom floor, declared Alexa the "voice assistant du jour," the "belle of the ball," "the "winner" and "darling" of the show.

I brought up Alexa's post-CES buzz with Ecobee CEO Stuart Lombard, who said frankly, "How many of those products have actually made it to market?"

(Answer: very few.)
Despite all of the support tools and documentation Amazon provides to ease integration, implementing Alexa Voice Service turns out to be incredibly difficult, requiring many months of testing and lots of audio expertise.
The onus is on manufacturers to build wake word detection, clear speech capture, and selective noise cancelation into their products. Companies interested in adding Alexa to their products need the bandwidth to perform those tests, which may be why it's taken so long for companies like Ecobee (and Sonos, which announced its Alexa integration late last year and has not yet unveiled a product) to ship devices.
In a statement, Amazon spokesperson Daniel Gabis commented that, "There are tens of thousands of third-party developers now who are working on integrating Alexa into their own products. We work closely with developers and OEMs to ensure their Alexa products will provide a great experience for customers. This includes providing support during the design, build, and launch of the product, APIs, and documentation."
The key to voice-enabled products is far-field voice recognition technology, or, more simply put, the ability to hear the wake word from any direction, with some amount of background noise, even if there's a good amount of distance between you and the speaker. In my original review of the Echo, I loved being able to ask Alexa, in my kitchen, to add stuff to my shopping list...from bed.
Amazon offers exactly what makes that technology possible to developers — its seven-microphone array design — in a public, ready-to-use development kit. But many third-party manufacturers, like Ecobee, will need to redevelop much of that design from the ground up.
"When we started, we tried putting an Amazon Echo on the wall, and unfortunately the performance was horrible," Lombard said. "It shows you that the physics of how sound waves propagate in your home, and understanding how to deal with things like having a TV on in the background ... are quite complex and so you need a specific microphone array in order to be able to get great quality."

Ecobee4's Alexa integration, which did not rely on blueprints from Amazon, took over 15 months to develop. The company hired audio specialists, went through hundreds of prototypes, and created its own tests to run people saying prompts with different accents, different background noises, and different room geometries, over and over again.
It's worth noting that this effort was funded in part by Amazon's Alexa Fund, which invests in companies interested in voice integration. The fund rewards developers looking to give Alexa new skills, create hardware with Alexa built-in, or research ways to improve natural language processing and other voice technology, all with the aim of making Alexa a more robust and capable voice interface. In September 2016, Ecobee raised $35 million in a round led by Amazon, Thomvest, and Relay Ventures.
"It feels like you could slap two microphones or two speakers into your product and you could come up with a great result," Lombard said. "The answer is: You don't."
Steve Rabuchin, Amazon's VP of Alexa Voice Service, acknowledged this. "I think you'll see us leaning in more with reference designs," he said. "Not every design is the same shape and size. And what may work for a cone-shaped speaker, may not work for a device on the wall, or a fridge in the kitchen. So we'll continue to invest in that area."
Not only do hardware makers need to figure out how to capture clear, distortion-free sound to send to Amazon's servers for processing, they also need to squeeze speakers, a mic, and extra computing power into whatever form factor their device takes. For smaller devices, such as Ecobee's hockey puck–sized thermostat, capturing clean audio and making good sound come out of a small package is an added challenge.
The Ecobee4 could hear me saying "Alexa" throughout my studio apartment, but the thermostat was less consistent in the BuzzFeed SF newsroom, with the TV on, reporters making phone calls, and a loud AC unit overhead.
The thermostat's speakers are what you'd expect out of, well, a thermostat. The audio quality is fine for Alexa's responses and listening to short news briefings, but obviously not ideal for listening to music. It kind of sounds like those little radios you take camping.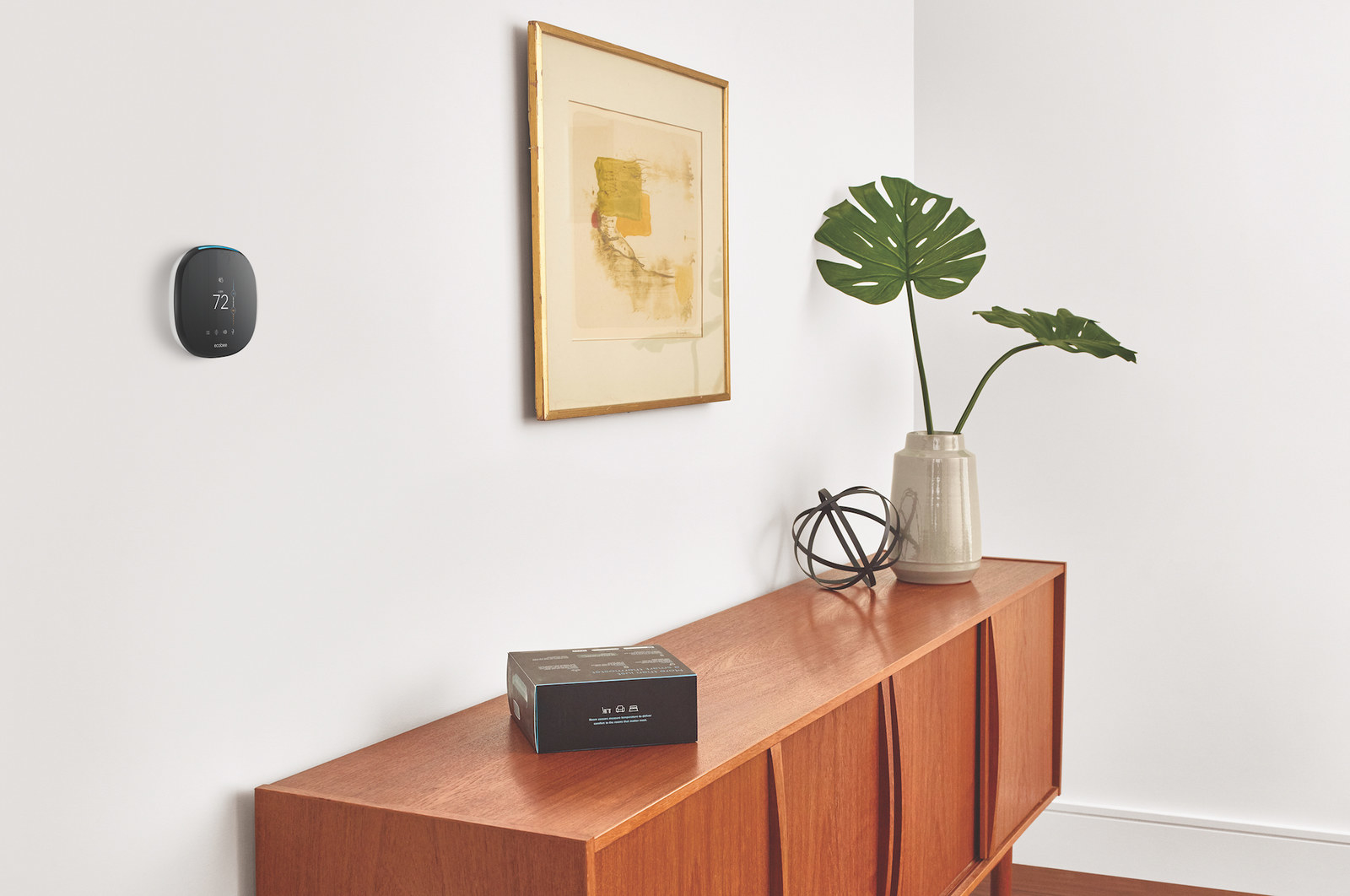 Ecobee's CEO said the new device is like "getting a thermostat and an Echo, but all for the same low price" — but that's not totally accurate. The Ecobee4 is great for controlling smart home devices or requesting simple tasks, like setting a timer, with your voice. But for listening to podcasts and music, you're better off with an Echo or Echo Dot. I was also surprised to find out that Spotify isn't supported for third-party hardware but Amazon Music is.

Amazon also needs to work on reducing the friction during the setup process. After you install the Ecobee and connect Alexa to your Amazon account, you still need to add the Ecobee smart home device "skill" in the Alexa app.
Overall, however, I found the Ecobee4 to be very intuitive to use. For starters, it has a nice touchscreen, unlike other smart thermostats. It looks great and has a lovely interface (extra points for whimsical bee animations). But it's clear that there are a lot of ways Alexa Voice Service can improve for both third-party manufacturers and Alexa consumers (looking at you, Spotify).
Rabuchin said the Alexa team, which is now in the thousands (a year ago, Amazon said it employed just "over a thousand" employees dedicated to Alexa), is focusing on growing the voice assistant's capabilities and its footprint internationally, as well as integrating with a breadth of devices, including wearables, automobiles, and appliances, in addition to smart home.
"It's always day one here," said Rabuchin, echoing Jeff Bezos' recent shareholder letter. "It's so early for us. We're in the US, UK, DE, and [we're] looking at more places in the world to go, [and] more devices."
The Ecobee4 smart thermostat will be available for preorder on May 3 and will hit shelves on May 15 for $249. The smart light switch won't arrive until later this year.
UPDATE
Now, with a statement from Amazon and newly announced number of Alexa skills available.