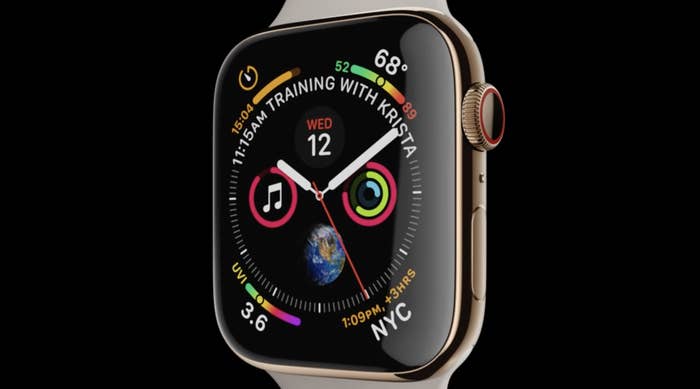 The Apple Watch Series 4, announced today, has a display that's over 30% larger than previous models.

There are a few design tweaks as well. The speaker is 50% louder than previous models, and the microphone is moved away from the speaker to reduce echo.

The back of the watch is now made of ceramic to improve cellular reception. It also has a processor that's twice as fast as the previous chip, called "S4." There's an updated accelerometer and gyroscope, which work twice as fast, too. This allows the device to detect falls. Apple says the feature is capable of determining the difference between a slip and a full-on face-plant, and if you stop moving after the latter, it will call emergency services automatically.

The biggest update: more screen.
The "bezels" (the border around the display) have been reduced on the new Apple Watch, which increases the smartwatch's screen real estate without making the device itself much larger.
There are two sizes: 40 mm and 44 mm. A new watch face with over eight complications (too many!!) is available to show off the new screen size. If those complications stress you out, you can choose a watch face with the "Breathe" meditation app's visualizations.
Heart rate monitoring is now more accurate.

Apple's newest touchscreen smartwatch also introduces built-in electrocardiogram (ECG) functionality, which uses electrical signals for heart rate monitoring. It's the first over-the-counter product to offer ECG to consumers.
Users open the app, put their finger on the watch's digital crown, and after 30 seconds, you will receive heart rhythm classification. The app can classify signs of atrial fibrillation, which can be followed by a stroke.
Previous Apple Watch models use a technology called photoplethysmography, which uses green LED lights to detect blood flow on the wrist to determine heart rate. Though most wrist-worn fitness trackers use this method, it's considered a generally less accurate measure of heart rate compared to EKG measurement, according to several studies. Last year, the FDA cleared an EKG reader accessory for the Apple Watch called the KardiaBand.
Onstage, COO Jeff Williams reiterated Apple's commitment to privacy and said the data is encrypted on the device and in the cloud.
The battery is, sadly, the same 18-hour "all-day" battery.

While the increased screen space offers more room to see workout stats or scribble text messages, the feature that has most prevented the Apple Watch from being a killer fitness tracker is its daylong battery life. Series 1 through Series 3 models need to be charged daily, and, with GPS turned on, their battery lasts only up to five hours.
For those primarily interested in fitness tracking, the competition's batteries fare better: Garmin's running/swimming watch lasts up to 14 hours with GPS enabled, and Fitbit's general fitness tracker/smartwatch hybrid (with no GPS) has a four day-long battery life.
You can preorder the watch, which starts at $399, on Sept. 14.
The noncellular version starts at $399, while the cellular model starts at $499, in a variety of colors and finishes, including silver and space gray, plus a new finish: gold stainless. A Nike+ version is optimized with a full Nike watchface and includes a band with reflective yarn for running at night. Last year's Series 3 will be offered for $279.
Both ship on Sept. 21.
The Apple Watch is for everyday (but not super-hardcore) athletes and iOS/Mac power users.
While serious athletes would be better off with a fitness-focused watch, in-between athletes — those who run and swim regularly, but aren't doing super-long-distance workouts — will want to consider the Apple Watch.
Other wearables, of course, don't include the deep iOS integration the Apple Watch offers (including Reminders, Apple Pay, and being able to unlock your Mac). Power users who know how to get a lot out of the iOS/Mac ecosystem should also consider the Apple Watch.
The Series 4 isn't that different from last year's model.
The improvements to screen size, heart rate tracking, and other features are nice-to-haves if you like owning the latest and greatest tech — but they won't feel like drastic upgrades compared to last year's Apple Watch Series 3 (read the full review), which added cellular connectivity, or even the previous year's Apple Watch Series 2 (read the full review), which added GPS and swimming features.
Unless you want an independent smartwatch with an LTE connection, it's likely that a Series 3 with GPS ($279 refurbished via Apple) or even a Series 2 would be sufficient for those who want to save some money.
Before you opt for cellular: While convenient, getting cell service for the watch is costly. The LTE version has an upfront additional cost of $70 — and a slew of hidden cell carrier fees, including an activation fee (~$25), and a monthly fee ($10/month), plus extra monthly service charges (~$5), just to use the data from your already existing data plan.
Ultimately, only real-world testing will determine whether the Apple Watch Series 4 is worth it. Stay tuned for our full review.
For existing Apple Watch owners, the more significant improvements will come with the release of watchOS 5.
The update includes long-anticipated features, like automatic workout detection and the ability to listen to podcasts offline, without your phone, and to stream episodes over LTE.
WatchOS 5 will be available for Apple Watch Series 1, 2, and 3 on Sept. 17, but is not compatible with the first-generation Apple Watch.