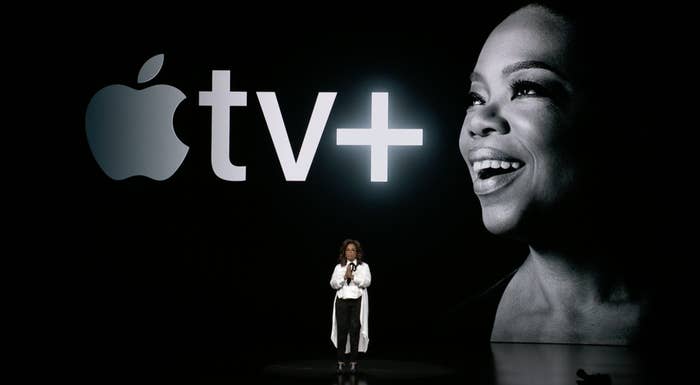 Apple is getting into the original content game. At an event held at its Cupertino, California, headquarters, the company announced a new streaming service called AppleTV+, which will host a slate of exclusive TV shows and movies produced by the tech giant.
Through iTunes, Apple has long rented and sold entertainment — but today's announcement marks the first time the company has seriously embarked on making its own video content. Apple's first original shows were Carpool Karaoke and Planet of the Apps. Today, it expanded its programming offerings to dozens of new star-studded shows.
Apple TV+ is coming this fall to over 100 countries, through the new Apple TV app and smart TVs. The price for the service has not yet been announced.

Unlike Netflix, which prides itself on plucking actors out of obscurity and making them stars, Apple is leaning heavily on well-known names, like actors Jennifer Aniston, Reese Witherspoon, and Octavia Spencer, to lure audiences. Directors Steven Spielberg, J.J. Abrams, Sofia Coppola, Ron Howard, M. Night Shyamalan, and Damien Chazelle also made appearances in a trailer introducing the new service. Apple sees its service as "the destination for the highest-quality originals."
Spielberg, Abrams, Aniston, and Witherspoon, as well as actors Jason Momoa and Kumail Nanjiani, appeared onstage at the event. Oprah was the announcement's "one more thing" surprise.
The media mogul is bringing a documentary, a not-yet-named series, and conversations between the host and authors of Oprah's Book Club selections to Apple's platform.
Some of Apple's programming includes: a Spielberg-directed reboot of Amazing Stories; The Morning Show, which is an "insider's view in the people who help wake up America every day," starring Steve Carrell, Aniston, and Witherspoon; See, a postapocalyptic series about survivors of the human race, starring Momoa; Little America, an anthology series about immigrants coming to the US; a coding-oriented preschool show produced by Sesame Workshop; and a J.J. Abrams–produced show about a singer, starring Sara Bareilles.

The company faces heavy competition in the space.
Netflix's massive catalog and its more than 130 million global subscribers is the frontrunner in streaming. Amazon Prime offers award-winning hits like The Marvelous Mrs. Maisel alongside a slew of perks like free shipping, music streaming, and more. Disney's upcoming Disney+ streaming service, which will include Disney, Pixar, Marvel, and Star Wars content, is also set to launch later this year, as well as WarnerMedia own's platform, which will include content from HBO, Turner, and Warner Bros.

Apple's advantage is its ability to preload the service onto millions of its iPhones, iPads, and Apple TVs, and to offer a discount to make its hardware even more enticing. The company's focus on services may help it recoup lost revenue from slow iPhone sales. For the first time in 16 years, Apple issued an earnings warning, reducing revenue expectations, which it attributed to stalled growth in China.
Apple also redesigned its TV app, which now combines your cable subscriptions (through providers like DIRECTV or Spectrum) and streaming services (like Hulu or Amazon Prime) in one place. AppleTV Channels is a new subscription service that allows you to sign up and pay for the channels you want (like HBO or CBS) and watch the content ad-free.