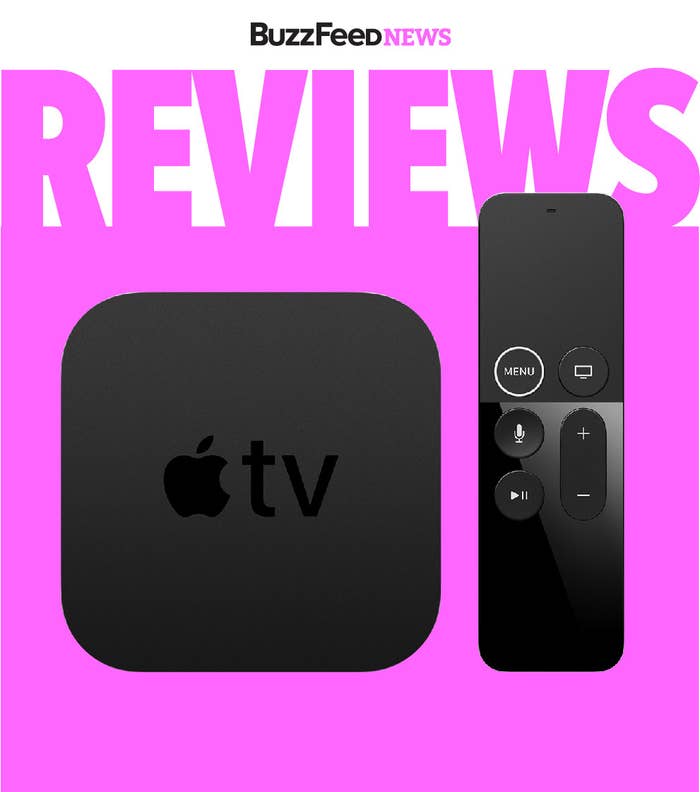 There are two kinds of twenty/thirtysomethings in this world: the kind who own a TV, and the kind who mooch on their friends who own TVs. And among those who do own a TV, there are only a few who have a 4K setup.
In an extremely unscientific poll aimed at people in their twenties and thirties, only 15% of the 1,229 ~yung adults~ polled said they own a 4K TV. Nearly 65% said they own a non-4K TV. Multiple commenters said that they had 1080p televisions from four or five years ago that still work, so there's no need to upgrade.
The fact that 4K TVs are much more affordable and ubiquitous than they once were (Costco and Walmart both offer mostly 4K TVs, and for as little as ~$300–$400) doesn't seem to matter.

What that means is if you don't have a 4K TV, you don't need the new Apple TV 4K (yet, anyway).
The new Apple TV will work on non-4K displays, too, but I'd just recommend getting the less expensive previous generation ($149 vs. $179 for the 4K model), unless you're considering upgrading to a 4K TV in the future.
And if you do have a 4K TV, Apple's new model, which ships on Sept. 22, is the most powerful — and expensive — streaming device you can buy.
It's really only for those who want to buy content from the iTunes store, use an over-the-air tuner to watch broadcast TV (like ABC or NBC), or connect their Macs or iPhones via AirPlay. It's also designed specifically for people who use Apple products. For example, you can turn your TV into an external monitor for your Mac with AirPlay, or use your iPhone to type in usernames and passwords so you don't have to use the horrible onscreen keyboard. Android and Windows users don't have these options and should consider other streamers.

Sure, the Apple TV 4K offers some extra bells and whistles, like being able to control your smarthome, download third-party apps (like Panna, a cooking app, or Zova, a fitness app), or view iCloud library photos on the big screen. But the bottom line is: If you just need something to stream on-demand content from providers like Hulu, Netflix, HBO Now, or Amazon Video, the Roku ($60-$100), Fire TV Stick ($40; the Fire TV with 4K Ultra HD is currently unavailable), and Chromecast ($35 to $69) have got you covered.
The new Apple TV 4K is for people who have the latest tech and are really into their home entertainment systems.
It can support displays with HDR10 (or High Dynamic Range), which doesn't refer to resolution, or number of pixels, but how those pixels appear on screen. HDR makes colors look more vivid, and it's available in newer 4K TVs bought within the last two years. Apple's new media streamer also supports Dolby Vision, another HDR standard, found in newer, fancier TVs.

The Roku Ultra ($100) and Chromecast Ultra ($69) also support 4K HDR10, but not Dolby Vision.

There are some smaller refinements in this Apple TV.
It now supports gigabit ethernet for a faster wired connection. You can also use a new Apple TV remote from the Control Center in iOS 11 devices. A new feature called "One Home" syncs your homescreen across multiple Apple TVs (as long as you have the 2015 model or newer). If you have AirPods, those will automatically connect. And the Siri Remote has a raised ring around the menu button, so it's easier to feel your way around it in the dark.
Live sports are also coming to Apple TV, and the device is expanding to new countries by the year's end (Australia, Canada, France, Germany, Norway, Sweden, and the UK).

I, admittedly, only own a 4K computer monitor — and the 4K content that is available looks great on it with the new Apple TV.
The Apple TV 4K does indeed stream content in 4K. I watched Chef's Table and a surf/wanderlust movie called Given via Netflix. You can just ask Siri "Find me shows in 4K" or "Find me movies in 4K" to help narrow down your results. There isn't too much there, but it's growing. Amazon Prime Video has a decent selection of 4K content, like Manchester by the Sea and Transparent. It doesn't have a native app for Apple TV yet, though Amazon swears it's coming.
Notably, if you purchased movies in the past from iTunes that are available in 4K, you will be retroactively upgraded to the higher-definition version for free. Movies from 20th Century Fox, Lionsgate, Paramount, Universal, Warner Brothers, and Sony Pictures are applicable (but sadly, no Disney). There's also a new landing page for iTunes 4K movies.
It's not just 4K TV shows and movies that look great on the Apple TV. The text in the interface looks smooth and crisp too — and the screensavers look UNREAL.
Apps and games will be updated in 4K as well. The Apple TV has been upgraded with a A10X chip, the same processor in the new iPad Pro. It's twice as fast as the previous Apple TV released in 2015, and intended to power games. Alto's Adventure, Crossy Road, Minecraft, and Guitar Hero Live are some fun titles on Apple TV, but it's still not a natural destination for gamers. You'll want an Apple TV-compatible controller (like the $50 Nimbus, sold separately), because the Siri Remote isn't a comfortable gamepad.
Ultimately, the new Apple TV 4K is best for those who have already bought into the iTunes content ecosystem and were looking to update to 4K, since the previous version didn't support it.
The 32GB model is $179 (best for streaming) and the 64GB model is $199 (best for those who download movies and games).