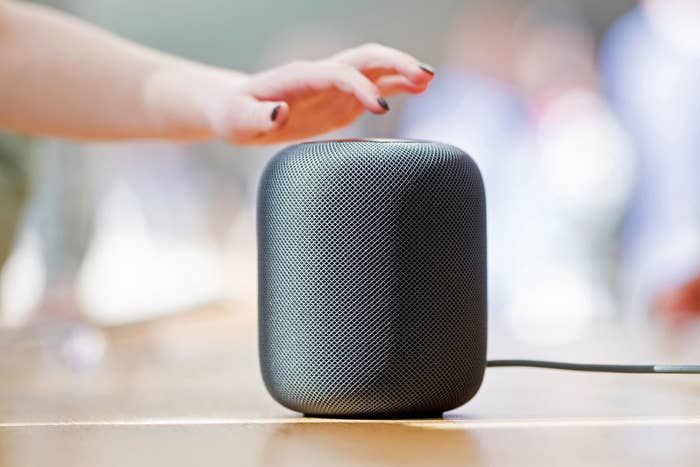 The HomePod smart speaker will finally do what Apple promised nearly a year ago that it would be able do: play in multiple rooms simultaneously and in stereo mode.
The feature was notably missing from the Siri-powered, voice-controlled device when it was released in February. HomePod's closest competitors — the Amazon Echo and Google Home — offer multi-room audio, while the Sonos One with Amazon Alexa has both multi-room and stereo mode capabilities.
Today, almost four months after the HomePod's release, HomePod users can access the new features through a software update available through the Home app in iOS 11.4, which includes AirPlay 2, Apple's wireless audio technology that enables HomePod pairing. HomePods can now sync with other HomePods or third-party, AirPlay-2-enabled speakers, and play music throughout your home. Bose, Sonos, Beats, Bowers & Wilkins, and Libratone are some of the companies that have announced AirPlay 2 compatibility for current and upcoming speakers.
The new AirPlay 2 update allows users to play any audio (including podcasts, music, and audio from videos) from their Apple devices through multiple speakers or Apple TVs.
Previously, only Mac computers could control multiple speakers through AirPlay. With the AirPlay 2 update, iPhones now have that capability, too. You can see/set up/control all of their AirPlay 2 speakers (including HomePod) using the Home app you probably never knew existed on your iOS device. AirPlay works similarly to the Sonos wireless audio system and app.
HomePod's AirPlay capability is the only way Spotify, Pandora, and other non-Apple Music subscribers can play music through the speaker. "Hey Siri" voice commands for music only work for Apple Music currently. Playing podcasts through the HomePod does not require a subscription.
You'll also be able to pair two HomePod speakers for improved stereo sound in one room.
For fuller, immersive sound, you can put two HomePods together to create a true left/right stereo speaker system, but it'll cost you. One HomePod costs $349, while two Alexa-enabled Sonos Ones costs $379.
Apple also announced that HomePod will be available in Canada, France, and Germany on June 18.