If you ever worry you spend too much time staring at your phone, Google wants to help you out. Android P, the latest software update for phones running Google's operating system, is full of features that help users manage — and limit — their screen time.
A new "Time Spent" dashboard shows users which apps they're using most.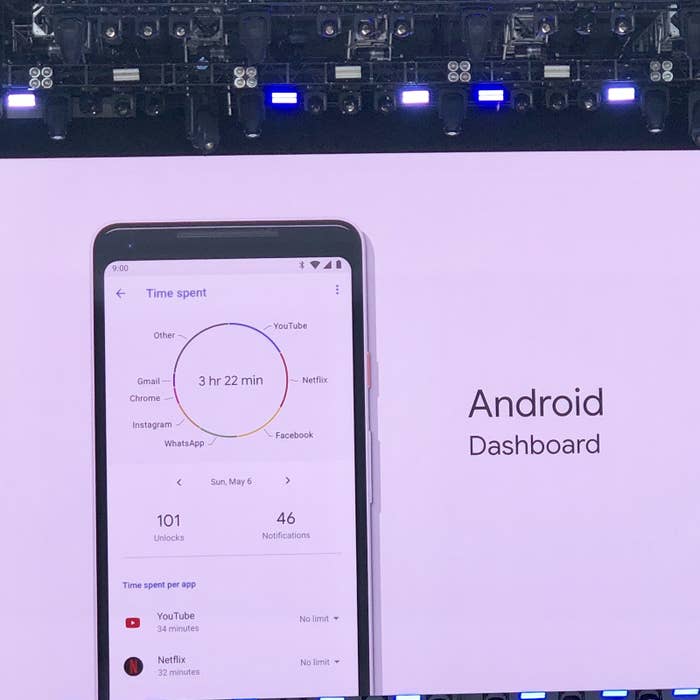 Users will also see how many times they've unlocked their device, the total time spent on the device, and the number of notifications received. From this dashboard, which is a part of Android P, time limits can also be set for certain apps.
Users can get more information by tapping on app icons from the Android dashboard. They'll see a graph of total time on app broken down by hour or by day. With Android P, developers can also link their users' mobile and desktop usage, and display that info in the dashboard.
Many of the new time management features are coming to YouTube.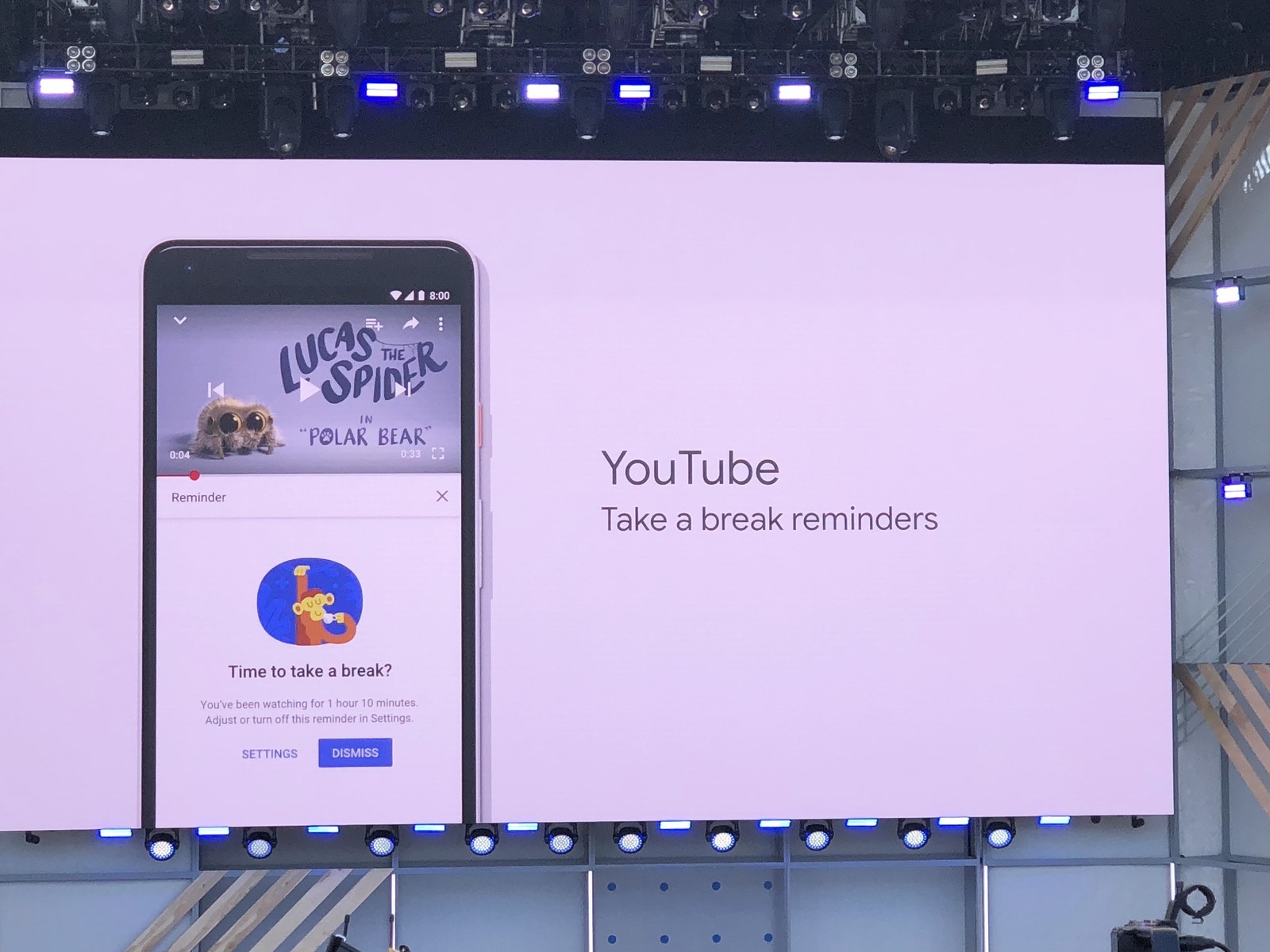 If YouTube has been playing for "a while" according to Google CEO Sundar Pichai, the service will display an alert that says "Time to take a break?" and let users know how much time they've spent in the app. The feature can be turned off or adjusted in Settings. YouTube will also send a once a day "notifications digest" to limit the amount of distracting notifications the app sends. The feature rolls out "this week."
Additionally, YouTube will show users how much time they've spent watching on mobile and desktop applications.
Google Assistant can now make the phone display in grayscale when it's time for bed.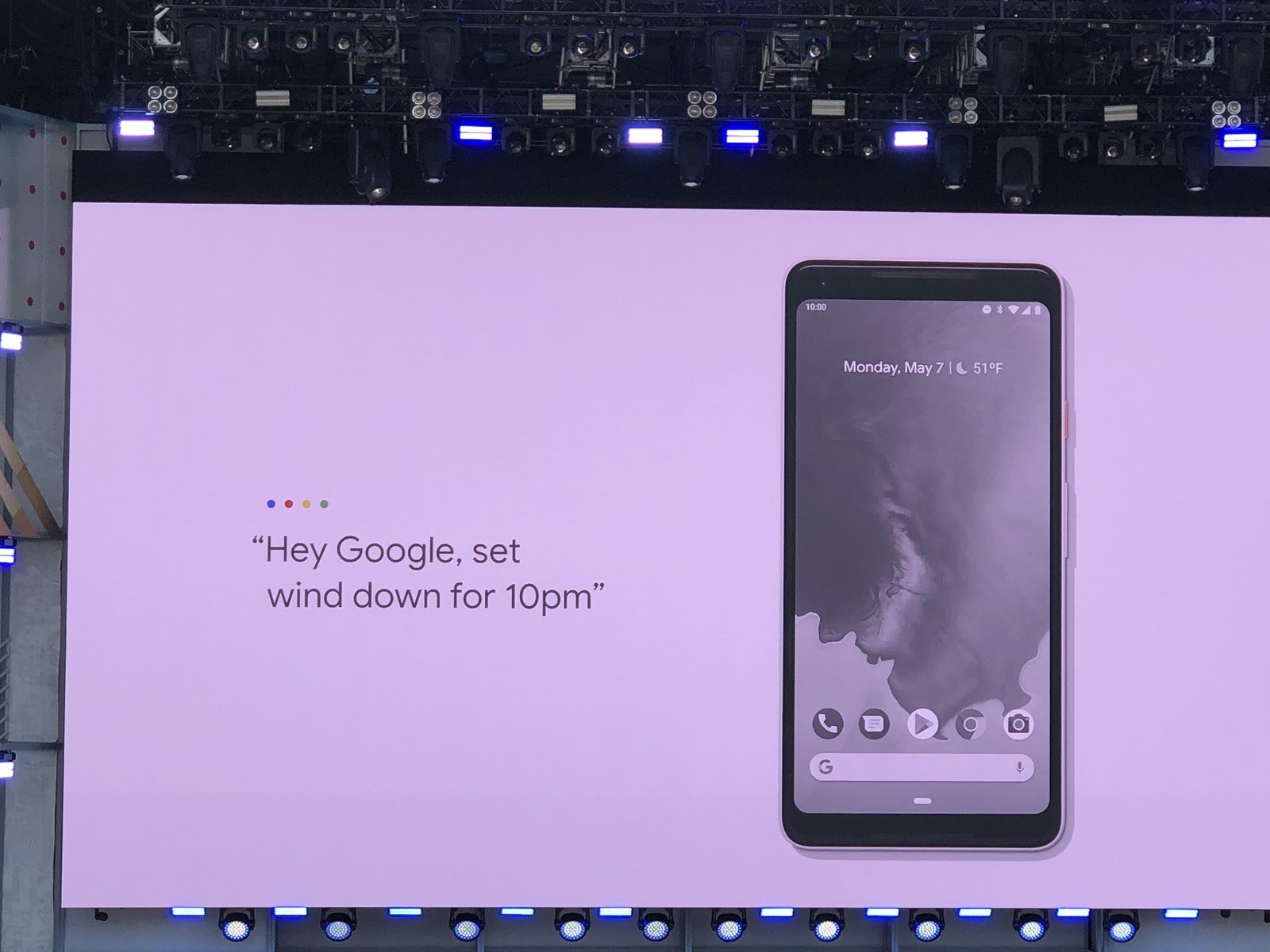 The feature is called Wind Down. Users can say, "Hey Google, set Wind Down for 10 p.m." — and when 10 p.m. rolls around, the device's screen will go from color to grayscale, which is "way less stimulating for the brain, and help you put it down," said Sameer Samat, VP of Android at Google.

When you've hit the time limit in an app, the icon will be grayed out on your homescreen.
Users will also get a nudge just before their time limit is up.
Do Not Disturb mode will now silence visual, in addition to audio, interruptions.
A new gesture, called "Shush," will automatically put the device in Do Not Disturb mode. All it takes is turning over the device, to be screen down, on a flat surface. Starred contacts will still be able to trigger audio ringtones.

Android users will be able to try to the new features by downloading the Android P beta today.
It's available for Google Pixel, as well as Nokia, Essential, Sony, Oppo, Mi, and One Plus devices.
The updates, announced Tuesday at Google's I/O developer conference in Mountain View, California, come amid consumers' and tech companies' concerns that exposure to technology is doing more harm than good.
Google is launching an initiative called Digital Wellbeing to aid the "over 70% of people who want help with digital wellbeing," said Samat at today's keynote.

Facebook is tweaking its News Feed and other areas to be "good for people's well-being" which includes less time spent on articles and posts from businesses, and more from people. Twitter, in light of its issues eradicating harassment and abuse on the platform, is working on increasing "the collective health, openness, and civility of public conversation." Apple recently promised it would introduce features to help reduce phone addiction in children after two major shareholders urged the company to study the effects of device usage on mental health. In February, early Facebook and Google employees formed a coalition called the Center of Humane Technology, dedicated to "reversing the digital attention crisis."
It's all part of the personal internet reckoning, a growing feeling that the world in which we currently live this is not particularly the one we signed up for.