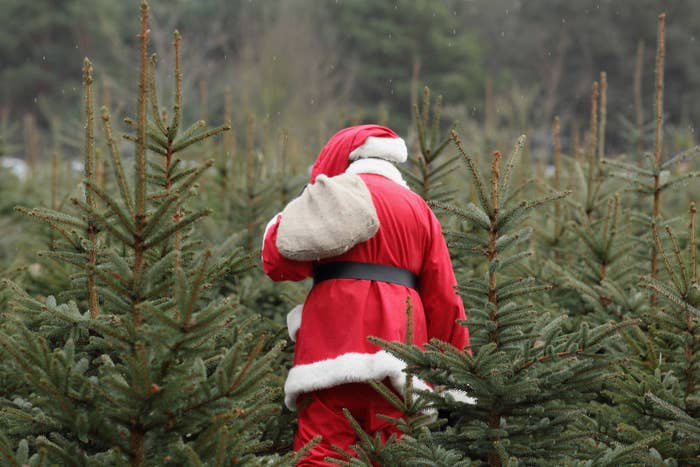 Amazon is planning on selling fresh, live Christmas trees starting in November, according to the Associated Press. The varieties include Douglas Firs, Fraser Firs, and Norfolk Island Pines, and they will be bound and shipped within 10 days of being cut. Amazon said some trees will even be eligible for free Prime shipping.
A "holiday look book" media preview shows a 7-foot Fraser fir from Bottomley's Evergreens farm in North Carolina will cost $115, while a Costa Farms aglaonema plant is $25 and a wreath, also from Bottomley's Evergreens, is listed at $50. Live garlands will also be sold.
An Amazon spokesperson told BuzzFeed News, "Some of the trees will be eligible for free-shipping, some will be eligible for Prime Free Two-Day Shipping, and others available for pre-order (allowing customers to pick from a set of specified delivery dates). The selection will become available for customers as the holiday season kicks off." She added that a small, 10- to 14-inch "Charlie Brown Christmas Tree" from Costa Farms, as well as larger Black Hills Spruce and Balsam Firs will be offered.
Amazon currently sells artificial trees, and it sold real trees shorter than 3 feet last season. Some larger real trees were sold on Amazon's marketplace. This year, Amazon will directly sell large, live trees for the first time.
It appears Amazon is hoping to cash in on the approximately 25–30 million real Christmas trees sold in the US every year, by making the most logistically difficult (and most fun) part of the process — picking and transporting the tree — as simple as clicking "Buy Now."
As with almost anything related to Christmas, people had strong feelings.
Many people tweeted that Amazon is basically ruining Christmas:
But some people think Amazon just made the holiday better:
Amazon did not immediately respond to a request for comment.

UPDATE
A statement from an Amazon spokesperson and more details about Amazon's seasonal offerings has been added to the text.