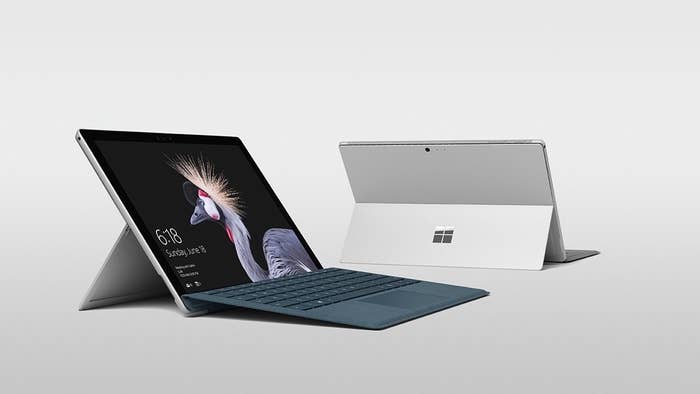 Today, at a special event in Shanghai, Microsoft took the wraps off its new, fifth-generation laptop-tablet hybrid, called just "Surface Pro," dropping the number in previous models (eg. Surface Pro 4) because, well, they can.

For those with last year's Surface Pro, there isn't that much to upgrade to. The new device looks nearly identical to the previous model (save for a few more rounded edges), but now has a better battery life, improved performance, and a new cellular LTE option that lets you browse the web without Wi-Fi. Additionally, the fifth-generation Surface Pen, a stylus for drawing and note-taking on the Surface Pro's touchscreen that has typically shipped with the device, will now be sold separately (its price has not been announced yet).

The announcement is one of several major Surface brand releases in the past year. Microsoft's new desktop PC Surface Studio aimed at iMac customers started shipping in early 2017, and the company also announced a Chromebook-competitor called Surface Laptop, which runs a version of Windows that only runs apps from the Windows Store, earlier this month. The Pro line is Microsoft's most lightweight, affordable device under the touchscreen-friendly Surface brand, and the latest Pro is slightly more productive than its predecessor, but still not as powerful as the more expensive Surface Book or Surface Laptop.

The two most significant improvements are battery life and performance.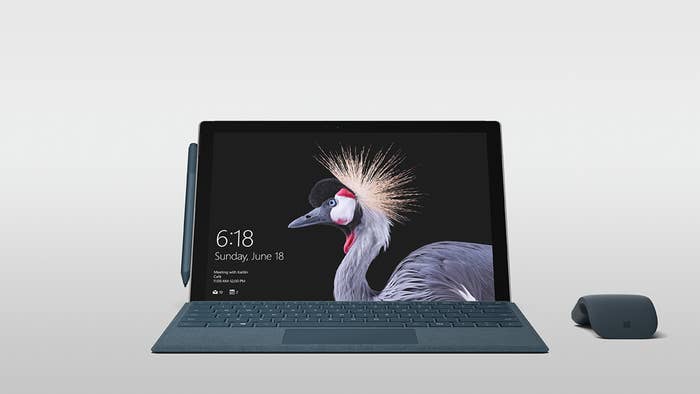 The new Surface Pro now has 13.5 hours of battery life, up from 9 hours in the previous version, while the aspect ratio (3:2), screen resolution (2736 x 1824 and 264 ppi), and screen size (12.3 inches diagonally) remain the same. The processors are also being upgraded to seventh generation Intel core processors. You can choose between the lightweight m3 processor, the faster i5 (both of which are now quieter because they are fanless), and the fastest tier, i7 (which has always been fanless but is even quieter in this model).

In addition to those internal upgrades, a 4G LTE version of the new Surface Pro, for web browsing over a cellular data connection without Wi-Fi, will be available later this year.

Drawing, note-taking, and typing have also been improved on the new Surface Pro.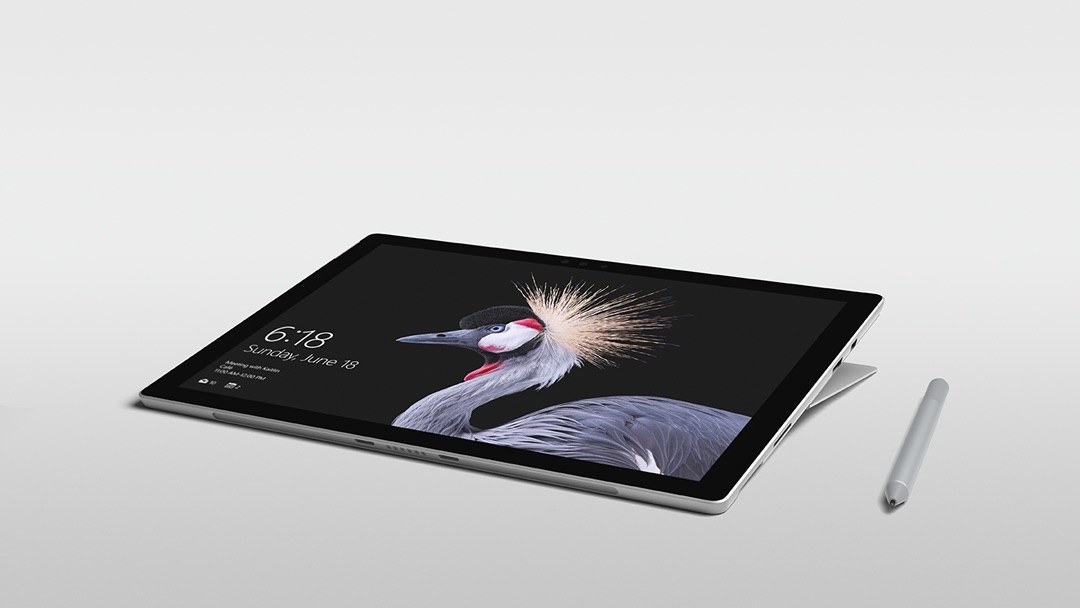 Although it's now sold separately, the Surface Pen is really one of the defining features of any Surface device. The new stylus has a stronger magnet that snaps to the side of the screen with more force.
It also has more lifelike drawing capabilities. Now, when you tilt it slightly, you can also adjust the thickness of the stroke, and when you tilt it even more, you can shade with it. It's faster and more accurate than the previous pen. The pen has 4,096 levels of pressure sensitivity (up from 1,024 levels) and is twice as fast. The tablet's kickstand also now goes down to 15 degrees for more comfortable pen interaction, mimicking Microsoft's very high-end Surface Studio desktop PC.

The pen is also further integrated into Microsoft Word, Excel, and PowerPoint, which all support the new tilt and shading capabilities. You can customize a toolbar of favorite pen styles (pens, pencils, and highlighters) and colors that is synced across the three Office apps.
Another enhanced input experience in the new Surface is typing. There's a new keyboard cover, called the Signature Type Cover, that has more bouncy keys, a full-size trackpad (like one you'd see on a dedicated laptop) and backlit keys. The whole device is also designed to be more sturdy on your lap.

The new Surface Pro starts at $799 (remember: without a pen), and every tier is incrementally more expensive.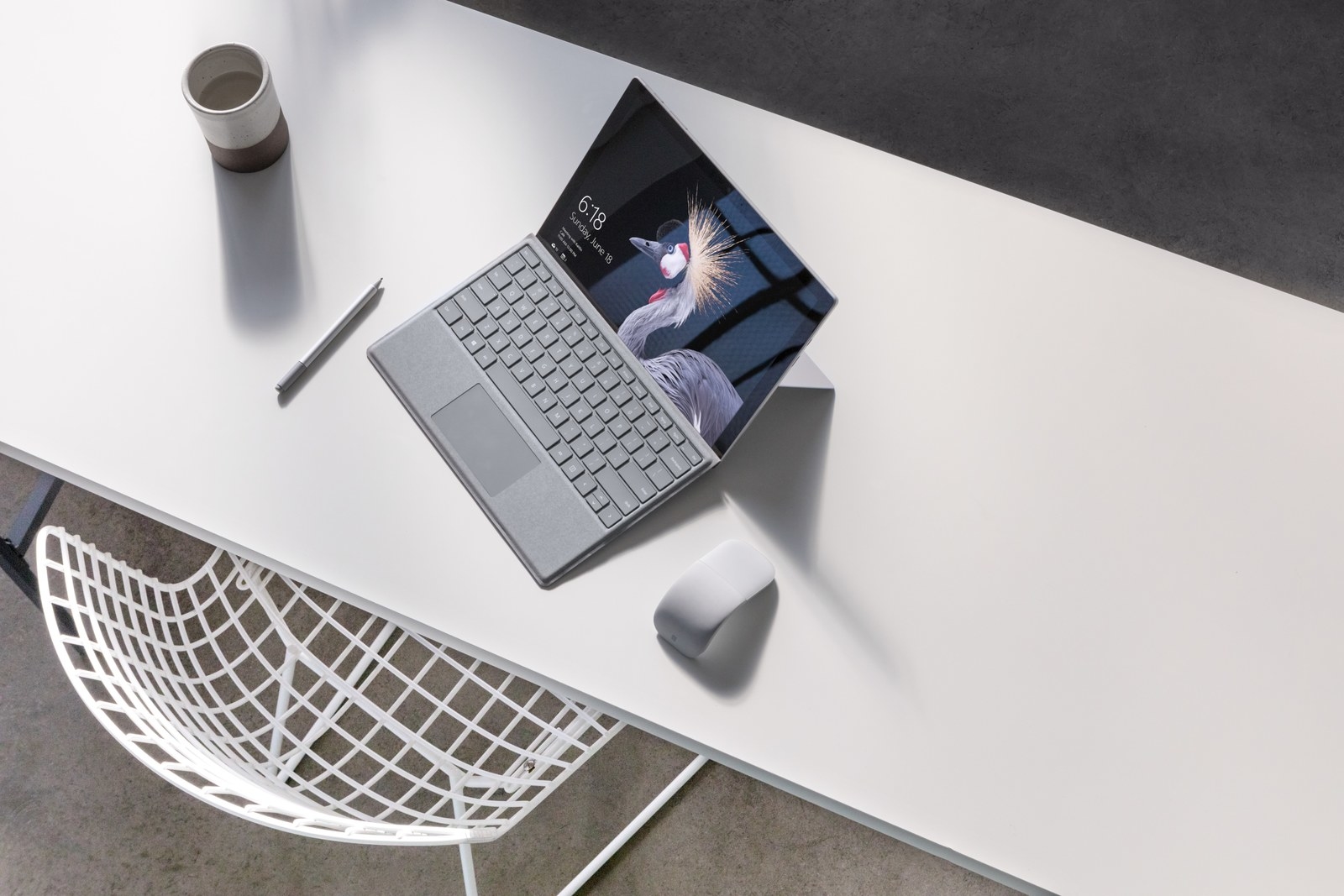 You can configure the Pro with the processor and memory of your choice (4GB, 8GB, or 16 GB of RAM) or, in other words, how fast your laptop/tablet will be, as well as storage capacity (128GB, 256GB, 512GB, or 1TB).

What you need will depend on how you plan to use it. Generally, if you need a laptop just for Internet access and streaming music and movies, you can get by with the entry-level Core M. But if you need to work with apps like Office or Photoshop a lot – or even if you're a web surfer who open lots of tabs at once – you'll want (at the very least) the Core i5 with 8GB of RAM.

Here are all of the models available:
- 128gb / m3 / 4GB RAM: $799
- 128gb / i5 / 4GB RAM: $999
- 256gb / i5 / 8GB RAM: $1,299
- 256gb / i7 / 8GB RAM: $1,599
- 512gb / i7 / 8GB RAM: $2,199
- 1TB / i7 / 16GB RAM: $2,699
The laptop, which ships with Windows 10 Creators Update, and new keyboard cover (in four different colors: silver, burgundy, cobalt blue, and black) can be pre-ordered starting today, and will ship on June 15 in 26 countries, including the US, UK, Australia, China, Germany, France, and Japan. The Surface Pen, which comes in colors matching the keyboard covers) won't be available for another couple of weeks, however, and the 4G LTE Surface Pro will come later this year.

Should I switch to a tablet laptop hybrid?
Tablet-laptop hybrids are great for their flexibility. Many Windows laptops now have touchscreens and, increasingly, Chromebooks do too. Their screens can be detached for note taking or drawing and then, when it's business or study time, you can slap on a keyboard cover and run full Windows 10 desktop programs, like Photoshop. The problem is that historically hybrids have been underpowered and hard to use on your lap because of light, flimsy keyboards, compared to a dedicated laptop.
Many may find Apple's similarly lightweight MacBook, which start at $1,299 for a core m3 processor and 8GB of memory, to be too expensive (though new upgrades are rumored to arrive next month). And affordable Chromebooks, which run Google's apps (Chrome, Google Docs, etc.) very well and Android apps sort of well, may be be too limited for some people. A device like the Surface Pro is a good alternative.
The new Surface Pro addresses (but doesn't fix) any of those issues, so if you weren't a Surface Pro believer before, this might not be the device that convinces you to get one. But for those with older Surface Pros (like the Surface Pro 3), the improvements in the new tablet might be what you're looking for.

UPDATE
Models and pricing added.