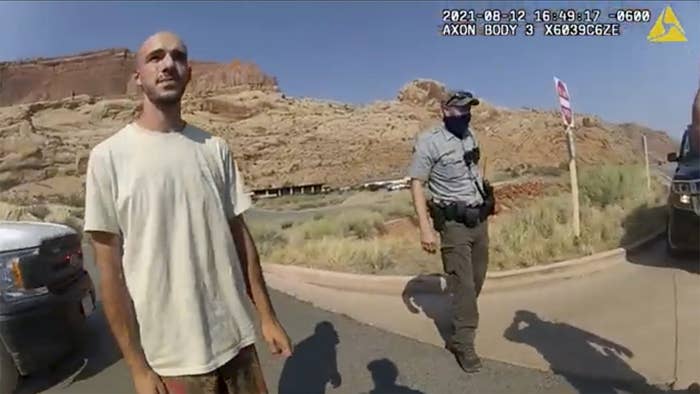 Authorities in Wyoming have issued a warrant for the arrest of the fiancé of 22-year-old Gabby Petito, the #VanLife influencer whose death was ruled a homicide this week.
Brian Laundrie had previously been named a "person of interest" in her disappearance before he went missing himself. He's now been indicted with a federal crime, the "use of unauthorized device," a Capital One debit card in the days following her death.
According to the federal indictment issued on Wednesday, Laundrie used a debit card and a personal identification number linked to two Capital One bank accounts to obtain a total value of $1,000 or more between Aug. 30 and Sept. 1. The indictment does not state the owner of the debit card.
Petito, an aspiring social media star, was reported missing on Sept. 11 and was last seen near Grand Teton National Park in Wyoming. Laundrie has been missing since Sept. 17 — three days after he told his parents he was going on a hike in a Florida nature reserve. The search for Laundrie in the Carlton Reserve, a 25,000-acre swath of land in Florida, continues as of Thursday.
Laundrie returned to his home alone in North Port, Florida, on Sept. 1, driving Petito's white van in which the couple had road-tripped across the country. Social media accounts cataloged the couple's every move. After Petito's disappearance, the accounts garnered hundreds of thousands of followers as the case became an obsession for true crime fans.

Authorities are continuing to ask for information from anyone who may have spent time in the Spread Creek campground, where Petito's body was found, or who may know of Laundrie's whereabouts.
"While this warrant allows law enforcement to arrest Mr. Laundrie, the FBI and our partners across the country continue to investigate the facts and circumstances of Ms. Petito's homicide," the FBI's Denver office said in a statement Thursday. "We urge individuals with knowledge of Mr. Laundrie's role in this matter or his current whereabouts to contact the FBI."
Attorneys for the Laundrie and Petito families did not immediately respond to BuzzFeed News' requests for comment on Thursday.
After remains were found Sunday, Petito's identity was confirmed Tuesday and her death was ruled a homicide. The cause of her death is still under investigation.