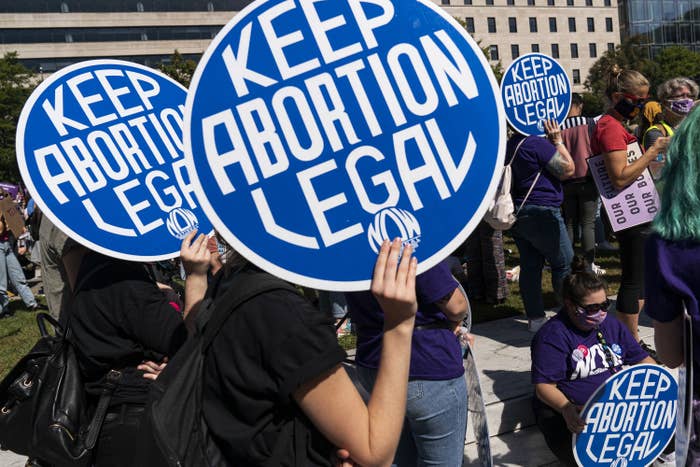 Emboldened by confidence that the US Supreme Court will disintegrate abortion rights later this year, conservative lawmakers are rushing to introduce and pass anti-abortion legislation.
In 2022 alone, 39 state legislatures have filed more than 230 bills restricting abortion access, a significantly high number. While not all of them will become law, more are likely to than ever before, throwing organizations that help people access abortions into chaos.
In prior years, with the core protections of Roe v. Wade intact, highly restrictive anti-abortion bills may have died sooner than later in state legislatures because there was no legal precedent to embolden lawmakers who support them. But now, the litany of new anti-abortion bills signals that anti-abortion legislators are preparing for the Supreme Court to overturn Roe. And this could happen as soon as this spring, when the court will decide Dobbs v. Jackson Women's Health Organization, which concerns how early in a pregnancy states can ban abortion.
The case began as a fight over Mississippi's 15-week ban, but the Supreme Court's ruling could have nationwide consequences. If the court rules in favor of Mississippi, the door to more early-term abortion bans, or laws banning the procedure outright, could swing wide open for every anti-abortion state legislature in the country.
"We are at a critical juncture for abortion rights," said Elizabeth Nash, interim associate director of state issues at the Guttmacher Institute.
Last year saw the most anti-abortion legislation ever. In 2021, 660 abortion restrictions were introduced as a part of more than 400 individual bills. Of those, more than 50 bills containing over 108 restrictions were enacted — more than in any other year since Roe was decided. That pace hasn't shown signs of slowing in the first weeks of 2022, according to the Guttmacher Institute, which tracks abortion restrictions, and Planned Parenthood, which tracks specific bills. The number of abortion restrictions introduced in January 2022 is even higher than in the same month last year.
Typically more restrictions will be introduced than are actually voted into law, Nash said. But there is often a snowball effect — states copy each other's laws, watching for ones that are able to pass or stand up in court and quickly try to push them through their own legislatures.
On Tuesday, West Virginia lawmakers passed a 15-week abortion ban, imitating Mississippi's ban being reviewed by the Supreme Court. The law would shorten West Virginia's current 20-week window and impact the state's one facility that performs abortions. The law includes no exceptions for cases of pregnancy by rape or incest. The Republican-led Arizona statehouse is also likely to pass a similar 15-week ban in a state that already has some of the country's most restrictive abortion laws. Florida lawmakers voted on a 15-week ban this week, too, that, if enacted, would nearly cut the state's window for abortion in half. Nebraska's legislature introduced three anti-abortion bills in January, including a "trigger ban," which, if passed, would immediately make abortion illegal in the state if Roe v. Wade is overturned.
Another law states are imitating is Texas's six-week abortion ban, known as SB 8, which the Supreme Court allowed to indefinitely stand in September 2021 (though this ruling may be temporary). SB 8 bans nearly all abortions after fetal cardiac activity can be detected, usually around the sixth week of a pregnancy. Pregnancy terms are counted from the first day of a person's most recent period, so six weeks is typically two weeks after a missed period, which is when many people first realize they might be pregnant. Early-term state abortion bans are often referred to as "heartbeat" laws, but that term is misleading because a fetus's heart valves haven't formed at that point; an ultrasound at that stage is detecting electrical activity. This law was particularly notable due to its enforcement mechanism, which rewards private citizens for reporting anyone they know provided or aided in someone obtaining an abortion after six weeks.
After SB 8 was allowed to stand, Alabama, Arizona, Florida, Minnesota, Ohio, Oklahoma, and Wisconsin quickly hopped on board, introducing their own versions. A committee in Wisconsin's senate approved its Texas copycat bill last week.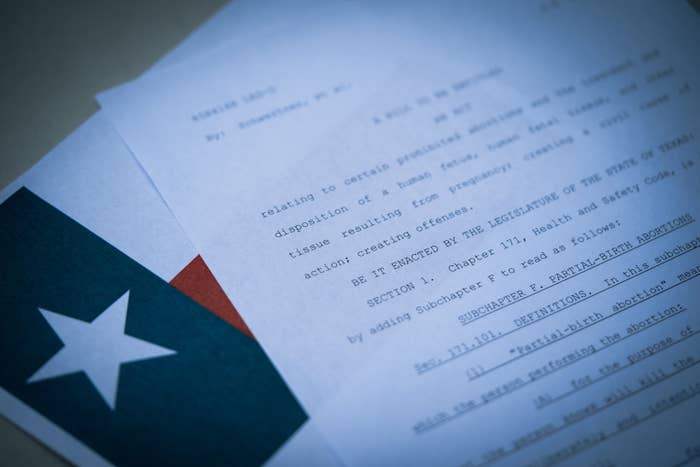 Amid this landscape, abortion funds are facing existential threats. Rampant misinformation, overwhelming demand for services, and fundraising that can't keep pace, make it hard to provide their increasingly essential resources.
For decades abortion funds have helped people navigate the complex process of getting an abortion in the US. But in recent years they have been operating in an "increasingly hostile environment," said Debasri Ghosh, managing director of the National Network of Abortion Funds (NNAF).
The funds, most of which are scrappy and rely on small donations, provide help at every stage of abortion access. They book patients last-minute appointments, help them figure out which abortion method is most affordable and available, and help pay for a range of additional costs associated with abortion services, including childcare, back wages, rent assistance, and transportation to appointments, often out of state.
Misinformation about abortion access is an increasingly common hurdle for funds. People see an abortion ban has been introduced and assume abortion has become illegal in their state and think they can't go to their local funds for help anymore, according to Kelsea McLain, director of healthcare access at the Yellowhammer Fund in Alabama. Many of the callers to Yellowhammer thought they had to go out of state when an Alabama abortion ban was passed and blocked in 2019 — McLain had to explain to them otherwise, and that their abortion fund was still there for them.
"All it took was for a politician to say 'we are going to make abortion illegal in the state' for people to believe it already was," she said, adding that this climate is dangerous because people will seek abortions no matter what, and outside of legal means those procedures could be less safe.
When the public's attention is on their state's abortion restrictions, the funds often see a spike in donations, but this money can dry up just as quickly. Then the funds are forced to make waitlists or direct people to peer organizations. In other cases, they offer as much free information as possible if they can't give monetary support.
"We are trying to fight against these abortion bans, and educate and inform our community about what is happening," said Stephanie Loraine, co-executive director of the Florida Access Network.
If Florida successfully enacts its 15-week ban this week, the law would go into effect in July, putting pressure on Loraine and other abortion funds in the state. Cutting Florida's 24-week abortion window nearly in half could force Floridians to suddenly need dire help getting out of state for an abortion. Local abortion funds are gearing up to support a logistical nightmare that will surely cut off millions of residents from accessible care, Loraine said.
The Florida-based fund has a 46-person waitlist for those who need help before March. Since July 2021, almost 500 people have requested support for $422,000 worth of abortion appointments across Florida, Loraine said. But the network has only been able to fund $44,150 of that.
And if the state's proposed 15-week ban passes, it will not only affect Floridians, but also people who travel from surrounding states with stricter abortion laws. If the ban were to pass, it would cut millions of people off from that care — likely funneling them to other states that are even more expensive and challenging to get to.
Other funds echoed the issue of high demand, especially when people have increasingly short timeframes to make decisions about a pregnancy under new bills. McLain, of Alabama's Yellowhammer, said she's seen "astronomical" increases in the number of callers asking for resources. By the second week of February, she said she'd talked to the same number of people she contacted in the full month last year.
Funding constrains how far money can go in a given time frame. An abortion can cost from $400 to $1,500 in the US and few people are able to pay that price in the case of an unexpected pregnancy, Loraine said, creating a healthcare affordability crisis even outside of restrictions to access.
In 2020, abortion funds included in NNAF received about 80,000 requests for aid, but were only able to support about 45,000 people.
Florida Access Network ran through its $8,000 February budget by Feb. 3, helping 72 people get abortions. The group's average monthly pledge is $150 — what Loraine says is a "drop in the bucket" when it comes to the amount people typically need to pay for abortion care.
In Alabama, McLain operates a $15,000 monthly budget for callers — if she didn't cap how much money she gives out per week she would exhaust that amount by the third day of the month, she said.
"Our budget would have to be millions of dollars to support every person that reaches out to us," McLain said.
Democratic-led states have taken opposite legislative action to protect the right to abortion in the event Roe changes; there have been 196 proactive provisions introduced this year to protect the right to choose, Nash said. Lawmakers in Vermont approved an amendment to the state constitution to protect the right to have an abortion (voters will decide whether it becomes law in November). Maryland lawmakers also proposed a ballot amendment on Monday.
Other states have also broadened who is able to provide abortion services. California, Illinois, Massachusetts, New York, Virginia, and Washington, DC, already permit physician assistants or certified nurse midwives to provide abortion services. Meanwhile, California, Illinois, Maine, New York, Oregon, and Washington have adopted laws that require private health plans to cover abortion. Ghosh said she and other funds are "mapping out" a range of scenarios following the court's decision in Dobbs, such as partnering with local funds that specialize in practical support to mainline travel needs.
NNAF has been scaling up fundraising in recent months in anticipation of a massive influx of people who will need help affording the logistics of hotels and interstate transportation to cross state lines to get abortions, Ghosh said. NNAF is poised to disburse more than $10 million to abortion funds this year — five times the amount the organization disbursed in 2016.
McLain said lawmakers should be preparing for a post-Roe need for better education, healthcare, and childcare resources to support the people who will inevitably be forced to give birth.
"What are we doing to create a safety net for these children who will not have the resources they will need?"