Mexican authorities found 11 bodies in the southern state of Guerrero on Thursday in a mass grave not far from the place where local police abducted 43 students in September.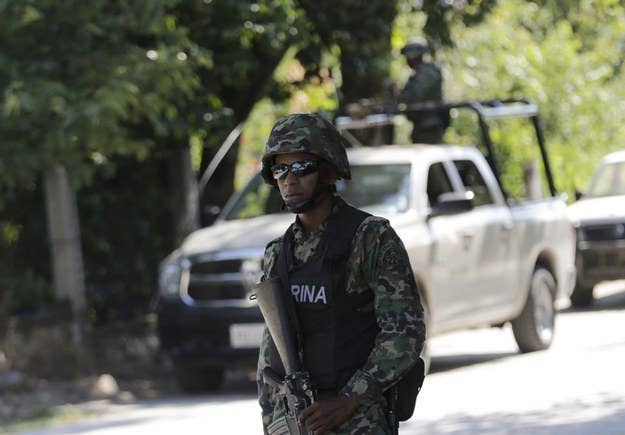 The bodies were found in Chialapa, a rural town about 200 miles from Mexico City, Reuters reported. The local prosecutor's office said in a statement that all the bodies belonged to men and that some had been decapitated and burnt. The victims were not identified and no motive immediately established.
The discovery of the 11 bodies comes just months after corrupt police officers abducted 43 student-protesters in Iguala, a small city just miles away from the place where the bodies where found. The mayor of Iguala, his wife, and several dozen police officers have since been taken into custody in relation to the abductions. The governor of Guerrero State has resigned his post.
The students who went missing in September were trainee teachers at the nearby Ayotzinapa Normal School. Since their disappearance, more than 19 mass graves have been found in Guerrero State. Forensic experts have not been able to determine whether any of the graves contained the bodies of the trainee teachers, but the students are widely presumed dead.
The recent violence has ignited widespread outrage across the country, with hundreds of thousands of people marching through the streets of Mexico City and other major urban centers. The protests have posed the biggest crisis yet for President Enrique Peña Nieto, of the Party of Institutional Revolution.
In response to the protests, Peña Nieto announced on Thursday a large-scale overhaul of the country's law-enforcement agencies. Under the proposed reforms, municipal police departments — small, underfunded operations that are often co-opted by drug traffickers — would be subsumed into state or federal agencies.
"Mexico cannot continue like this," Peña Nieto said. "After Iguala, Mexico has to change. Our country has been shaken by cruelty and barbarism."
More than 100,000 people have been murdered in Mexico since 2006, when then-President Felipe Calderón launched a militarized campaign against the country's narcotics traffickers. Guerrero, one of the poorest states in the country, has suffered some of the worst violence.