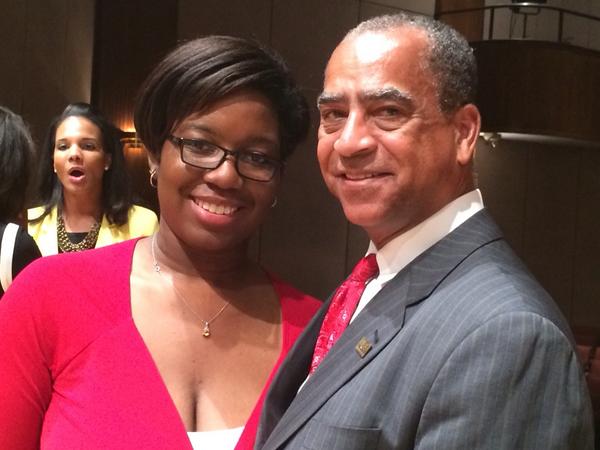 NABJ President Bob Butler at an event in September
The National Association of Black Journalists said Friday that CNN has withdrawn its support for the association's yearly career fair and conference — but CNN says it has not made a final decision.
The conflicting statements come just days after the NABJ released a statement criticizing the network's treatment of black staffers, and only weeks after a former employee sued the network for wrongful termination and alleged racial discrimination.
"Several African Americans anchors have left the anchor desk or CNN altogether in the past few years including Soledad O'Brien, TJ Holmes and Suzanne Malveaux," read the original NABJ statement, published last week. "In addition the latest examination of newsroom managers finds only two African American executive producers."
But in a statement released to BuzzFeed News, CNN said that it had not made a final decision on whether to withdraw its support from the conference.
"Following NABJ's recent comments about CNN, we informed them we were reconsidering our relationship, but we were clear that we had not made a final decision," the network said. "It's surprising to us that they would choose to make such a statement."
The network declined to provide a demographic breakdown of its recent wave of layoffs, expected to affect some 170 staffers.
Bob Butler, the NABJ's president, told BuzzFeed News in a telephone interview that his organization has been concerned about the atmosphere for African Americans at CNN for several years. He said that beyond layoffs and terminations, several black managers have left the organization voluntarily, citing a lack of opportunity for promotions.
"I have asked them what kind of programs to help people move up the ladder," Butler said of his conversations with CNN. "I don't know if any program like that exists. If it does, when it comes to African Americans, it clearly isn't working."
Butler insisted that the network had denied the association's request for support.
"At the end of the conversation they said, 'consider your request denied,'" he said.
Butler said that 11 former black staffers at CNN had expressed concerns to him about lack of opportunity at the network. He declined to name the staffers, saying that they had made those comments in private.
CNN is currently engaged in a restructuring plan that will eventually result in a 10% reduction in staff, Politico reported.