BALTIMORE — Shortly before sunset on Aug. 23, 2007, Tony Wolfe, an officer with the Baltimore Police Department, saw two black men walk into an alley near Presbury and North Mount streets, in the city's impoverished west side. There, according to the statement of probable cause that his partner filed three hours later, Wolfe saw the men exchange a fistful of bills for a "small object."
One of those men was a teenager named Freddie Gray. He'd turned 18 a week earlier. He was about to face felony charges that could send him to prison for longer than he'd been alive.
After witnessing the exchange, Wolfe called his partners, Officers Gregory Fisher and John Audwyn, who arrived minutes later in a marked car. In what would become a refrain in his life, Gray ran away, with police chasing after him. As they sped southward on Mount Street, Fisher would later claim, he saw Gray throw the "small object" under a gold van.
When the officers arrested Gray moments later, they found nothing illegal on him. The object under the van, however, turned out to be a bag containing two small glass vials full of low-quality cocaine — enough, the officers would argue, to charge Gray with possession with intent to distribute.
It was Gray's first arrest as an adult. Perhaps for that reason — or perhaps because the only witnesses in the case were police officers, a situation that former prosecutors, former police officers, and current defense attorneys told BuzzFeed News often results in Baltimore juries acquitting defendants — the state's attorney dropped all charges.
Still, that first arrest would prove significant. It inaugurated a series of episodes that culminated at the very same corner where everything began, in a final encounter with police on April 12, 2015, when the BPD arrested Gray for "fleeing unprovoked." A week later, Gray died of a catastrophic spine injury incurred during the short car ride to the city's central booking facilities, in what the city's top prosecutor called "a depraved heart murder." Six BPD officers would eventually be charged.
Days after his death, mass demonstrations demanding justice for Gray triggered unrest in the city. Taking advantage of the confusion, rioters looted several stores in West Baltimore and set fire to more than 100 cars. Armed with assault rifles, the National Guard formed a perimeter around City Hall.
Baltimore burned after Gray's death because his demise was emblematic. He was one of many unarmed black men and women to die at the hands of police — not just in Baltimore, but across the United States. In more than one way, however, Gray's life was even more representative than his death.
According to the U.S. census, the poverty rate in Sandtown-Winchester, the West Baltimore neighborhood where Gray grew up and where most of his arrests took place, is roughly double the national average. At 51.6%, according to the Justice Policy Institute, its unemployment rate is twice that of Greece's, a country widely acknowledged to be a paradigm of economic collapse. The Baltimore Health Department puts the neighborhood's life expectancy at roughly 69 years — about the same as North Korea's. And according to the Justice Policy Institute, residents of Sandtown-Winchester are incarcerated at rate 13 times higher than the national average.
Beginning with a childhood marked by crippling poverty and a poisonous environment, Gray faced difficulties familiar to many black residents of America's most disadvantaged neighborhoods. The story of those difficulties is preserved in the archives of the Baltimore court system. It is a story that, according to several defense attorneys, two former police officers, and one former prosecutor, could belong to any number of young black men from West Baltimore.
(Unless otherwise stated, all the facts in this article come from the court records for 16 criminal cases and one civil lawsuit. Gray was a defendant in 23 cases throughout his adult life, but several of those files were consolidated. His juvenile record is sealed. Billy Murphy, the attorney for Gray's surviving family members, declined to make his clients available for an interview and did not comment on an extensive summary of this story. BuzzFeed News reached out for comment to every person mentioned in this story.)
Court records show that Gray was arrested over and over again, for everything from possessing drugs to playing dice in a public housing development where he didn't live. Over and over again, records show his family and friends accrued debts with bail agents to keep him out of jail. Over and over again, overworked prosecutors dropped all charges. On the few occasions when he was actually convicted, he was given relatively light sentences — mostly a reflection of the exhausted pragmatism of Baltimore's overcrowded courts.
"What you saw in Gray's cases is systemic," Marc Schindler, the executive director of the nonprofit Justice Policy Institute, told BuzzFeed News. "This is the front line of the failed drug war of the United States. This is the day-to-day — people getting chewed up and spit out by a failed public policy."
By the time of his final arrest, Gray had learned that a rational response to an arriving police car was to run away.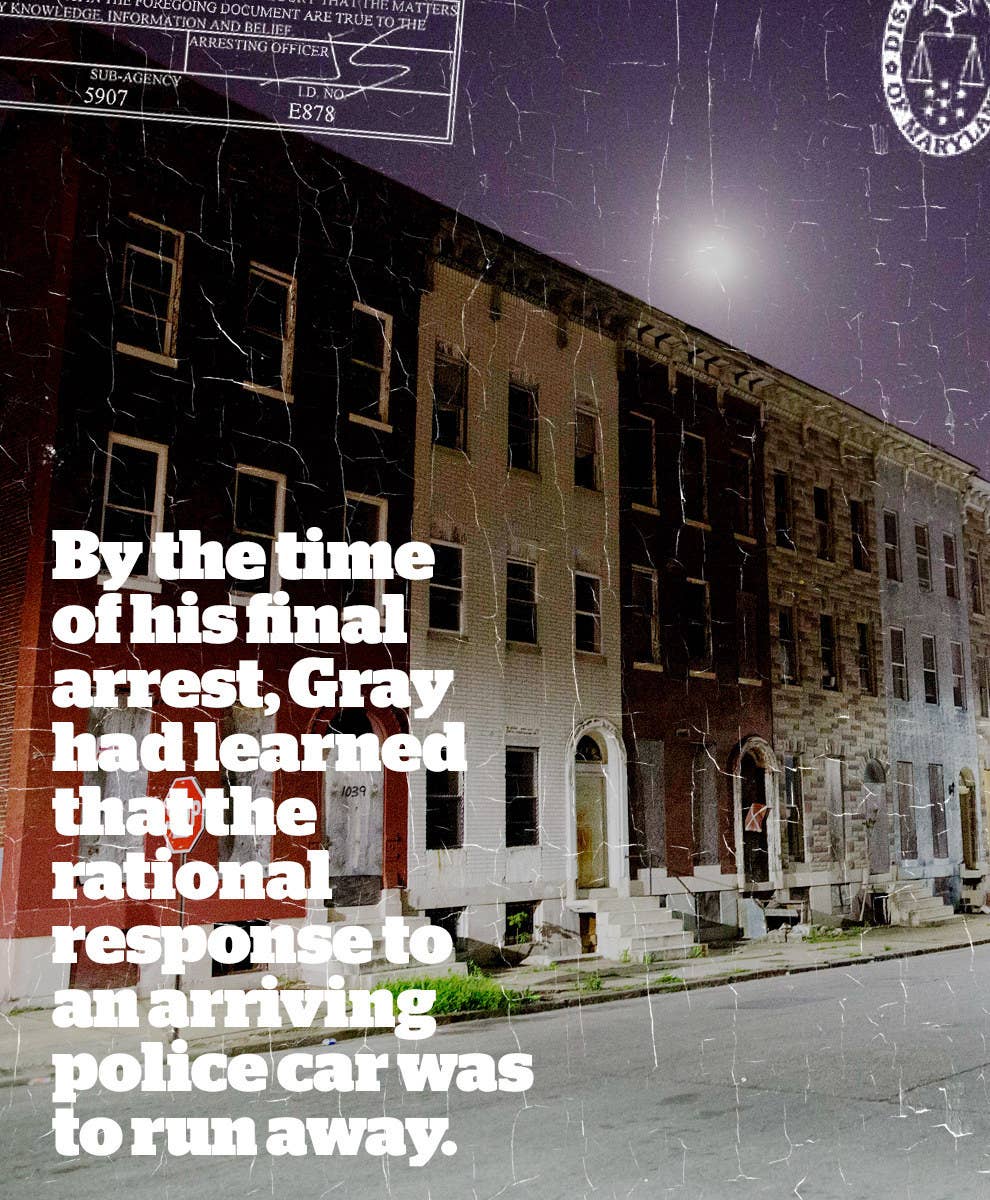 Gray's second arrest as an adult came only six days after the first, on the afternoon of Aug. 29, 2007. It was nearly identical to the previous one: A BPD detective was watching the intersection of Presbury Street and North Fulton Avenue when he saw "a male, dark complexion, with a short afro hairstyle, wearing a white T-shirt, blue jean pants, and tennis shoes, later identified as Freddie Gray."

In his statement of probable cause, Officer Michael Lind wrote he saw Gray pick up a plastic bag from beside the stoop of a row house on North Fulton Avenue, then walk to the corner and bend down near a Buick Regal. When Gray briefly left the scene, Lind and his partners checked the car and found a bag with 39 small glass vials full of a white powder. Lab testing would later determine the vials contained nearly 50 grams of cocaine base.
When Gray returned to the car, the officers moved to arrest him. Again, Gray ran away, but didn't get very far. The next day, the state's attorney charged him with possession with intent to distribute an illegal substance and with simple possession of cocaine — charges that could lead to 24 years in prison and $50,000 in fines.
This time, the state's attorney decided to go forward with the case — perhaps because of the amount of cocaine involved, or perhaps because it was Gray's second alleged offense in days. His bail was set at $75,000, an impossible sum for his family, who could not afford to pay the 10% fee typically charged by Maryland bond agents to secure a person's release. Gray was kept behind bars pending his trial, which was scheduled for Jan. 7, 2008.
It was on that date, after four months in jail, that Baltimore Circuit Judge Robert Kershaw gave Gray what was perhaps the most generous deal a Baltimore court would ever offer him.
In exchange for a guilty plea, Kershaw sentenced Gray to three years in prison — but he suspended it all save for the time Gray had already served. He released Gray on three years of probation, with instructions to stay out of trouble, finish high school, and get a job. He even asked Gray's attorney, public defender Matthew Jennejahn, to file a motion reflecting the court's intentions to clear the young man's record.
"If the defendant demonstrates that he has completed high school, is employed, and otherwise compliant with the terms of his probation," Jennejahn wrote in the motion, "the court will consider striking the guilty finding and entering a probation before judgment."
To this day, the guilty finding remains on the record.
Judge Kershaw's decision was supposed to give Gray the chance to stay out of the criminal justice system. But a review of a civil lawsuit filed by Gray and his siblings shows some of the reasons why the young defendant had a difficult time fulfilling the terms of his probation.
The suit, filed in 2008 in Baltimore Circuit Court, alleged that Gray, his twin sister, Fredericka, and their older sister, Carolina, suffered "irreversible brain damage" as a result of years of lead-paint poisoning during their childhood. The siblings demanded millions of dollars in damages and lost wages, arguing that the negligence of the landlords, who had failed to remodel the houses in which they grew up, had ruined their chances at living productive and healthy lives.
Their allegations echoed many others made in black neighborhoods in Baltimore and across the United States. Even as the percentage of American children with dangerous lead levels continues to fall, black infants still suffer from lead poisoning at a rate 60% higher than white children, according to the Centers for Disease Control and Prevention.
The complaint unleashed a legal battle that lasted several years and produced three thick volumes of legal filings, in which the attorneys for both parties dissected the early years of the Gray children in search of the origin of the difficulties the siblings faced.
The plaintiffs argued that the elevated levels of lead found in the siblings' blood were to blame for the bulk of their issues. There was some scientific evidence for their claim: Medical records included in the court file show that when Freddie was 22 months old, his blood contained 37 micrograms of lead per deciliter of fluid — nearly eight times the level at which a child's brain begins to deteriorate. The landlords responded by stating that the troubled lives of the Gray children were the product of "risk factors" such as "parental intelligence and education, socioeconomic status, number of siblings in a single-parent household, lack of prenatal care, and childhood illness."
In the course of those arguments, the attorneys for the landlords deposed Gray's mother, Gloria Darden. She said she was dyslexic and that neither she nor her parents had graduated from high school — in fact, she said, she didn't know how to read "at all." She admitted to using heroin every day since age 23, stopping only when she "got older." She told the attorneys about the premature birth of her twins, and said that Freddie and Fredericka had to stay at the hospital for two months to gain weight.
Darden went on to describe the crippling poverty in which she raised her children, relying on a disability check to pay rent for a crumbling house with holes in the walls, where every surface was continually dusted with flakes of toxic white paint. There was no lease, she said — just a verbal agreement with a nameless, older man.
"Ain't never seen him, just one time when I moved into the house," Darden said of her landlord. "What you call them? Slum landlord, they the kind."
The attorneys also deposed the Gray children, as well as several experts. In those documents, the siblings and the doctors who examined them described a litany of psychiatric and psychological problems — problems that the plaintiffs insisted were the signs of lead poisoning, and which the defendants held were simply the effects of a life of poverty and stress.
Carolina, the depositions states, was diagnosed with ADHD and pica, or the compulsion to eat inedible things, such as dirt or one's nails. Fredericka, who also had ADHD, struggled with anger issues, was expelled from high school, and had to repeat the seventh and tenth grades. Freddie dropped out of school in the ninth grade and suffered from a variety of behavioral problems.
Marianne Schuelein, a pediatrician who was called as an expert witness by the landlord's attorneys, was asked about a December 2002 incident in which the Gray children were allegedly left alone at home while their mother went to rehab and their stepfather was incarcerated.
"At one point, a Child Protective Services report was filed," Schuelein said in a deposition. "They were living in a house without electricity or food."
Despite the disagreements as to the cause, both parties in the lawsuit seemed to agree that the Gray siblings faced great obstacles. In a document filed in November 2009 by the attorneys for one of the landlords, Neil Hoffman, a clinical psychologist from the Kennedy-Krieger Institute, stated that Freddie's academic performance was equivalent to that of someone in the third or fourth grade. In a deposition, Hoffman said he believed it was possible Gray could one day graduate from high school, but only if he had help.
Whether Gray could have ever received that help at Carver Vocational High School, where Judge Kershaw wanted him to enroll, remains an open question. Although the school has a four-year graduation rate of 85%, its average students score in the bottom 6% of nationwide SAT results. Carver also has a history of violent incidents and is highly segregated by race and class — 98% of its students are black, and 83% qualify for free lunches.
In March 2010, the landlords agreed to settle the case with the Gray siblings. The amount they received was not disclosed. In some of his later criminal cases, however, Gray stated that although he had never been employed, he paid his mother and sister between $300 and $600 in rent every month. In a questionnaire filled out to determine whether he was eligible for a public defender in January 2015, Gray said his entire monthly income was $608 from a "settlement check."
That would have put his yearly income at about $7,200 — 40% less than the sum that the federal government considers the threshold for poverty.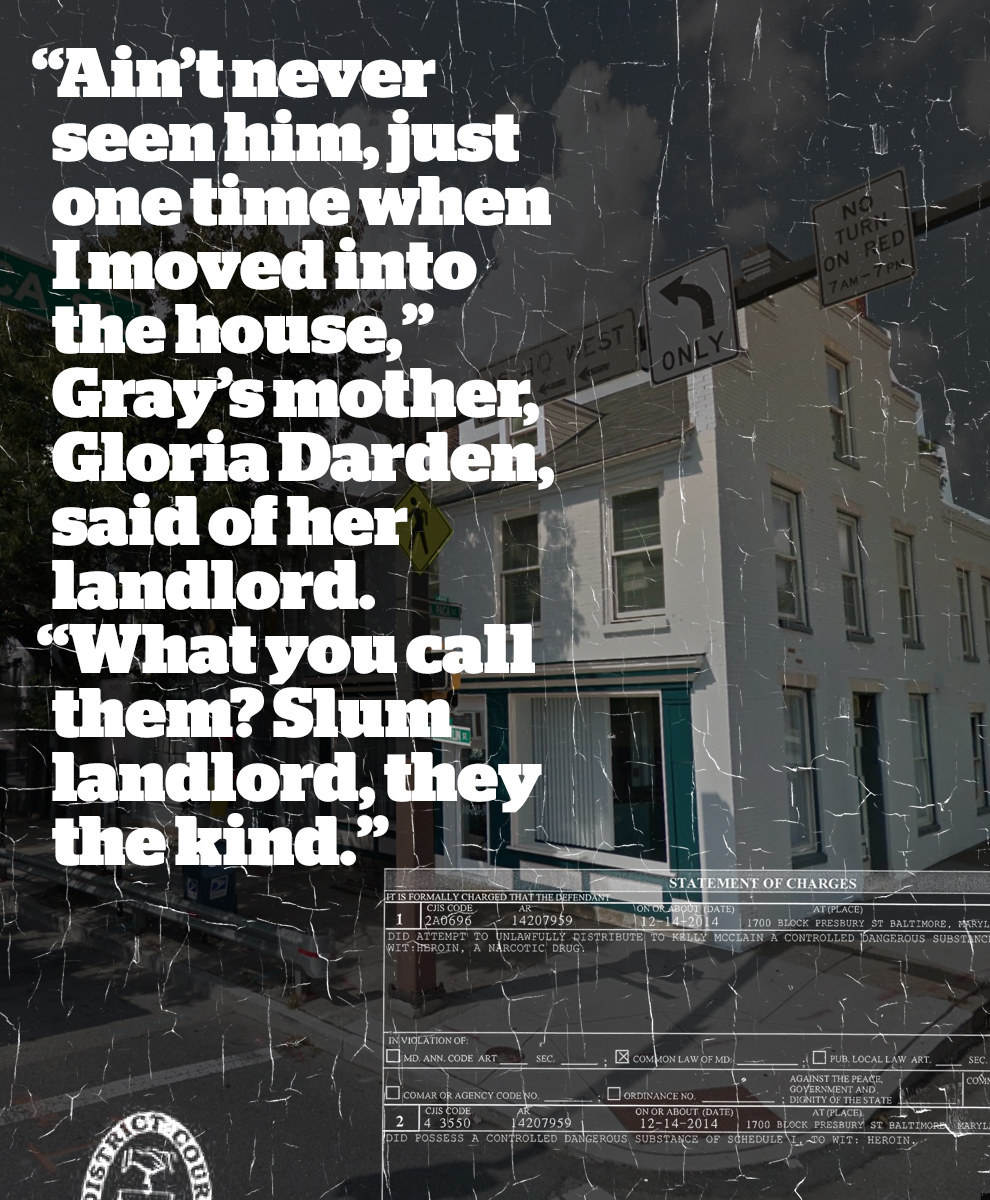 Records for several cases indicate that Gray's return to school was brief — he made it only to the 10th grade. Instead, he began what appears to have been the most turbulent period of his life. Records from the Baltimore Division of Probation and Parole show that he was arrested at least 10 times during his first year on probation — a situation that cost him his freedom.

On Feb. 11, 2008, a little over a month after his release on parole from his second arrest, Gray was arrested and charged with simple possession of marijuana and cocaine. The day after, he was released on $7,500 bail, posted by a private bond agent in exchange for a $750 fee. His probation agent wrote to Judge Kershaw to inform him of the arrest, but the judge declined to take any action, saying he would wait and see if Gray was found guilty.
A month later, Gray was arrested again. The BPD said they found three vials containing 1.02 grams of heroin on him — enough for anywhere between two and fifty doses, depending on the potency of the drug and the tolerance of the user — and charged with possession with intent to distribute. He was released on $15,000 bail. The following month, Gray was arrested again, this time with 24 gelcaps containing 8 grams of heroin. This time, he was released on $200,000 bond.
At every step of the way, family and friends from the neighborhood paid his bond agents' fees, often agreeing to onerous payment plans. (A BuzzFeed News review of Gray's bond agreements found that over the course of his adult life, his family and friends paid at least $29,000 to private bail agents. According to City Data, the median yearly income for a household in Sandtown-Winchester in 2013 was $27,000.)
This cycle of arrest and release came to an end on July 16, 2008. Around 9 in the morning that day, Officer Brandon Avery saw a large crowd of people in an area of Pennsylvania Avenue that he described as "a large open-air drug market" — knowledge that he attributed to his training as a police officer. When Avery approached, he claimed in his statement of probable cause, he saw Gray "walking away from the crowd at a fast pace."
Avery detained Gray. The officer didn't find any contraband on him, but after going back to the "exact area" where he'd seen Gray standing earlier, Avery found two plastic bags — one containing 29 gelcaps with 9.66 grams of heroin, the other with 32 gelcaps with 31.84 grams of cocaine. In his statement of probable cause, Avery said that although he had been with the force for only 15 months, he had participated in over 500 drug arrests. (Assuming he worked five days a week, those numbers average to roughly two arrests per day.)
On the basis of Avery's statement, the court commissioner ordered Gray held without bail. Prosecutors charged him with two counts of possession with intent to distribute and two counts of simple possession — enough accusations to send him to prison for 48 years if convicted. The prosecutor then went further, using Gray's prior conviction to file a motion seeking to double the maximum allowed penalty to 96 years, and at minimum, 10.
On Feb. 6, 2009, a little over a year after Judge Kershaw offered to clear his record, Gray was sentenced to two years in prison for violating his parole. On April 23 of that year, Judge Gale Rasin sentenced him to four years for the July case, beginning retroactively on the day of Gray's arrest, and to be served concurrently with his sentence for violation of probation.
A spokesperson from the Baltimore Division of Correction told BuzzFeed News that Gray was released on parole on 2011, having served roughly half of his sentence. It would be the longest continuous amount of time he would spend behind bars.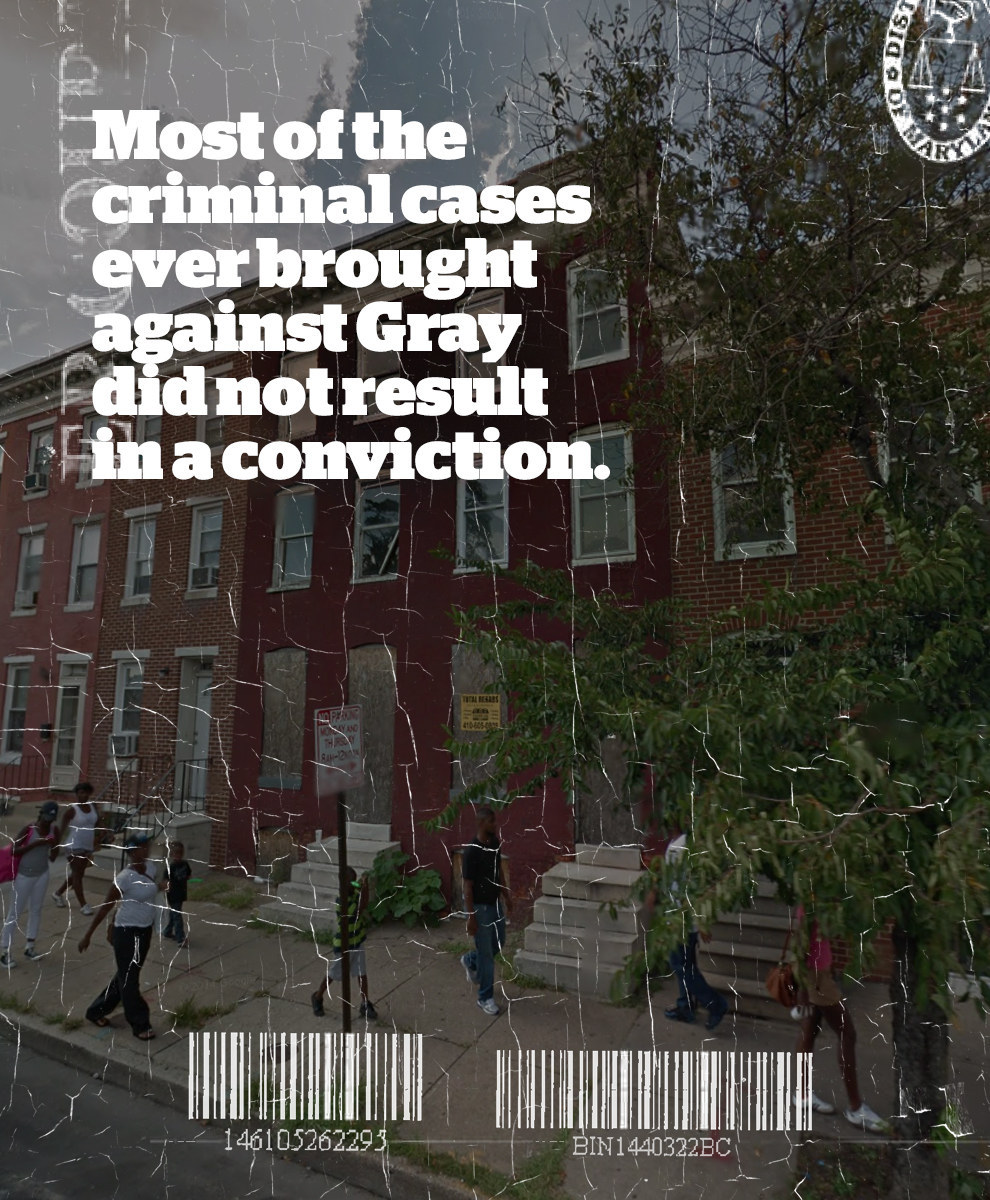 Despite that sentence and a shorter one that would follow the next year, most of the criminal cases brought against Gray did not result in a conviction. Sometimes he was found not guilty; other times the court postponed the case indefinitely. In seven of the sixteen consolidated cases, however, the state's attorney declined to prosecute, clearing Gray of all charges. It was by far the most common disposition for the criminal accusations against him.

A nolle prosequi, as the disposition is known, is generally seen as a positive outcome for defendants. But half a dozen people who work in Baltimore's criminal justice system, some of whom spoke with BuzzFeed News on condition of anonymity to candidly discuss the environment in which they work, said the frequent use of nolle prosequi is also a reflection of systemic problems in the city's courts.
"Charges go away for a variety of reasons, and it can all seem very haphazard," said a criminal defense attorney with 20 years of experience in the Baltimore courts. "My clients see it like that. They say, 'My cousin had the same charges and he didn't get prosecuted, or he got stet [postponed prosecution]; why can't I get the same?' It's all very random and kind of arbitrary."
The state's attorney's office did not immediately respond to a request for comment.
Part of the problem, the lawyers and former prosecutor said, is that Baltimore's courts are severely overburdened. The police department, often under pressure from elected officials who want to lower the crime rate or produce statistics that show they've been doing something about it, brings in so many low-level defendants that the state's attorney cannot possibly prosecute all of them. This creates an incentive to release people charged with meager offenses and to discard cases where there are even minor problems with probable cause.
"We get these cases in which a cop will say, 'I was in an open-air drug market, and saw so-and-so drop a bag of drugs, so I arrested him," said a defense attorney with four years of experience in the Baltimore courts. "But then what we say to the jury is, this is an open-air drug market, right? So how do you know those drugs belonged to that person? We call those cases 'dropsy' cases."
Some former police officers recognized that many of the low-level drug cases brought to Baltimore's courts are on shaky legal foundations.
"The statements of probable cause, 99% of the time, they're shit," said Michael Wood, a former police officer who served in Baltimore for nine years, some of them in Gray's neighborhood. "Some officers see a guy they think is dealing, so they jump him. And whether he's guilty or not, he's gonna run. So he runs into the alley and drops the drugs. And that's when the lie comes in — because they don't actually see him drop the drugs. Did he actually drop it? Probably. But the truth is, in the Western [District], that could very well be someone else's stash. You jump on them and you hope they have drugs on them. It's fishing, that's all it is."
Another former Baltimore police officer, who spoke on condition of anonymity, told BuzzFeed News that one of the reasons the statements of probable cause for cases like Gray's are often so thin is that police officers are taught their job is to produce statistics, not strong legal cases.
"We were always told by supervisors they didn't care about getting convictions," the former officer said. "All they cared about was getting arrests. All they cared about was the stats. It's common to hear on the radio, 'I got him, now all we got to do is find some stuff.'"
The official justification for the emphasis in making large numbers of arrests, according to a defense attorney with nine years of experience, is that if the department arrests enough small-time criminals, one of them will eventually lead them to a more significant player. But in practice, the third attorney said, only a "very small percentage" of those low-level arrests lead to major criminals. In the meantime, "an entire block can be indicted."
The BPD did not respond to a request for comment. The Fraternal Order of Police, the union that represents Baltimore's rank-and-file officers, also did not respond to a request for comment.
"My experience is that when the police ramp up arrests of low-level people, it's usually because they want to debrief them and pump them for information for higher-level drug crimes or violent offenses," said the defense attorney with 20 years of experience. "Rather than organized law enforcement, it's haphazard arrests hoping to get information for a shooting that happened in the area or for a higher-level drug operation. The cops also don't know what the quality of that information is, because the individuals they are arresting are under a lot of pressure. They want to get a positive disposition for the case they are involved in."
An unintended result of these policing practices, according to a former prosecutor who worked in the state's attorney's office for half a decade, is that many residents of Baltimore distrust the police and believe Maryland's drug laws to be unfair. In turn, that mistrust makes finding a jury that will convict a drug case based solely on the testimony of police officers "almost impossible."
"If you go to jurors after a trial, they'll openly tell you they nullified the case," the former prosecutor told BuzzFeed News. "They'll say, 'Oh, it was just drugs.'"
Beyond jury nullification, an important cause for the prevalence of nolle prosequi in Baltimore's courts is a climate of distrust between the BPD and the state's attorney. Conventional wisdom has it that police departments and prosecutors are often too friendly with one another, to the point that it is not uncommon to call for special prosecutors whenever officers face criminal charges. But defense attorneys and a former assistant state's attorney said that, at least in Baltimore, the relationship between police and prosecutors is often tense and sometimes openly hostile.
"In the 20 years that I've been practicing in Baltimore, it seems to me that the relationship between the state's attorney and the police has steadily gone down," said one of the defense attorneys.
Short of an expunged record, having a state's attorney dismiss a case is the best thing that can happen to a defendant. Still, even after a nolle prosequi disposition, an arrest can have devastating consequences for defendants, who have to pay large sums for bail or spend time in jail while they wait for their case to be dismissed. And, according to one of the defense attorneys, some judges and prosecutors sometimes use pretrial detention as a way to punish defendants whom they will never officially convict.
"Look at what would happen to your life if you couldn't be places for 30 days because you were in jail," the attorney with 20 years of experience said. "If you live check to check, if you just started a new job, if your family depends on you for their rent — it can really disrupt your life, even if you are never convicted."
An arrest that did not result in a conviction can continue to hurt a defendant even after they are released from jail, an expert told BuzzFeed News.
"An arrest record follows you these days," said Fred Patrick, the director for the Center for Sentencing and Corrections at the Vera Institute of Justice, a national nonprofit. "You can go online and easily find people's arrest records. And employees and college admissions officers are increasingly starting to look at arrest records rather than conviction records. And the result is that one of our fundamental beliefs, that you are innocent until proven guilty, gets lost along the way."
Baltimore prosecutors are not required to explain on the record why they drop a case, and so it's impossible to know why the state's attorney dropped Gray's cases. Although Baltimore keeps video of every court proceeding, bench conferences — off-the-record conversations between lawyers and judges, where the reasons for dropping a case are often discussed — are redacted.
In some of Gray's cases — especially those from 2008, when he was on probation — the timing of the decision to not prosecute suggests the state's attorney was already seeking penalties for similar offenses through parole laws. In other cases, however, the decision not to prosecute appears to be most easily attributed to weak probable cause in the police officer's original request for charges.
BuzzFeed News reached out to several prosecutors who worked on Gray's cases. All of them declined to comment, citing ethics rules. None of the police officers mentioned by name in this article agreed to be interviewed. The Office of the Public Defender, which represented Gray in nearly all his cases, declined to comment for the record to avoid potential conflicts of interest.
Gray's most serious charges came on April 12, 2012, a year after he'd been released for violating his probation. Early that morning, the BPD assembled near his mother's house armed with a search warrant. After knocking and announcing themselves, they broke down the door with a battering ram and swept through the rooms, arresting his sisters, his stepfather, and an unrelated young man who was in the house at the time. His mother was spared because she told the police that she suffered from an unspecified mental illness.

Gray himself was not arrested. Records show he was incarcerated at the time, though they do not specify for what offense. (A spokesperson for the Baltimore Division of Correction declined to provide BuzzFeed News with a detailed timeline of Gray's periods of incarceration, citing the advice of legal counsel.)
The BPD searched the house. In the basement, the officers found a blue duffel bag containing nearly six ounces of marijuana and a little under an ounce of cocaine. They also found ziplock bags, razor blades, and digital scales. In a safe in the master bedroom, they found a P380 handgun.
"That's Freddie's gun!" said Richard Shipley, Gray's stepfather, according to the statement of probable cause, which refers to Gray as "the target of the investigation."
Gray's family members were then brought to Baltimore's central booking facilities, where the state's attorney charged the whole family with possession with intent to distribute, as well as with possession of paraphernalia.
The charges against the family were quickly dismissed. The sisters' records were expunged completely. The unrelated young man got a nolle prosequi. Shipley pleaded guilty to a gun charge in exchange for a suspended sentence. The state's attorney's office cited his "confession" in a list of the evidence it intended to use against his stepson.
For Gray, however, the case was only beginning. As it had done in the past, the state's attorney's office filed motions requesting a mandatory minimum sentence and a doubling of the maximum penalties, which meant that Gray was facing more than 50 years behind bars, the first 25 without the possibility of parole.
Gray sat in jail for a year before he was convicted of anything. After delays that included a death in the family of the prosecutor and an unavailable witness, he received a hearing on May 20, 2013. Representing him was the well-respected private attorney Jan Bledsoe, who had been hired by the Office of the Public Defender because its staffers couldn't defend Gray due to an undisclosed conflict of interest.
The videotape of that hearing shows that Gray did not like Bledsoe very much, as BuzzFeed News previously reported. Gray wanted to take his case to trial, believing that the fact he was not at home when the raid took place could give him a chance to avoid a conviction. Bledsoe felt otherwise. She'd been able to negotiate a generous deal — 14 years in prison, all suspended but for time served, and a year and a half on probation — that would allow her client to walk free almost immediately. And so, she spent most of her time before the judge openly pressuring her client to admit guilt.
"Mr. Gray, do you understand what happened?" Bledsoe then asked of her client, according to the court videotapes. "The court just wants to make sure you are aware that, if you are convicted, you would be eligible for 25 years without the possibility of parole, and that you are now rejecting 14 years, suspended all but time served."
The judge on the case, Michael Reed, appeared to agree with Bledsoe, and advised Gray to plead guilty. The defendant wouldn't.
"I'm going to send you to trial," Reed said, according to court videotapes. "But as a judge, what happens is, you get this perspective. I handle cases from judges that sat 20 years ago. And what I get are people like you, today, at your age, who are now in their fifties and sixties — I got one guy in his seventies — and what they're trying to do is re-create this day.
"At a certain point, this offer will not be available to you, and I just want you to know that," Reed continued. "And it sounds like you know it. Right? You know it, right? You gotta speak up."
"Yes," Gray mumbled.
"All right," Judge Reed replied. "Fantastic."
The case, however, never went to trial. Just moments before Reed adjourned the case, Bledsoe informed the court that Gray changed his mind and would plead guilty in exchange for a sentence of nine years, suspended but for time served. Having admitted to committing a felony, Gray was released on parole. (Bledsoe would go on to work for Marilyn Mosby, the current state's attorney. Gray's former attorney has now been assigned to prosecute the six officers accused of killing him. A spokesperson for Mosby told BuzzFeed News that Bledsoe did not have a conflict of interest.)
Then, on Sept. 30, 2013, the Division of Parole and Probation wrote to Reed to inform him that Gray had violated his agreement. He'd been arrested two days earlier and charged with possession of cocaine with intent to distribute, conspiracy to distribute an illegal substance, and actual distribution — charges that could lead to 64 years behind bars, on top of the nine years that Judge Reed could reactivate for his violation of parole.
Gray was out on $50,000 bond, but the Division of Parole and Probation recommended that a no-bail warrant be issued for his arrest. The letter noted that Gray's case was part of the Violence Prevention Initiative, a program that "aggressively targets the most violent offenders" by "using a data-driven risk assessment tool" to identify "offenders with high propensity for committing future violent crimes."
At the time, Gray's adult record did not include a single violent offense. The court took the DPP's recommendation and issued a warrant calling for his arrest and detention pending trial. He was detained and ordered held without bail.
Gray then retained Creston Smith, a former public defender who now runs a successful criminal defense practice as a private attorney. Several lawyers familiar with Smith described him as a talented litigator who did not typically take indigent clients. Smith declined to comment, citing attorney-client privilege. He specifically declined to say who paid his fees.
In a hearing on Nov. 25, 2013, Smith argued that the probable cause against his client was thin. He noted that the BPD had not found any drugs on Gray, but saw him on a surveillance camera standing at a corner close to where another man was allegedly dealing. The only drugs the officers could produce were found in "a weedy area" nearby. And the only evidence that linked them to Gray's co-defendant, the alleged dealer, was the officer's testimony.
"The bigger concern that I have is that there is a co-defendant," Smith told the judge, according to court videotapes. "And that co-defendant in this case is alleged to have had drugs, to have been serving drugs. None of those things are alleged as to Mr. Gray. He is alleged to have been watched on a City Watch camera acting as a lookout, but I think we all know the City Watch cameras don't have volume on them. It may just be Mr. Gray standing out on a corner."
Smith was also worried that denying Gray bail could potentially keep him in jail for a very long time on a charge that was unlikely to result in a conviction and could be indefinitely postponed by prosecutors or could end in a nolle prosequi.
The attorney's arguments worked. Gray was released on Nov. 26, 2013, on $50,000 bond. Records show that his sister Fredericka gave a bond agent a $1,000 down payment and then made 10 biweekly payments of $400 to complete the 10% fee.
On Aug. 25, 2014, after Smith successfully argued for Gray's release on bail, the state's attorney decided to postpone the prosecution of the charges that triggered Gray's violation of parole.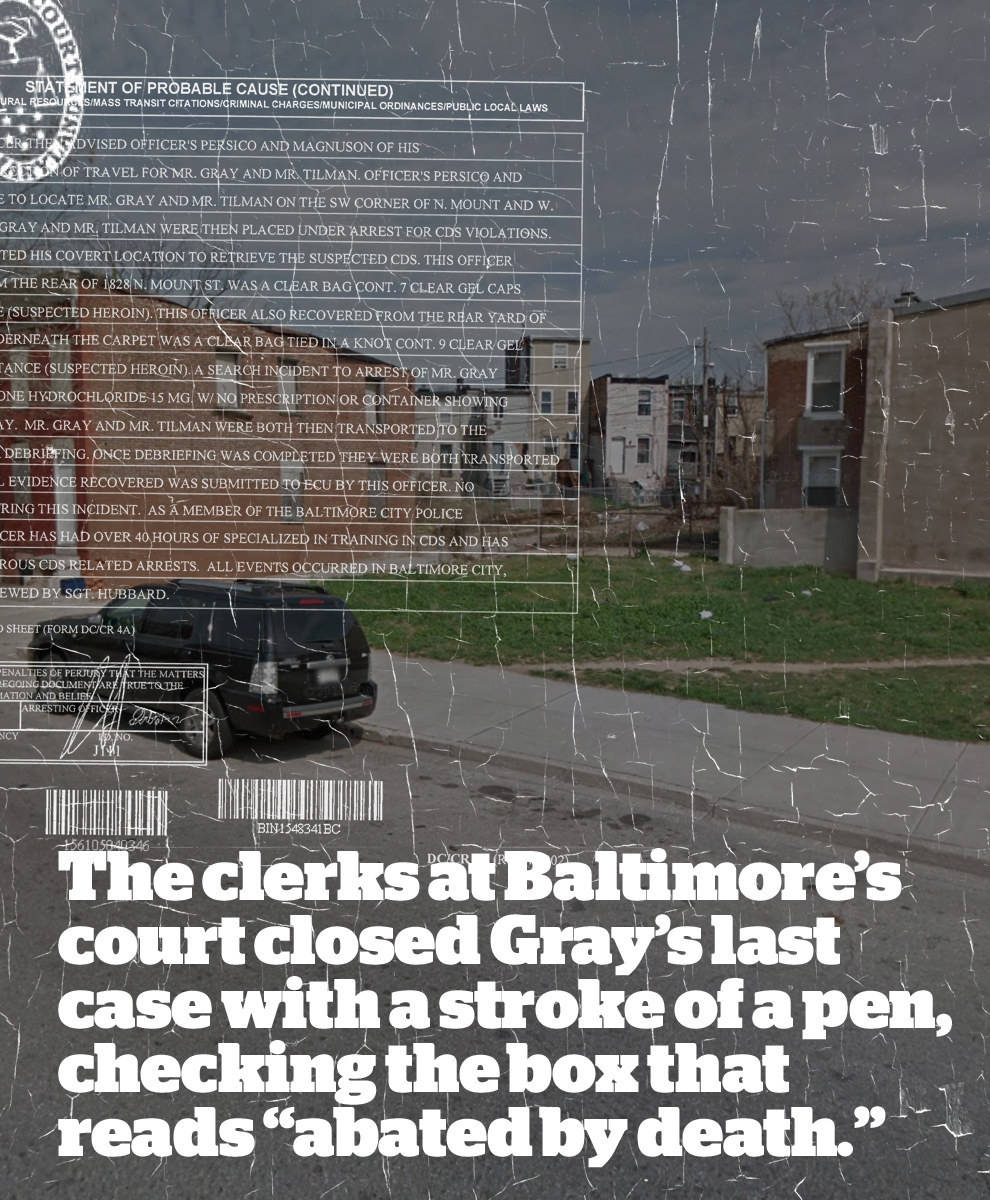 After that case, Gray's life appears to have entered a period of relative calm. The seven cases opened against him in the last two years of his life tended to be much less serious, with far fewer drug arrests and barely any felony charges.
The statements of probable cause for these final cases show the extent to which the officers of the Western District had become intimately familiar with him. In one instance, an officer referred to an otherwise-unidentified black man who "due to my frequent dealings I knew to be Freddie Gray."
Most of these minor charges were dismissed by the state's attorney. Around 1:30 a.m. on Jan. 25, 2014, for example, Officer Valentine Nagovich said he smelled pot in the parking lot of a nightclub on West Franklin Street. Nagovich approached a white van, where the smell seemed stronger. He knocked on the window and asked what the occupants of the van were doing "just sitting there."
"We going to the club," answered the driver, Brandon Ross, one of Gray's best friends.
Nagovich searched the car and found "more than 10 grams" of marijuana. He arrested Ross, Gray, and another passenger and charged them all with pot possession, a misdemeanor. Gray was released on his own recognizance and eventually found not guilty.
On another occasion, on Aug. 31, 2014, Officer Anthony Bush was looking at surveillance footage of the Gilmor Homes, a West Baltimore public housing development where Gray didn't live but often hung out. Bush noticed a group of seven black men playing dice in the courtyard. "Due to the violence that occurs during these illegal gambling dice games, I contacted arrest team," Bush wrote on his statement of probable cause.
The seven men were arrested and charged with trespassing and gambling. Gray, who at the time of his arrest had $19 on him, was released on his own recognizance. Soon after, the state's attorney dropped the case.
The rest of Gray's cases include one from Jan. 19 of this year, in which he was charged with breaking and entering after he was found in a Gilmor Homes apartment where he didn't have permission to be, and an assault charge from March 13, in which a family friend accused Gray of hitting him. The state's attorney declined to prosecute the burglary, while the assault charge — the only time Gray was ever accused of anything violent — remained pending at the time of Gray's death.
On March 20, less than a month before his death, Gray was charged with his final drug felony. Officer Gabriel Rimolo stopped Gray after he saw him crouch near an area where people were shouting, "50, 50, 50!" — a chant that, according to his statement of probable cause, was a slang advertisement for the sale of drugs. Rimolo found two oxycodone pills on Gray, which resulted in a felony possession charge. Gray was released that same day on $5,000 bond.
Then, less than a month later, around 8:40 on the morning of April 12, Lt. Brian Rice made eye contact with Gray near the corner of North Mount and Presbury streets — the very same place where he'd had his first arrest as an adult, just days after turning 18.
It was not a random occurrence. A few months earlier, according to court papers, a senior staffer at the office of State's Attorney Marilyn Mosby had asked a police commander in the Western District to commit more resources to the area where Gray was arrested again and again throughout his life.
When he saw police, Gray ran away — a sign that Rice and two other officers who were with him interpreted as probable cause to arrest him "without force or incident." Once they had Gray in custody, the officers found no drugs on him. They did find a knife, which they later claimed was illegal. The state's attorney would later say the arrest happened without probable cause.
Rice and five of his colleagues loaded Gray into a van. Somewhere along the way, Gray suffered a neck injury so severe that his spine was nearly severed, in what the statement of probable cause called "a medical emergency." The cops brought Gray to the University of Maryland's Shock Trauma Hospital, where he fell into a coma and underwent two spine surgeries. After a week, on April 19, Gray died.
Two of Gray's three remaining cases — the alleged assault and a possession charge — were promptly closed after his death. But in a morbid development, his final felony drug case continued to inch forward for a few days after he died, even after the demonstrations demanding justice for him started to edge toward violence just blocks away from the courthouse.
On April 22, the court wrote to Gray to inform him that his trial had been postponed to April 24 at the request of the state's attorney. Two days later, after they realized Gray was dead, the clerks at Baltimore's court closed his last case with a stroke of a pen, checking the box that reads "abated by death."
Joel Anderson, Albert Samaha, and Ema O'Connor contributed to this report.