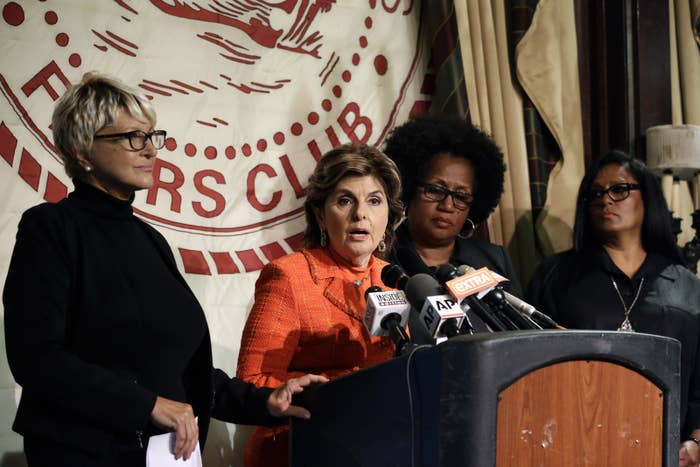 NEW YORK — Two more women came forward on Thursday to accuse Bill Cosby of sexual assault, just weeks before the comedian is expected to sit down for a deposition for a civil lawsuit that alleges he raped a 15-year-old girl.

The new accusers are Charlotte Fox, an actress, and a flight attendant identified only as "Elizabeth." They spoke out at a news conference convened by attorney Gloria Allred, who is also representing Judy Huth, the plaintiff in the only civil case currently open against Cosby that involves child abuse.
A third woman who has previously accused Cosby of sexual assault — Sarita Butterfield, a former Playboy model — also spoke at the news conference.

The alleged assaults of the two new accusers took place in California in the '70s, which means the state's statute of limitation prevents them from filing civil lawsuits against Cobsy, who also cannot be criminally prosecuted for the allegations. Huth was able to sue Cosby because she was underage at the time of the assault.

"Although it is too late for them to take any legal action, it is not too late for them to become empowered women who can speak out in the court of public opinion, and that is what they are doing here today," Allred said in a statement.
The allegations made by Fox and Elizabeth follow a similar pattern to the accusations previously levied against Cosby by more than 40 women. The two new accusers said Cosby used his fame and influence to lure them into spending time with him, only to then use drugs and alcohol to incapacitate and sexually abuse them.
Elizabeth said she met Cosby during the summer of 1976 on a flight from New York to Los Angeles. The starstruck flight attendant, who said she was "barely 20 years old" at the time, asked the comedian for an autograph. Cosby then invited her to the Playboy Mansion to "lay out in the sun while he played tennis with James Brown."
Cosby then took Elizabeth out to dinner at a Japanese restaurant called Tokyo KaiKan, the accuser said in her statement. There, the comedian allegedly made her drink sake.
"He ordered a house specialty, which was lambs' eyeballs," Elizabeth said. "I was feeling lightheaded from the sake, so I didn't want to eat them for fear I would get sick. I remember eating some of the lamb's eyes. After that, I was completely in a trancelike state, like I was dreaming. It was like being under anesthesia when you start to work off. I don't remember how we got to his hotel room."
At that point in her narration, Elizabeth broke down in tears.
"I could barely stand up," she said. "I felt like I was going to pass out or get very sick. He made me kneel down. I don't want to repeat what happened next. All I know is that it was the most horrifying thing that could happen to an innocent young woman."
Elizabeth said that Cosby continued to contact her after the incident and even sent her dozens of roses.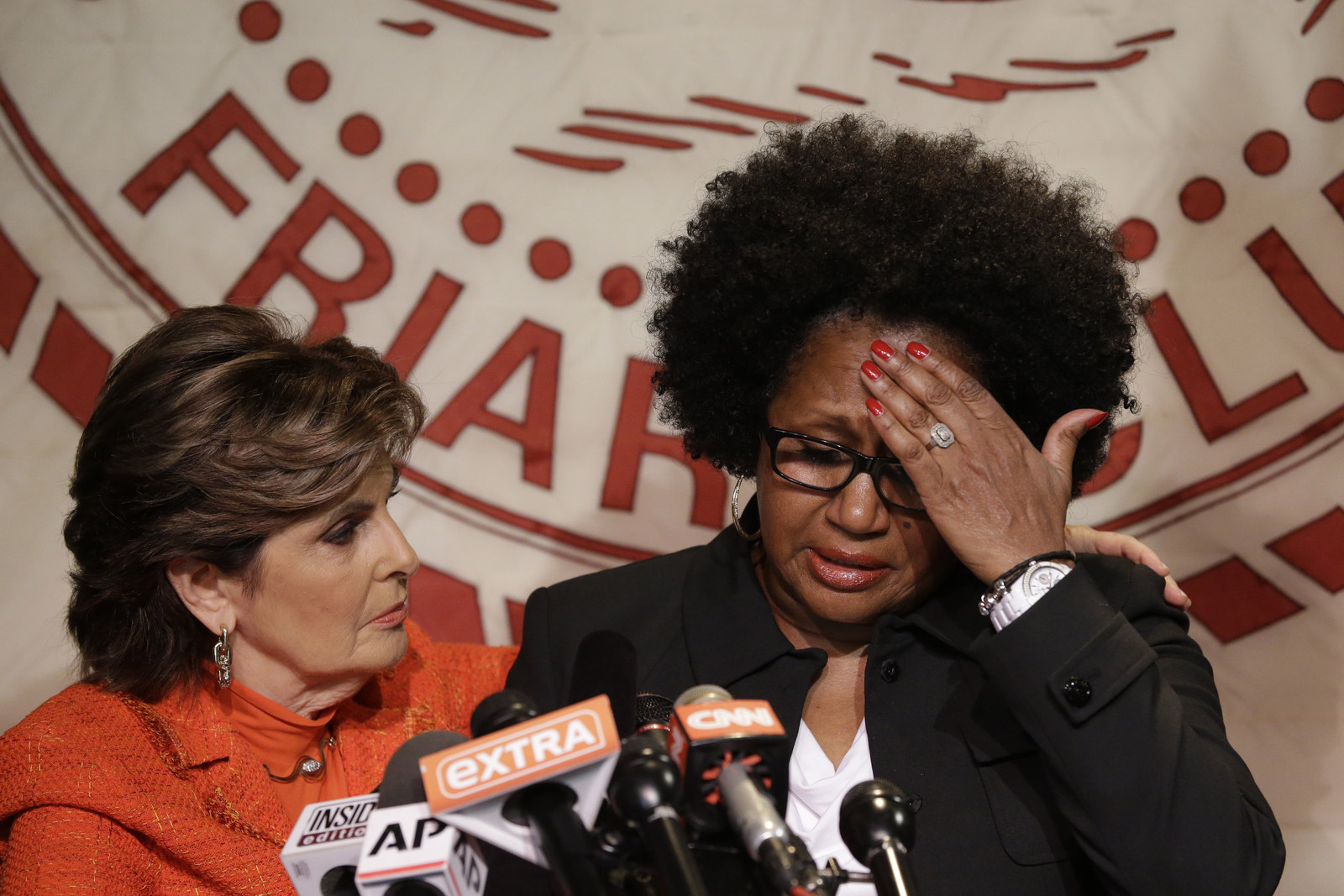 Fox said she met Cosby in Los Angeles in the 1970s, when she was 23 and working as an extra on the set of Uptown Saturday Night. The comedian invited her to a late-night jam session at a jazz bar in Redondo Beach.
After the session, Fox said, Cosby invited her to the Playboy Mansion, where they had dinner and drinks.
"I became ill," Fox said. "I vaguely remember coming back from the bathroom. The next thing I remember was that I was sort of awake, in a bed, with no clothes on, and there was Mr. Cosby, in a robe, crawling from the bottom of the bed. I was incapacitated and couldn't say no. He engaged in sexual activity with me. It was not consensual."
Fox said that when she saw Cosby on set again, he "looked right through [her]."
Allred said she looked forward to deposing Cosby on Oct. 9.
"We have provided notice to his attorneys of the time, place, and specific location of the deposition," she said. "As to whether he will show up, his attorneys have assured me that he will be showing up, and that's my expectation."
Marty Singer, Cosby's attorney, did not immediately respond to a request for comment.