Trump Says He Wants To "Penetrate The Internet" To Stop ISIS
The candidate said he would "certainly support" closing down "areas" of the internet to stop ISIS recruitment.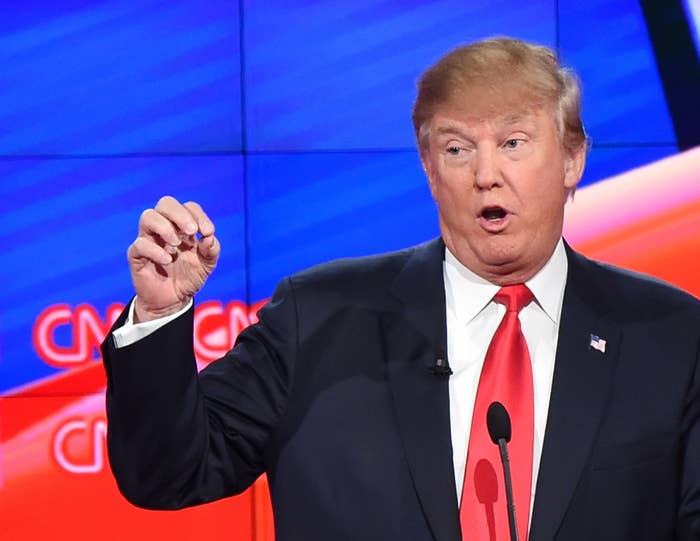 Donald Trump, the leading candidate for the Republican presidential nomination, said Tuesday during a CNN debate that as president he would ask for Silicon Valley's help to "penetrate the internet" and prevent ISIS from using social media to recruit fighters.
Asked by moderator Wolf Blitzer whether he would support "closing down parts of the internet" as he had previously suggested, Trump answered that he would "certainly be open to it."
Later, Trump clarified he "wasn't talking about closing the internet," but rather closing down "parts of Syria, parts of Iraq, where ISIS is."
It remained unclear whether the candidate was referring to virtual, physical, or imaginary geographies.
Here is the whole exchange:
Wolf Blitzer: You recently suggesting that "closing that internet up" was a way to stop ISIS recruiting online. Are you referring to closing down actual portions of the internet?
Donald Trump: "ISIS is recruiting through the internet. They are using the internet better than we are using the internet — and it was our idea. What I wanted to do is I wanted to get our brilliant people from Silicon Valley and other places and figure out a way that ISIS cannot do what they are doing. You talk freedom of speech, you talk freedom of anything you want, I don't want them using our internet to take our young impressionable youth and watching the media talking about how they are masterminds — they shouldn't be using the word masterminds, these are thugs, these are terrible people in ISIS, not masterminds. But we should be using our brilliant people, our most brilliant minds, to figure a way that ISIS cannot use the internet, and second, we should be able to penetrate the internet and find out exactly where ISIS is and everything about ISIS and we can do that if we use our good people."
WB: "So are you open to closing parts of the internet?"
DT: "I would certainly be open to closing areas where we are at war with somebody. I sure as hell don't want to let people who want to kill us and kill our nation use our internet."
Ohio Gov. John Kasich also discussed his ISIS strategy, saying we have to "penetrate these people."