Three Brooklyn Residents Charged With Planning To Join ISIS And Attack The President
The three men, originally from Kazakhstan and Uzbekistan, planned to travel to Syria. They also planned to bomb Coney Island or legally buy guns to shoot police officers and soldiers.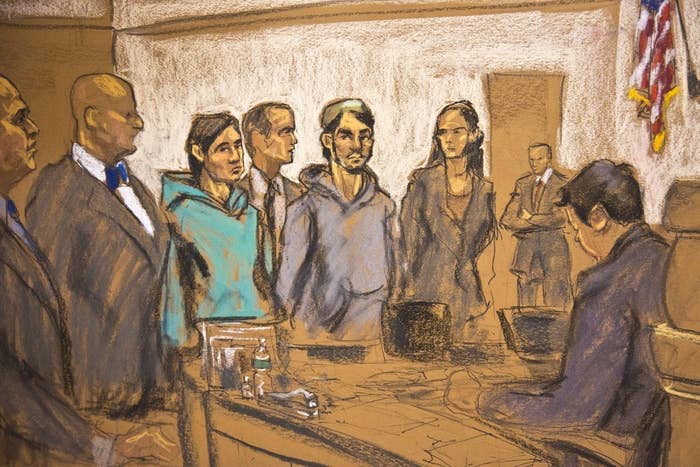 NEW YORK — Three Brooklyn residents were arrested on Wednesday on charges of plotting to join ISIS in Syria and conspiring with the terror organization to launch attacks in the United States, according to federal prosecutors.
The defendants — Abdurasul Hasanovich Juraboev, age 24, Akhror Saidakhmetov, age 19, and Abror Habibov, age 30 — were all charged in U.S. District Court for the Eastern District of New York in Brooklyn with conspiracy to provide material support to a foreign terrorist organization.
Juraboev, a citizen of Uzbekistan, allegedly offered to bomb Coney Island, a theme park in Brooklyn, and attack President Obama. Saidakhmetov, a citizen of Kazakhstan, allegedly said he wanted to buy a machine gun and shoot at police officers and soldiers. Habibov, also a citizen of Uzbekistan, allegedly provided financial support for their attempts to travel to the Middle East.
The men were arrested by agents with the FBI and the New York Police Department. They will be prosecuted by Loretta Lynch, the U.S. attorney for Brooklyn and a candidate to succeed Eric Holder as U.S. attorney general.
"The flow of foreign fighters to Syria represents an evolving threat to our country and to our allies," Lynch said in a statement. "We will vigorously prosecute those who attempt to travel to Syria to wage violent jihad on behalf of ISIL and those who support them."
The three men came to the attention of the authorities in August 2014, after Juraboev allegedly posted pro-ISIS comments in an Uzbek-language website, the complaint said. After seeing the comments, agents with the FBI paid several visits to Juraboev.
During those visits, Juraboev allegedly admitted in writing that he was planning to travel to Syria to join ISIS, and that he would kill President Obama or bomb Coney Island if ordered to do so. He also allegedly told the agents that Saidakhmetov shared his views.
Juraboev continued to plan his travel to ISIS after speaking to the FBI, the complaint alleges. Two days after the last interview with the federal agents, the teenager sent several messages to an ISIS representative.
"If right now I decide to go to the airport and go anywhere, except for Uzbekistan, they may arrest me," Juraboev allegedly told the ISIS representative, according to the complaint. "It's because of what I told them about Obama. [...] I need to sneak out of here with extreme caution without being noticed by them."
A few days later, in September 2014, Juraboev and Saidakhmetov allegedly discussed their plans to travel to Syria, according to the complaint.
"The only way to get there is via Turkey, via Istanbul," Juraboev allegedly wrote Saidakhmetov, according to the complaint. "Supposedly none of them can help. In other words, since they don't know us, they won't help us."
A month after that exchange, the FBI sent a confidential informant to Juraboev's mosque, according to the complaint. The informant, who was wearing a wire, posed as an "ideologically sympathetic individual." Juraboev and Saidakhmetov then allegedly tried to convince the informant to travel to Syria with them and join ISIS.
Saidakhmetov also told the informant that his mother had taken his passport away to prevent him from joining ISIS, according to the complaint. He also told the informant that if he was not able to travel to Syria, he would try to kill law enforcement officers in the United States.
"I will just go and buy a machine gun, AK-47, and shoot all police," the defendant allegedly said. "It is legal in America to carry a gun. We will go and purchase one handgun, then go and shoot one police officer. Then we will take his gun, bullets, and bulletproof vest. Then we will go to the FBI headquarters, kill the FBI people."
Earlier this year, Juraboev and Saidakhmetov procured travel documents and bought tickets to travel to Turkey, the complaint said. Saidakhmetov was scheduled to travel on Wednesday, while Juraboev was planning to fly next month.
Saidakhmetov was arrested Wednesday morning at John F. Kennedy airport while attempting to fly to Turkey. Juraboev was arrested in his apartment in Brooklyn. Habibov was arrested in Florida.
The defendants are expected to have their first court appearance later on Wednesday. It was unclear if any of them had retained attorneys.
If convicted, the men face up to 15 years behind bars.
CBS reports this is Abror Habibov, the defendant accused of providing financial support to the other two, who was arrested in Florida on Wednesday.
A Google+ page appearing to belong to the 19-year-old Saidakhmetov shows many pro-ISIS videos and comments.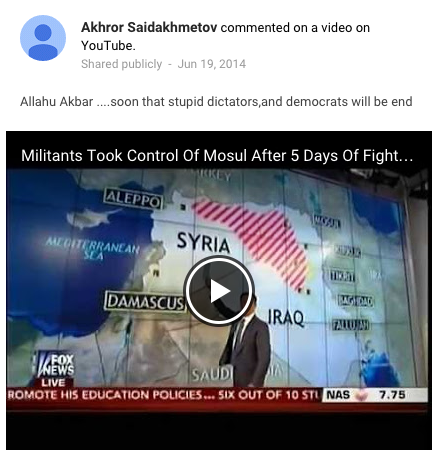 He commented, "Allahu akbar," meaning "God is great," when he shared an official ISIS video on his page.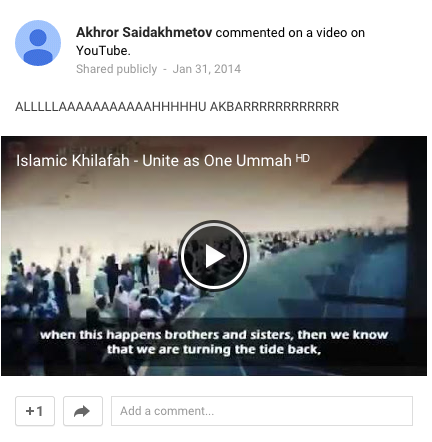 Saidakhmetov also posted and commented on a video of Abu Bakr al-Baghdadi, the self-declared leader of ISIS.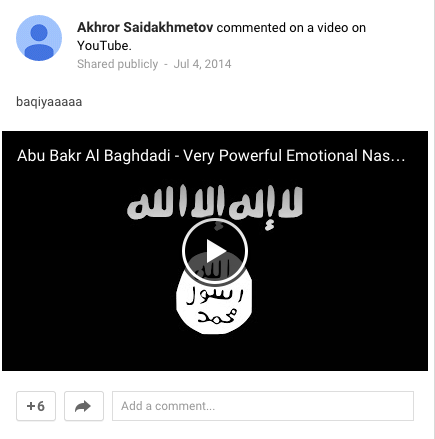 Read the full complaint here:
Download PDF