Staten Island Judge Will Hear Arguments About Releasing Eric Garner Documents
Four different parties have requested the release of the minutes of the grand jury that declined to indict the cop who killed Eric Garner. Daniel Donovan, the prosecutor who handled the case, is fighting the motion.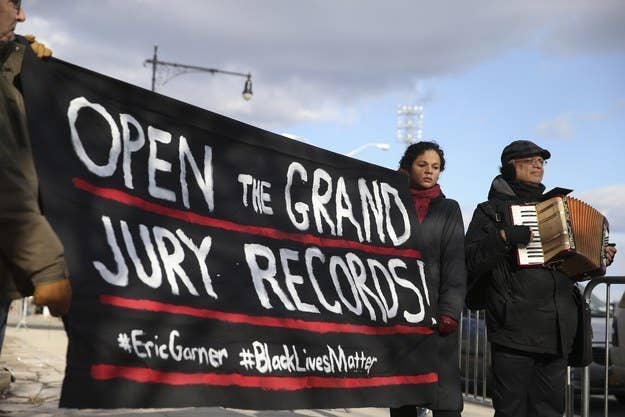 NEW YORK CITY — Four different parties, including civil rights groups and a newspaper, have asked the Staten Island branch of the New York State Supreme Court to release the minutes of the grand jury that declined to indict the police officer who killed Eric Garner with a chokehold in 2014.
The first hearing of the special proceedings took place on Monday before Richmond County Supreme Court Judge William Garnett. Oral arguments for the case are scheduled for Jan. 29.
Grand jury proceedings are usually kept secret, but New York City's public advocate, the New York Civil Liberties Union, the Legal Aid Society, and the New York Post are all arguing that an exception should be made in the Garner case.
Daniel Donovan, the Staten Island District Attorney who led the grand jury proceedings, is fighting to keep the documents secret. Donovan's office did not respond to requests for comment. The Republican prosecutor is considering running for the U.S. Congress. He has already been endorsed by at least one police union.
Garner, who was black, was killed on July 17 last year, after New York Police Department Officer Daniel Pantaleo, who is white, used a chokehold to subdue him while trying to arrest him for selling loose cigarettes. The city's medical examiner ruled Garner's death a homicide. The whole incident was captured on amateur video, becoming a symbol for what some call police brutality.
District Attorney Donovan convened a grand jury to decide whether to charge Pantaleo with a crime. After nine weeks of hearings and deliberations, the jury opted to clear Pantaleo of the charges.
"The secrecy of the proceedings that resulted in no criminal charges being filed against the officer responsible for Eric Garner's death has heightened suspicion and distrust of the police and the criminal justice system," said Donna Lieberman, the executive director of the NYCLU. "Everything surrounding policing and the grand jury process has become highly charged, and I think the DA's candidacy for congress increases and fuels the controversy."
The decision not to indict Pantaleo sparked large-scale protests similar to the ones seen in Ferguson, Missouri, after a separate grand jury made a similar choice not to indict another white police officer, Darren Wilson, who had also killed an unarmed black man, Michael Brown. A juror in the Brown case is suing the prosecutor in charge to lift a ban that prevents her from commenting publicly on the proceedings.