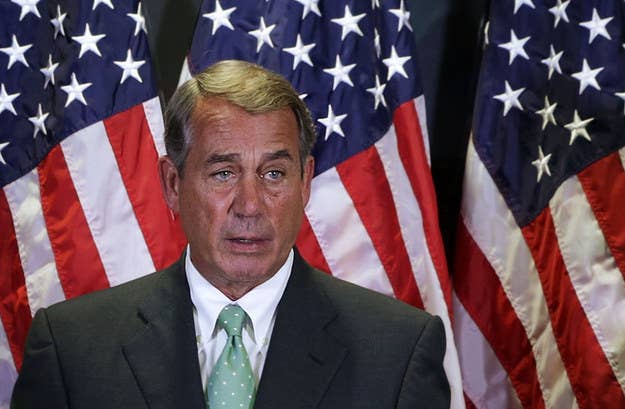 John Boehner, the Republican speaker of the House since 2011, will resign from Congress at the end of October, BuzzFeed News confirmed Friday.

"It's become clear to me that this prolonged leadership turmoil would do irreparable damage to the institution," Boehner said in a press conference. "This isn't about me. it's about the people, it's about the institution. Just yesterday we witnessed the awesome sight of Pope Francis addressing the greatest legislature in the world. This morning I woke up, I said my prayers as I always do, and decided, today is the day I'm going to do this."
Boehner had recently faced harsh criticism from the conservative wing of his party, who accuse him of not doing enough to defund Planned Parenthood, the reproductive health network that among other resources provides abortions. In a press conference, he said he'd planned in 2010 to resign after two terms.
Last week, Congress passed a largely symbolic bill to withhold tax dollars from the network, but many in Boehner's party were unsatisfied. Led by Sen. Ted Cruz of Texas — who is also seeking the Republican nomination for president — the conservative faction of the party demanded that a bill defunding Planned Parenthood be tied to a larger government spending bill.
Congress has until the end of the month to pass the spending bill. Failure to do so would result in yet another government shutdown. The resulting standoff led Boehner to resign, his aides told MSNBC and the New York Times.
At the meeting where he announced his resignation, Boehner also said Congress will take up a new spending bill that would fund the government without including a provision to withhold tax dollars from Planned Parenthood. The new legislation is expected to pass with Democrats and would likely avoid a government shutdown.
Boehner allies told BuzzFeed News that Friday had been a very emotional morning for all of them, saying they were stunned by the announcement. At his press conference, the speaker appeared almost gleeful as he told reporters about his sudden decision to resign.
The day before his resignation, the life-long Catholic speaker had an emotional meeting with Pope Francis, whose visit to Congress he had orchestrated. He was seen weeping during the pope's address. Later that night, he told a Washington Post reporter that he had nothing left to accomplish as speaker.

"The pope says to me, 'Please pray for me,'" the speaker told the Post. "Please pray for me. He said, 'Please pray for me.'"
Speaking on Friday at a press conference, Boehner said that although he was moved by the pope's request that he pray for him, his decision to resign was not due to "the grace of Pope Francis."
Speculation about Boehner's successor began immediately after he announced his resignation. Speaking at the Capitol, Rep. Paul Ryan of Wisconsin told BuzzFeed News he will not seek the speakership, and that he assumes Majority Leader Kevin McCarthy will replace Boehner. Speaking in a press conference, Boehner said he thought McCarthy would make "an excellent speaker," but that he wouldn't be around to vote.

Rep. McCarthy, who serves the 23rd District of California, said in a statement that he considered Boehner a "leader, a mentor, and a friend."
"It takes profound humility to step down from a position of power, and John's depth of character is unmatched," McCarthy said. "He will be missed because there is simply no one else like him. Now is the time for our conference to focus on healing and unifying to face the challenges ahead and always do what is best for the American people."
Presidential candidates from both parties began staking out their positions on the resignation on Friday. Cruz told the Washington Post that he had "long called on Republican leadership to do something unusual, which is lead."
Sen. Marco Rubio of Florida, who is also seeking the Republican nomination for president, received a standing ovation when he reacted to the announcement at the Value Voters Summit.

"I'm not here today to bash anyone," Rubio said. "But the time has come to turn the page. The time has come to turn the page and allow a new generation of leadership in this country. And that extends to the White House and the presidency as well."
For his part, Sen. Bernie Sanders of Vermont, a candidate for the Democratic nomination, said Boehner's resignation was evidence of the weakness of the Republican party.
"It appears that even a very conservative speaker like John Boehner is unable to control the extreme right-wing drift of Republicans in the House," Sanders said in a statement. "This is a party whose ideology is way out of touch with the American people. Without Boehner, it may get even worse."

Rep. Nancy Pelosi of California, the Democratic minority leader, told reporters Friday that she had called Boehner earlier that morning to "see how we were doing on the CR (continuing resolution)" for Planned Parenthood. His representatives told her that he was in a meeting.
Later, during an address to the Caucus, Pelosi said, "All of a sudden, the phones just lit up, and that's how we found out."
Asked if she considered the speaker's resignation a distraction to the debate on reproductive rights, Pelosi said, "Of course," and spoke about the potential for another government shutdown. Republicans, she said, had "seen a speaker step down because those in his caucus are demanding a shutdown of government unless there's a defunding of Planned Parenthood."
She maintained that Democrats would continue to negotiate with Boehner "until he hangs up his gavel."
Leaders from both parties praised Boehner's performance. Sen. Mitchell McConnell of Kentucky, who is currently the Republican majority leader, paid tribute to Boehner in a speech on the Senate floor, calling him an "ally" and a "friend" who transformed "a broken and dispirited Republican minority into the largest Republican majority since the 1920s."
Former President George W. Bush said Boehner had done "an excellent job" and that he "looks forward to many rounds of golf with this good man."
Sen. Charles Schumer of New York, a leading Democrat, praised Boehner in a statement.
"He will be missed by Republicans and Democrats alike," Schumer said. "Let us hope the Republican majority, which Speaker Boehner played a large role in creating, learns the right lesson from his resignation: to work with Democrats in a constructive way, rather than let a handful of extreme right-wingers dictate his party's policy."
For his part, Sen. Harry Reid of Nevada, the Democratic leader in the Senate, praised Boehner for his honesty.
President Obama also took time to praise the speaker.
"John Boehner is a good man," Obama said at a press conference regarding the week-long visit of Chinese President Xi Jinping. "He is a patriot, he cares deeply about the House, an institution in which he has served for a long time, he cares about his constituents and he cares about America."
"There is no weakness in that," the president said of Boehner's decision to resign. "This is what government is."
The son of a bar owner from Cincinnati, Boehner has represented the 8th District of Ohio since 1991. His tenure was marked by a government shutdown in September 2013, when Congress failed to pass a funding bill due to disagreements over the Affordable Care Act.