Slain NYPD Officer Wenjian Liu Honored At Brooklyn Wake
Police officers from across the country gathered to pay their respects to the murdered cop. Mayor Bill de Blasio made an appearance, and officers did not turn their backs on him as they have done recently.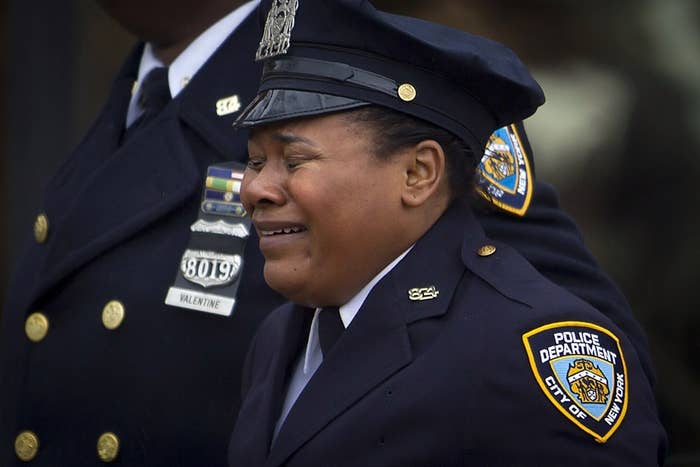 NEW YORK CITY — Slain New York Police Department officer Wenjian Liu was honored Saturday at a quiet wake in Brooklyn, with New Yorkers and officers from across the country arriving to pay their respects.
Liu and another officer, Rafael Ramos, were killed on Dec. 20 by a lone gunman who travelled from Maryland with the express purpose of killing police after attempting to murder his ex-girlfriend. The killer, Ismaaiyl Brinsley, took his own life minutes after shooting the cops.
The murder of the two officers set off tensions between the NYPD and the administration of Mayor Bill de Blasio, with some union leaders saying the mayor was partially to blame for the killings, after he showed solidarity with large-scale protests demanding an end to police brutality. A similar wake for Ramos on Dec. 26 became a stage for those tensions, with hundreds of cops outside the funeral turning their backs on mayor when he appeared on a screen to deliver a eulogy.
Saturday's wake saw none such gestures. The mayor and Police Commissioner Bill Bratton arrived quietly, after the rank and file had been let into the funeral home through a different door. De Blasio left after 15 minutes without addressing reporters. Long Island Congressman Peter King and New York Governor Andrew Cuomo also made an appearance.
On Friday, the New York Post reported that Bratton issued a memo to all officers indirectly asking them to not repeat the gesture.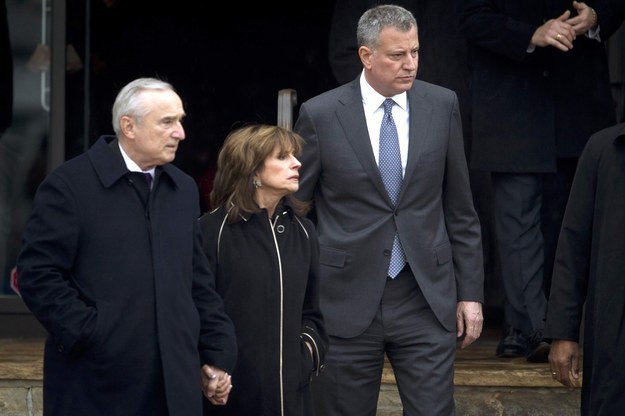 Liu's wake took place in Bensonhurst, a multiethnic neighborhood in central Brooklyn where Hasidic Jews live side by side with Chinese and Mexican immigrants. In keeping with Liu's beliefs, there was no church service, but only a Chinese ceremony in which family members burnt make-believe money to support him in the afterlife.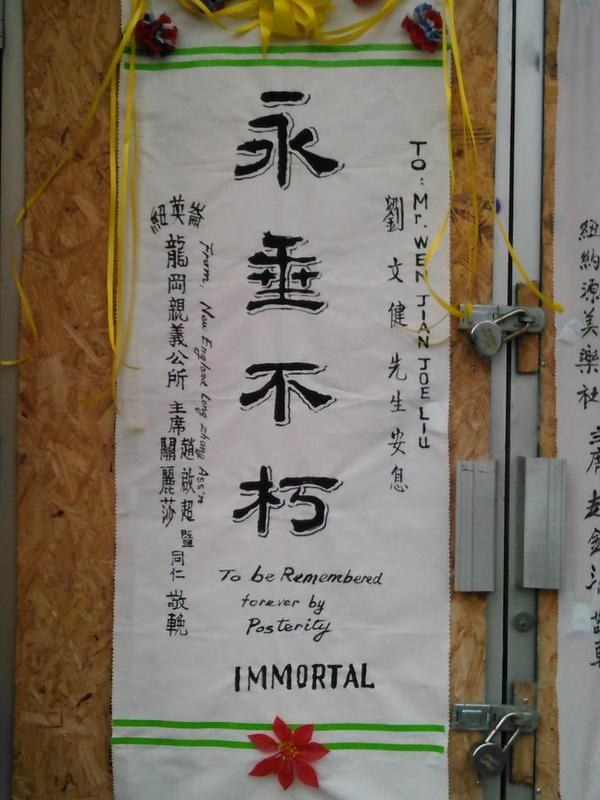 The crowd at the wake was much smaller than for Ramos' funeral, in part because of freezing rain and snow. But several people from across the city travelled to the Ralph Aievoli Funeral Home to honor the deceased.
Among the officers present at the wake were representatives from the Los Angeles Police Department and the New Orleans Police Department.
Liu, who was posthumously promoted to the rank of detective, will be buried Sunday. A funeral procession will begin from the 65th street at 13th avenue in Brooklyn at 11:00 a.m.