Slain NYPD Officer Buried Amid Protests Against Mayor
Wenjian Liu, one of the two NYPD officers who were killed in an ambush late last year, was honored with an emotional funeral. But some officers chose to take the opportunity to show their disregard for Mayor Bill de Blasio.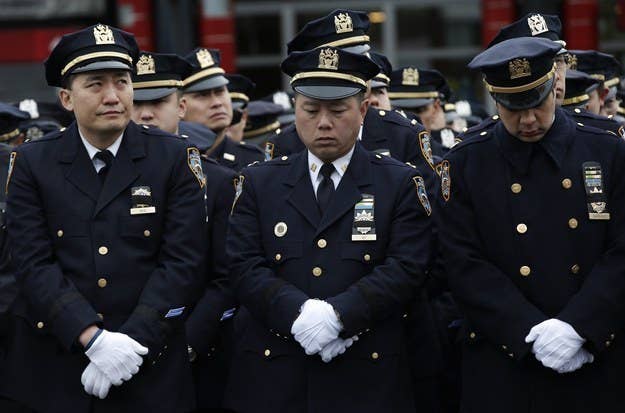 NEW YORK CITY — Wenjian Liu, a member of the New York City Police Department who was murdered in the line of duty late in December, was buried on Sunday after a funeral that confronted a mourning family with the tense politics of a divided city.
Liu, a Chinese immigrant who arrived in the United States at age 12, was killed Dec. 20, when he was ambushed by a lone gunman who traveled to New York with the express purpose of shooting police. His partner, Rafael Ramos, was also killed. Liu was 32, and is survived by his parents, his wife, and a large extended family.
Thousands of mourners, both civilian and uniformed, braved freezing temperatures and light rain to pay their respects to the fallen officer. They gathered in Bensonhurst, a Brooklyn neighborhood that was once an Italian enclave but that has recently become more and more diverse — much like the police department where Liu served seven years.
The funeral was deeply emotional, with several spectators weeping as Liu's family remembered his kindness and generosity, delivering eulogies in both Chinese and English.
"He was my soulmate, he was my best friend," said Pei Xia Chen, Liu's widow, as she struggled to hold back the tears. Chen and Liu had been married only two months at the time of his death.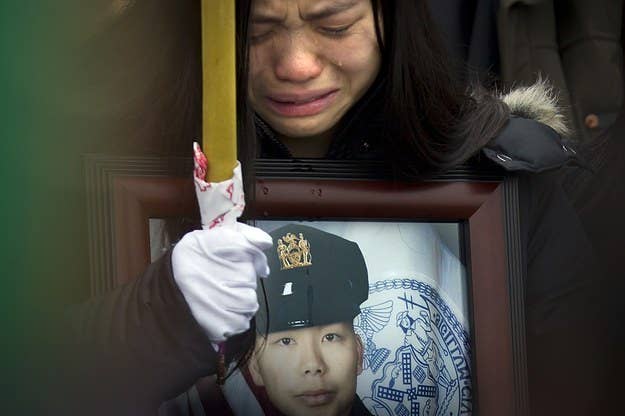 But Liu's funeral also had moments of tension. When New York Mayor Bill de Blasio began his eulogy, hundreds of police officers began to slowly turn away from him.
The gesture was a tacit vote of no-confidence in the mayor, whom many in the NYPD's unions see as partly responsible for the deaths of Ramos and Liu.
Late last year, de Blasio showed solidarity with demonstrators demanding an end to police brutality. The protests arose after several unarmed black men were killed by white police officers across the country.
The leaders of some of the city's police unions said that the mayor's comments contributed to an anti-cop climate that resulted in the killings of Ramos and Liu. Some of those same unions are currently negotiating their contracts with City Hall.
Officers had turned their backs to de Blasio twice before — first on the night of the shooting, when he visited the hospital where Ramos and Liu were being treated, and again at Ramos' funeral. Both Police Commissioner Bill Bratton and Liu's widow had expressly asked officers not to repeat the gesture on Sunday.
De Blasio's speech centered on the ways in which Liu embodied "everything that we as New Yorkers aspire to be," and concluded with a call to unity.
"As we start a new year, a year we are entering with hearts that are doubly heavy from the loss of Detective Liu and the loss of Detective Ramos, let us rededicate ourselves to those great New York traditions of mutual understanding and living in harmony," de Blasio said, speaking from inside the funeral house, where he could not see the backs of the officers.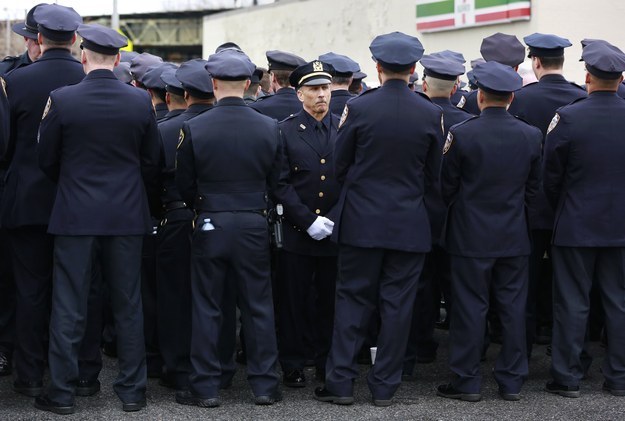 Police Commissioner Bratton spoke after the mayor. In his speech, Bratton said that many immigrants like Liu choose to join the police because they appreciate freedom, having once lacked it in their home countries.
"For 170 years, immigrants to this city have found a home in the NYPD," the commissioner said. "Everyone who comes here is from someplace less free. And if you come from such a place, is it any wonder you'd want to join the profession that helps make America so different?"
No police officers turned their backs to Bratton. But a part of the commissioner's eulogy, in which he said that Liu and Ramos had been "murdered for their color, slain for being blue," was seen as insensitive by some who believe the police unfairly targets black people.
The anger unleashed by Bratton's comments is representative of the division between those who see the police as the "thin blue line" that stands between peace and chaos, and those who see some of its practices as an instance of the racism that still plagues American society.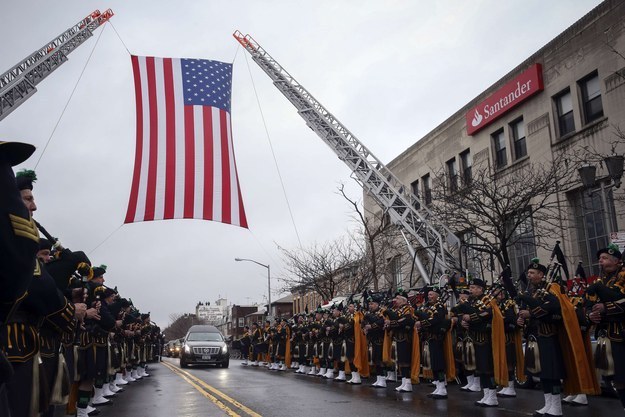 After the last eulogy was over, a nearby church rang mourning bells. Then a lone trumpet played the last post and the funeral procession began.
First came hundreds of motorcycles, driven by officers from as far afield as New Orleans. Then came the pipe band of the Emerald Society, an association of Irish officers — silent but for a simple drum beat. Then came Liu's hearse, adorned in flowers, and then a dozen black limos, carrying his family and friends.
As the procession approached the Cypress Hill cemetery, the band began to play Antonin Dvorak's "New World Symphony." Thousands of cops saluted the passing hearse.
And then Wenjian Liu, known to most of his colleagues as Joe, was buried an ocean away from where he was born, in a city he came to call home, and which turned him into a symbol for its many contradictions.