Robert Durst Pleads Guilty To Illegal Gun Possession
He'll spend seven years in prison — and perhaps more if he is convicted of a separate murder charge.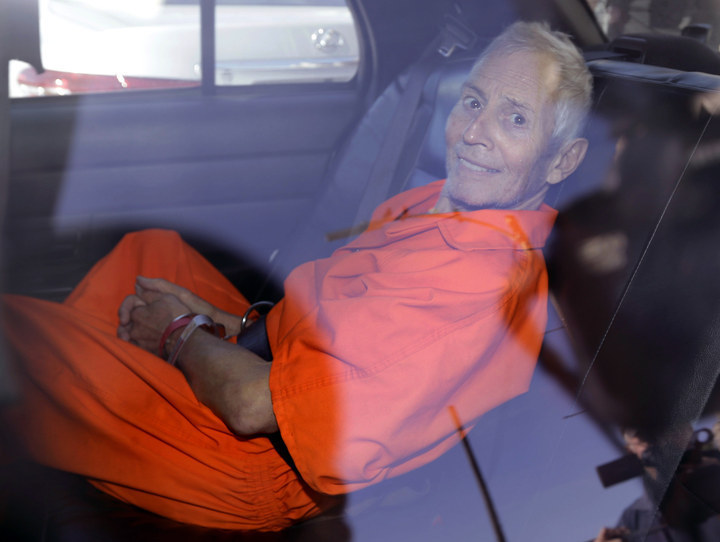 Robert Durst, the estranged heir to one of New York City's most prominent real estate families, pleaded guilty to gun charges in a Louisiana federal court on Wednesday, setting the stage for a possible murder trial.

Durst has been the subject of much speculation since 1982, when his first wife, Kathleen Durst, disappeared without explanation. Eight years later, his friend Susan Berman was found dead in her home with a gunshot to the head. Prosecutors in California believe Durst murdered Berman to prevent her from talking about Kathleen's disappearance.
Berman, the daughter of a Jewish gangster, was a journalist who acted as Durst's press liaison during the scandal that followed the disappearance of his wife.
The tangled story served as the plot forThe Jinx, a six-part documentary that aired on HBO. In the last episode, filmmaker Andrew Jarecki confronted Durst with evidence that he had murdered Berman. Durst denied the accusation, but a live microphone later captured whispering that he had "killed them all."
In statement to BuzzFeed News, however, Durst's attorney, Dick DeGuerin, insisted his client was innocent and looked forward to contesting the murder charge in Los Angeles:
Bob Durst did not kill Susan Berman and doesn't know who did. Bob Durst has one goal and that is to get to Los Angeles and prove his innocence in Susan Berman's death.

Today, Bob Durst pleaded guilty to gun charges in federal court in New Orleans. By agreement with several other jurisdictions, Mr. Durst will not be prosecuted in the Southern Districts of New York and Texas, or in state court in Louisiana in related investigations, and he will be transferred to California later this year. By this agreement, we were able to "clear the decks" for his extradition to California to defend the Susan Berman murder accusations.

The Los Angeles District Attorney has agreed to assist in having him transferred there for trial. His legal team looks forward to beginning the legal process in Los Angeles once he arrives there.
Durst, who broke with his family in 1994, was arrested in New Orleans last March, after the FBI became convinced that he was preparing to leave the country rather than face charges in California.
After searching Durst's hotel room, agents discovered a .38-caliber revolver. Durst, who is a convicted felon, is not allowed to own a firearm.
Durst's plea on Wednesday, reported by the New York Times. is part of an agreement that will send him to prison for seven years.
The guilty plea will allow prosecutors in California to extradite and arraign him on murder charges in a state court in Los Angeles. Durst's attorneys have said in the past the charges are spurious and that they are confident they will be vindicated in court.
The arraignment in California, which is expected to take place in August, will not be the first time Durst stands accused of killing. In 2003, a jury in Texas declined to convict him of murder even after he admitted to dismembering the body of a neighbor.