The anti-immigrant activists were trying to prevent a bus full of immigrant children from entering the small city south of Los Angeles. Lupillo Rivera, a popular singer of Mexican regional music, was one of several people who mounted a counter protest.
Rivera, who is also the brother of the late Jenni Rivera, chanted pro-Latino slogans until an unidentified protester spat on his face.
Mayor Alan Long of Murrieta, who has publicly supported the anti-immigration protests, did not immediately respond to requests for comment asking whether he condones the aggressions against Rivera.
For his part, Rivera took to Twitter to voice his anger to his nearly 800,000 followers.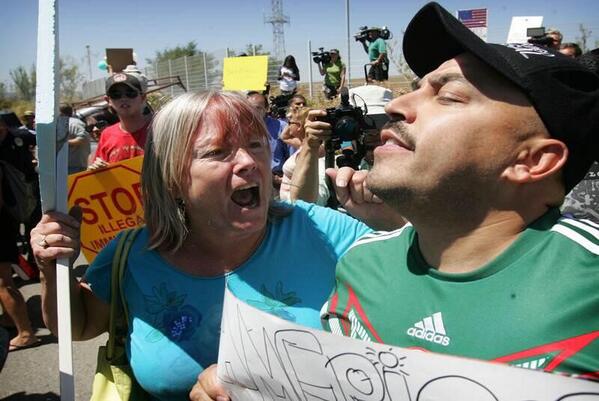 "And they say that Mexican people have no manners?" the Tweet reads in Spanish. "That we are rude and like to get into fights?"
The passengers of the buses were part of a recent wave of migrant children and families that has begun arriving at the southern border after fleeing violence in Central America.
The children were headed to a new processing facility that U.S. Customs and Border Protection has set up in Murrieta to handle the unprecedented numbers of young migrants.
The buses eventually turned back toward San Diego. A spokesperson for Immigration and Customs Enforcement told BuzzFeed on Tuesday that the agency would not provide any further information about the incident at this time "due to safety and security considerations." The department said something similar the following day to BuzzFeed: "We are not releasing any updated information on the migrant transfers at this time."