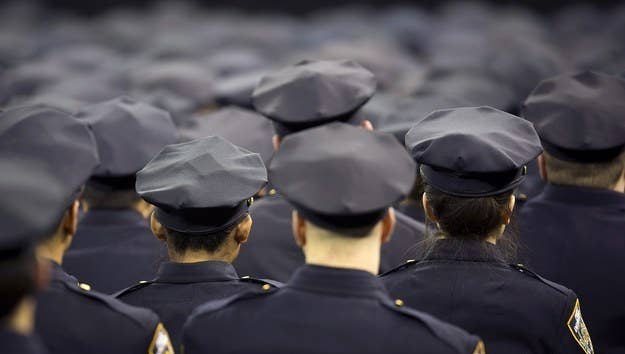 NEW YORK — A rally in support of the New York Police Department is planned for next week, after demonstrations protesting police killings of unarmed black men paralyzed the city for several days.
A flyer circulating on social media with the hashtag #ThankYouNYPD asked people to assemble next Friday, Dec. 19, in front of City Hall from 5 p.m. to midnight.
As of Thursday at noon, a Facebook page promoting the demonstration had garnered more than 14,000 likes, but the event page for the rally only had 137 confirmed guests.
Speaking with BuzzFeed News over Facebook chat, the creator of the page — who declined to give his or her name — said that he or she had not organized the demonstration, but had created the page to support the event. The person, who said he or she lives in New York City, said that he or she does not work for the NYPD, but has family members who do.
"It was a collaborative effort amongst citizens who appreciate the job these men and women do," the person wrote of the rally.
The rally's promotional materials on Facebook and Twitter used hashtags that appeared to be a direct response to the slogans used by protesters demonstrating against the police killings of Eric Garner, Michael Brown, Tamir Rice, and Akai Gurley — four black unarmed black men who died at the hands of police officers in recent months. Among those hashtags were #BlueLivesMatter and #TheyCan'tShutUsDown.
The page's creator insisted that the rally was not meant to be a response to last week's anti-police protests and that he or she did not see the situation as a racial issue.
"It's just something to support the men and women who risk their lives for law abiding citizens against the criminals in our society," the creator of the page wrote to BuzzFeed News. "Did you see the most common hashtag was #AllLivesMatter. Isn't that really the point? Or is it just a black issue? Aren't there black police officers?"
A spokesman with the Patrolmen's Benevolent Association, one of the city's larger police unions, told BuzzFeed News that the rally's organizers had not contacted the union, and expressed concern that the demonstration could be the work of "professional agitators" who could be trying to incite violence.
"We don't know who is running this rally," the spokesman said. "We don't know if this is legitimate. We've never seen a rally from 5 to midnight, and this is giving us concern."
On Twitter, some users began using the rally's hashtags as a way to protest the police, much as they did with the NYPD's public relations effort #MyNYPD.
The NYPD did not immediately return requests for comment on the rally, including questions on whether the demonstration has a permit.