Pope Suggests Women At Risk Of Contracting Zika Can Use Contraception
The pope's comments run counter to tradition in the Catholic Church.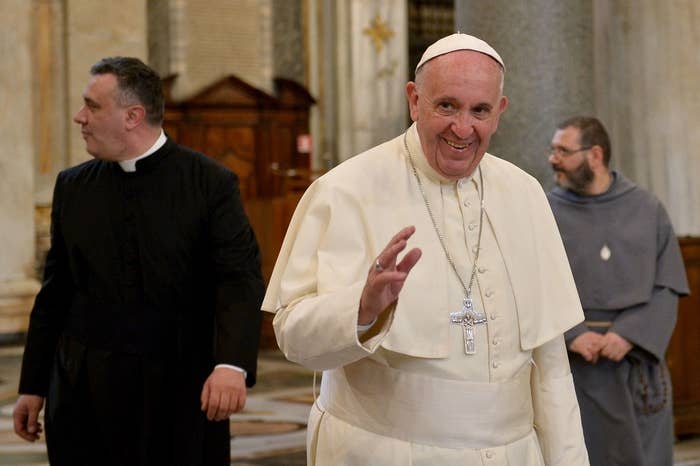 Pope Francis suggested Thursday that women who are at risk of contracting the Zika virus can use artificial contraception to avoid having children with birth defects linked to the disease.
Scientists believe that the Zika virus, a disease spread by mosquitoes, could be linked to thousands of cases of microcephaly, an incurable condition in which infants are born with abnormally small brains. The virus's rapid spread has pushed the health ministries of several Latin American nations to advise women to avoid getting pregnant for as long as two years.
The pope's comments run counter to tradition in the Catholic Church, which has long maintained that artificial contraception is sinful no matter the circumstances. Previously, several Latin American bishops had said that the Zika pandemic did not constitute an exception to the rule.
Catholic doctrine considers the pope to be the church's ultimate authority.
In his statements about the virus, Francis cited a 1968 encyclical written by Pope Paul IV that makes clear that nuns are allowed to use contraception if they are in danger of being raped.
"Avoiding pregnancy isn't an absolute evil, and in certain cases such as this one, as in that one I mentioned of Blessed Paul VI, it was clear," the pope said.
The pope, however, made it clear that the church's traditional ban on abortion continued to apply even during the Zika pandemic.
"The pope's statement acknowledges what has already been said by the World Health Organization in so far that it recognizes that Zika is an urgent, public health issue," said Charles Abbott, legal advisor for Latin America and the Caribbean at the Center for Reproductive Rights. "What the pope fails to do in his statement is to adequately describe this as a reproductive rights issue. Yes, contraception is a very important thing... but governments really should already be providing the full range of reproductive health services, especially in light of their own recommendations."
Francis made his statement in a press conference aboard his plane on the way back to the Vatican after visiting Mexico. Asked about Donald Trump, a candidate for the Republican nomination for president who has proposed building a barrier between Mexico and the United States, the head of the Catholic Church said that anyone who wants to build a wall "isn't a Christian."
"A person who thinks only about building walls, wherever they may be, and not building bridges, is not Christian," Francis said.
Here is the whole exchange on Zika and contraception, as reported by the Catholic News Agency:
Paloma García Ovejero, Cadena COPE (Spain): Holy Father, for several weeks there's been a lot of concern in many Latin American countries but also in Europe regarding the Zika virus. The greatest risk would be for pregnant women. There is anguish. Some authorities have proposed abortion, or else to avoiding pregnancy. As regards avoiding pregnancy, on this issue, can the Church take into consideration the concept of "the lesser of two evils"?

Pope Francis: Abortion is not the lesser of two evils. It is a crime. It is to throw someone out in order to save another. That's what the Mafia does. It is a crime, an absolute evil. On the "lesser evil," avoiding pregnancy, we are speaking in terms of the conflict between the fifth and sixth commandment. Paul VI, a great man, in a difficult situation in Africa, permitted nuns to use contraceptives in cases of rape.

Don't confuse the evil of avoiding pregnancy by itself, with abortion. Abortion is not a theological problem, it is a human problem, it is a medical problem. You kill one person to save another, in the best case scenario. Or to live comfortably, no? It's against the Hippocratic oaths doctors must take. It is an evil in and of itself, but it is not a religious evil in the beginning, no, it's a human evil. Then obviously, as with every human evil, each killing is condemned.

On the other hand, avoiding pregnancy is not an absolute evil. In certain cases, as in this one, such as the one I mentioned of Blessed Paul VI, it was clear. I would also urge doctors to do their utmost to find vaccines against these two mosquitoes that carry this disease. This needs to be worked on.

CORRECTION
The Catholic Church considers the pope to be infallible, but not every statement that the pope makes is covered by the doctrine of infallibility. A previous version of this article mistakenly suggested that the pope had implicitly invoked his infallibly in his statements about the Zika virus, when in fact he merely made them with his ultimate apostolic authority.