Police Report On Asthmatic New Yorker's Death Does Not Mention Chokehold
An internal NYPD report on the death of Staten Island resident Eric Garner quotes an officer at the scene as saying the man was "not in great distress." Chokeholds, which are forbidden under NYPD procedures, were not mentioned in the document.
An internal police report on the death of Staten Island resident Eric Garner makes no reference to chokeholds and states that the dying man did not appear to be in great distress, the New York Daily News reported.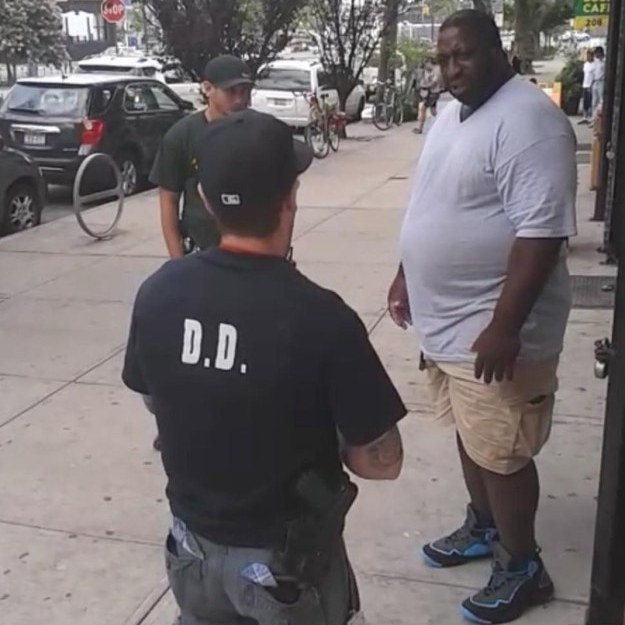 Garner, an asthmatic father of six, died last Thursday on the streets of his home borough after police officers attempted to arrest him on suspicion that he was selling loose cigarettes. Bystanders caught the altercation on video, causing widespread outrage.
In the video, one of the officers can be seen wrapping his arm around Garner's throat. Garner can be heard repeatedly saying, "I can't breathe." He eventually stops struggling. A second video shows a number of paramedics neglecting to administer medical aid for Garner.
The pair of videos have stirred controversy, raising the question of whether the police officers and emergency medics involved are responsible for Garner's death. Daniel Pantaleo, the officer who wrapped his arm around Garner's neck, has been stripped of his gun and badge while the New York Police Department conducts an investigation. The Fire Department has suspended four ambulance medics while it determines whether they followed procedures.
A great deal of the controversy surrounding Garner's death has focused on the question of whether Pantaleo used a chokehold while attempting to subdue the arrestee. The NYPD use of force guidelines from 2013's NYPD Patrol Guide clearly state that chokeholds are strictly prohibited because they can kill suspects.
"Members of the New York City Police Department will NOT use chokeholds," the guide reads. "A chokehold shall include, but is not limited to, any pressure to the throat or windpipe, which may prevent or hinder breathing or reduce intake of air."
Shortly after the video emerged, Mayor Bill de Blasio told reporters that Pantaleo's grip on Garner's throat "looked like a chokehold," but qualified by saying that he is not "an expert in law enforcement."
The internal police report, prepared shortly after Garner's death, never makes mention of chokeholds. Based on interviews with police officers present at the scene, as well as some civilian witnesses, it paints a very different picture from the one that can be gleaned from the videos.
The report quotes Sgt. Dhanan Saminath, who was present at the scene, as saying that Garner "did not appear to be in great distress." Sgt. Kizzy Adonis is quoted as saying that "the perpetrator's condition did not seem serious and that he did not appear to get worse." The same report states that Garner "became unresponsive" and "went into cardiac arrest" shortly after the officers handcuffed him.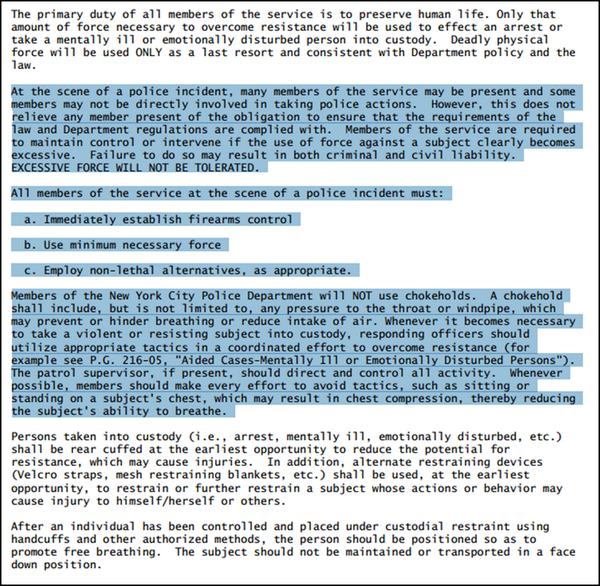 The NYPD did not immediately respond to requests for comment asking whether chokeholds were part of its investigation into the incident.