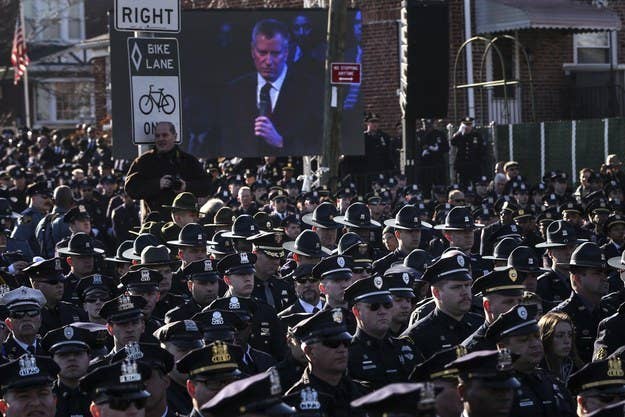 NEW YORK CITY — A meeting on Tuesday between New York City Mayor Bill de Blasio and the leaders of the city's five police unions resulted in "no resolution," according to a statement from the Patrolmen's Benevolent Association.
The meeting sought to address recent tensions between City Hall and the rank-and-file of the New York Police Department stemming from the killing of two police officers and weeks of protests demanding an end to police brutality.
"There were conversations on a number of issues, but no resolution on any," Pat Lynch, the president of the PBA, said in a statement. "Actions speak louder than words and we'll see what happens. "
The mayor's office also issued a statement saying that de Blasio and Police Commissioner Bill Bratton "remain committed to keeping crime in New York City at historically low levels" and "finding ways to bring police and community closer together." The statement, however, offered no details on the content of the meeting.
Members and supporters of the city's police unions have made a public show of their anger with de Blasio several times in the last few weeks.
Immediately after the shooting deaths of two police officers two weeks ago, Lynch said the mayor had "blood on his hands" for showing solidarity with the anti-police protesters. Scores of police officers turned their backs to the de Blasio Saturday at the funeral for one of the slain cops.
On Monday, members of the audience jeered at de Blasio as he prepared to make remarks during an NYPD graduation ceremony. Commissioner Bratton has called such gestures "inappropriate."
The NYPD has also made significantly fewer arrests in the past week compared with the same period last year — a decrease that some have interpreted as a work slowdown. The New York Post reported on Tuesday that minor arrests are down 66%, with citations for traffic violations and minor offenses like public drinking down 94%.
The PBA did not immediately respond to questions on whether the union had ordered a slowdown.