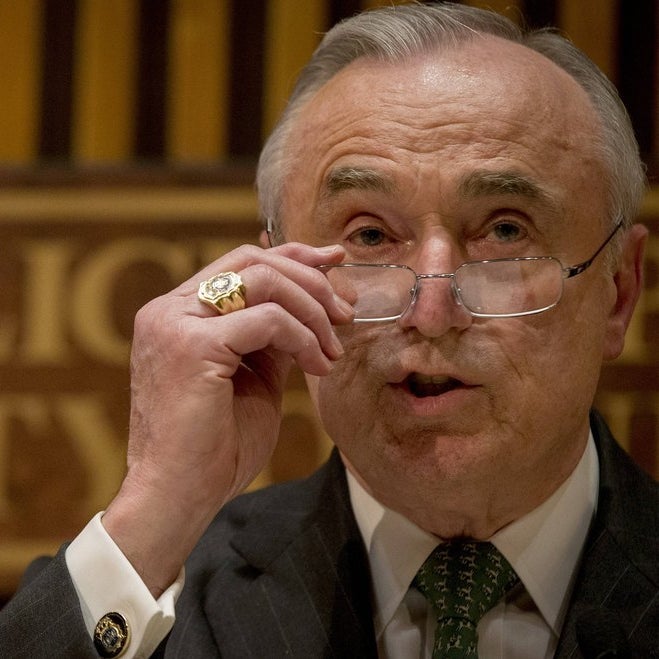 NEW YORK — Leaders and union officials of the New York Police Department called on Wednesday for harsher penalties for resisting arrest and threatening cops, all while pushing back against proposals to increase oversight of legal processes against police accused of committing crimes.
Police Commissioner Bill Bratton and Patrolmen's Benevolent Association President Pat Lynch were among the witnesses called to testify at a hearing on public security convened by several committees of the the New York State Senate. The two men are currently negotiating a collective contract for the city's 17,000 rank-and-file police officers.
The hearing, which lasted more than five hours, focused on the recent protests against police brutality and last year's killing of two NYPD officers — issues that were conspicuously absent from Mayor Bill de Blasio's State of the City Address on Tuesday.
Asked whether the penalty for resisting arrest should be increased from a misdemeanor to a felony, Bratton said he supported the idea.
"We need to get around this idea that you can resist arrest," Bratton reiterated to reporters after the hearing. "One of the ways to do that is to give penalties for that."
Currently, resisting arrests carries a maximum penalty of one year in prison. If the charge were to become a felony, people could face anything from four years of probation to life in prison.
Lynch also called for enhanced penalties against protesters, asking the legislature to make assaulting a police officer at a public assembly a Class B felony, which would carry a penalty of up to 25 years in prison.
"We believe this change in law is necessary to deter the type of conduct we saw during last month's demonstrations," Lynch said in his prepared remarks.
In his testimony, Bratton also asked the legislature to make publishing the personal information of police officers a misdemeanor. For his part, Lynch proposed charging people who make threats against police with a Class D felony, which carries up to seven years behind bars.
Both the commissioner and the union president asked the state legislature to block Governor Andrew Cuomo's proposal for an independent monitor to oversee cases in which a grand jury declines to indict a police officer accused of killing a civilian.
Lynch warned that having "oversight over oversight" was unfair to police officers, who deserve to be treated like any other citizen in a court of law. Bratton also noted that the city already has "five qualified district attorneys who are not shy about investigating" police officers.
But the two men appeared to disagree about some of the most fundamental tenets of policing in New York. While Bratton defended the "quality of life" approach to law enforcement that has come to define his long career as a top cop, Lynch said the department's emphasis on statistics, numbers, and low-level arrests was the fundamental cause of the public's mistrust in the police.
"As long as I'm commissioner, enforcing broken windows will be a priority of this department," Bratton said, referring to a theory of law enforcement that holds that police must stop minor crime in order to prevent it from escalating.
Bratton described it as "weeding a beautiful garden."
But Lynch said that the theory had "driven a wedge" between the police and civilians and given rise to an anti-cop climate that, he said, culminated in last year's murder of two police officers.
"If the problem is solved and the numbers are down, so be it," Lynch said, suggesting that the police may no longer need to make as many arrests or write as many summonses as they did when New York had more than 2,000 homicides per year.
Lynch's comments resonated with some activist organizations, which have long argued that "broken windows" disproportionately hurts lower-income people and minorities.
For a fleeting moment, the head of the largest police union and some of the harshest critics of the New York Police Department were fellow travelers.
Last week, the president of the Lieutenant's Benevolent Association suggested to Bratton that resisting arrest be turned into a felony the New York Post reported.
h/t Adam Johnson.