New York Mayor Still Says He Would Veto Bill Criminalizing Police Chokeholds
A spokesman for Bill de Blasio reiterated the mayor's position Tuesday, one day after the Office of the Inspector General found that the NYPD had failed to seriously discipline 10 officers accused of using chokeholds. De Blasio has said that he believes the department's internal disciplinary procedures are sufficient.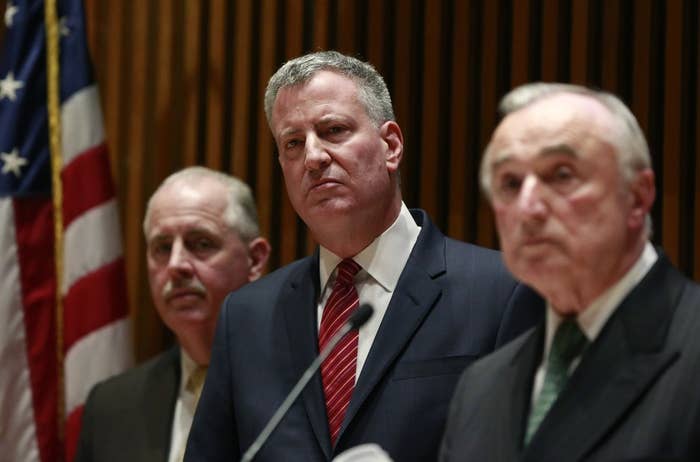 A spokesman for New York Mayor Bill de Blasio said Tuesday that the leader would veto a city bill making police chokeholds illegal were the legislation to reach his desk.
The statement came a day after the newly created Office of the Inspector General found that the New York City Police Department's disciplinary procedures failed to bring about serious consequences for 10 officers accused of using the controversial maneuver.
Chokeholds came into the national spotlight last summer after Staten Island resident Eric Garner was killed during a botched arrest in which an NYPD officer used a chokehold. A grand jury later cleared the officer who killed Garner of all wrongdoing, spawning widespread protests.
Though chokeholds are currently forbidden by the NYPD's internal regulations, there are no city laws forbidding officers from using them.
Late last year, Queens Councilman Rory Lancman introduced a bill that would make chokeholds illegal under city law, imposing up to a year in prison for law enforcement officers who use chokeholds during an arrest, Gothamist reported. At the time, de Blasio also said he would veto the bill, which has yet to be passed by the city council.
"I think the best way to handle that is through NYPD policy," the mayor said in November. "I don't think it should be made a matter of legal prohibition."
Shortly after Garner's death, the Office of the Inspector General — an agency created by de Blasio to oversee the NYPD — launched an investigation into how the police department investigates cases in which officers are accused of using chokeholds.
The inspector general's report, published on Monday, found that none of 10 recent cases in which civilians made substantiated chokehold complaints resulted in serious disciplinary actions for the accused officers.
In an email to BuzzFeed News on Tuesday, de Blasio's spokesman, Phil Walzak, reiterated the mayor's position.
"As is consistent with his previously stated views on this issue, the mayor would veto the chokehold bill as it is currently drafted were it to reach his desk," Walzak said.
Walzak did not answer questions about whether the inspector general's report changed the mayor's thinking on the subject.
For his part, Lancman expressed confidence that he would be able to change the mayor's mind during legislative hearings.
"The legislative process has barely started yet," Lancman, the current bill's sponsor, told BuzzFeed News. "We have not yet had a chance to explain to the mayor why his concerns might not be justified or suggest ways that we can get him a bill that he can support."