New York City Ends Solitary Confinement For Juveniles
The move comes a month after federal prosecutors sued New York City for alleged civil rights violations against teenage inmates in Rikers Island. The new policy will take effect in January 2016, pending funding.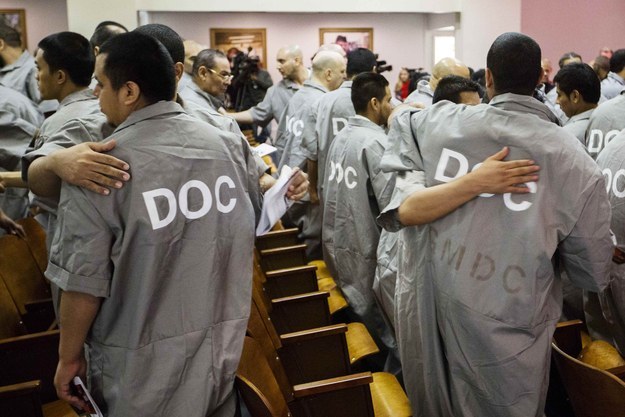 The New York City Board of Corrections voted Tuesday to end solitary confinement for people under 21, the Department of Correction announced.
The agreement comes a month after federal prosecutors sued the city for civil rights violations against young inmates in Rikers Island, the city's main jail.
The practice of solitary confinement for young people, also known as "punitive segregation," was part of that suit. Inmates subject to the practice spend up to 23 hours a day by themselves in their cells, many of them for months at a time. According to a report prepared by the office of Preet Bharara, the U.S. Attorney in the Southern District of New York, up to 25% of Rikers' teenage population was held in solitary confinement on any given day.
"By containing Rikers' most violence prone inmates in a non-punitive, high-security location we make the island safer for everyone else," New York Correction Commissioner Joseph Ponte said in a statement. "After decades of alarming mismanagement today's vote means meaningful reform is well under way at Rikers."
The policy changes will not go into effect until January 2016, until the Department of Corrections (DOC) secures funding for the initiative. The person with knowledge of the meeting told BuzzFeed News that the DOC had committed to "actively pursue funding or mandate it if needed."
The amendments passed on Tuesday also limit the maximum punitive segregation sentence to 30 days for any given offense, the person said. The new rules also state that the DOC can now look back only two years into an inmate's out-of-custody record and five years into their in-custody record when deciding whether he or she should be sent to Enhanced Supervision Housing, another form of highly restrictive incarceration.
Mayor Bill de Blasio had previously ended solitary confinement for 16- and 17-year-old inmates.
"For years, New York City has locked people up without the provision of adequate programs and treatment to change their thinking and their behavior," de Blasio said in a statement on Tuesday. "Under Commissioner Ponte's leadership, we have ended the Department's over-reliance on punitive segregation, we've begun to offer enhanced programming and treatment options, and we are pursuing evidence-based practices that will lead to a safer and more humane system."
Advocates who have long pressured the DOC to end solitary confinement praised Tuesday's decision.
"This is historic," Donna Lieberman, the executive director of the New York Civil Liberties Union, told BuzzFeed News. "Rikers Island has proven to be an intractable bastion of corruption and abuse, but we have recognized that there is the intent to change things there. We are optimistic."
"What they've voted upon doing is unique in the U.S.," Christine Herrman, who directs the Vera Institute of Justice's efforts to reduce solitary confinement, told BuzzFeed News. "It's a very brave move and it's going to give us an opportunity to watch and see how it works."
Rikers Island had been the subject of much negative attention since last July, when the New York Times published an investigation showing how corrections officers seriously injured 129 inmates over 11 months. Months later, Bharara's lawsuit noted, there were 71 reports of use of force incidents against 18-year-old inmates — all in facilities without security cameras.
Norman Seabrook, the president of the Correction Officers' Benevolent Association, the union that represents New York's jail wardens, told BuzzFeed News that he considers the new policy a mistake.
"You have to have law and order, in jails and in the public," Seabrook said. "Eliminating punitive segregation for people who make adult decisions and now want to be treated as children is ridiculous. It's going to be a cat and mouse game with the inmates now. People can literally kill someone and only go into solitary for 30 days."
Seabrook added that the union he leads will mount a campaign to try to prevent the new policy from taking hold. He said the union will try to convince federal lawmakers to establish regulations on how to deal with people who commit crimes within prisons.