More Police Officers Died On The Job In 2014 Than In 2013
A new report by the National Law Enforcement Officers Memorial Fund found that nationwide, police officers died on the job at a higher rate this year compared to last. But the rate of officer fatalities has been steadily falling since the 70s.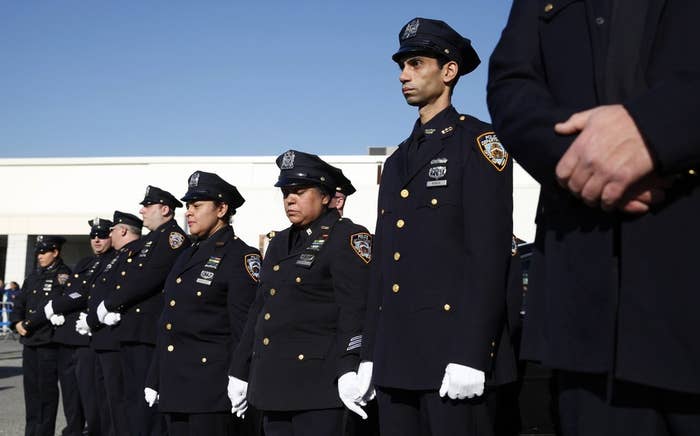 More police officers across the United States died on the job in 2014 than in 2013, according to a new report published Tuesday by the non-profit National Law Enforcement Officers Memorial Fund.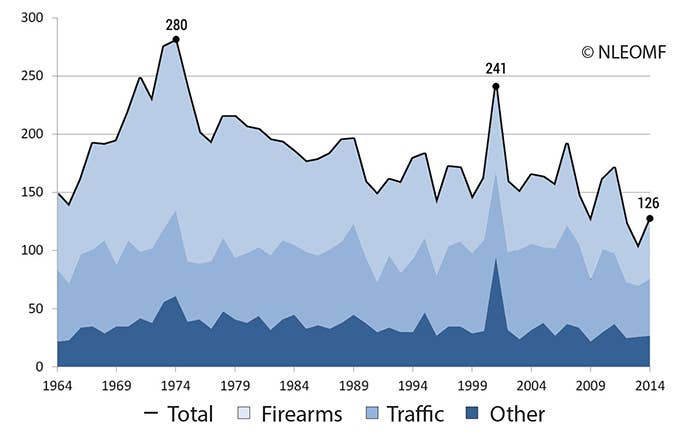 The report found that 126 law enforcement officials died on the job this year, a 24% increase from the 102 officers who died in 2013.
Given that there are some 900,000 law enforcement officers in the United States, according to authors of the report, that puts the current fatality rate for American cops at 0.014%, or 14 deaths per 100,000 officials.
The increase runs counter to the historical trend in officer deaths, which have decreased almost every year since 1974, when 280 officers were killed.
Not all of the deaths counted in the report were the result of criminal activity. About half of the officers who died in 2014 were killed in "felonious incidents," with the other half dying in traffic accidents, from work-related injuries, or from other causes.
But the vast majority of this year's increase in deaths was a result of shooting incidents, which accounted for 50 fatalities, 56% more than last year.

Within gun-related incidents, ambushes were the most common circumstance, killing 15 cops — three times as many as in 2013. The authors of the report told BuzzFeed News that the increase in ambushes was concerning.
"We were hopeful that last year was not an anomaly, and that we were making progress in making law enforcement safer," said Steve Groeninger, the NLEOMF communications director. "But the increase in firearm deaths has troubled a lot of people in the community."
Other experts in the filed echoed Groeninger's position.
"A number of those who were shot were ambushed, where they were just killed because they were police officers," said Chuck Wexler, the executive director of the Police Executive Research Forum. "You have to distinguish that from interactions that stem from a confrontation."
Still, the number of cops killed by firearms in 2014 was lower than the average for the 2010s, which was 53. The average for the 2000s was 57, and that for the 1970s 127.
California was the top state for officer fatalities, with 14 deaths. Texas was second, with 11 deaths, and New York was third, with 9 deaths. Three of the deceased officers were women.