UPDATE
Mexico is trying to extradite Joaquin "El Chapo" Guzman to the United States as soon as possible, the country's president said Friday.
Speaking at the World Economic Forum in Davos, President Enrique Peña Nieto said his attorney general was working to send the leader of the Sinaloa cartel to the U.S., Reuters reported.
Guzman faces drug trafficking and murder charges in seven different American jurisdictions, including federal courts in New York and Texas. Many in Mexico see extraditing the drug lord as the only surefire way to prevent him from escaping from prison a third time.
Presidencia de la República Mexico
Mexican authorities on Friday recaptured Joaquín "El Chapo" Guzmán, the leader of the Sinaloa drug cartel whose two escapes from maximum security prisons had baffled the world.

"Mission accomplished!" Mexican President Peña Nieto announced on his Twitter account.
Guzmán was arrested by elite Marine forces in Los Mochis, a small city in Sinaloa state, sources in the offices of the Mexican president and attorney general told BuzzFeed News. The marines had previously corned the kingpin, but he managed to flee in a stolen car — a white Volkswagen Jetta. He was then captured after a woman called to report the theft.
In a press conference Friday night, Mexico's Attorney General Arely Gomez Gonzalez detailed how Mexican officials were led to the notorious kingpin, including a six month investigation with more than 300 interrogations to trace Guzmán's steps after escaping from prison.
Hoping to elude authorities, Guzman had decreased his security detail and limited his communications.
Photos purportedly taken Friday show Guzman in custody of Mexican authorities.
But key to finding the drug lord, Gonzalez said, was the fact Guzman had been contacting Mexican directors and actors since his brazen escape, in hopes of having a biographical movie made about his life and exploits.
The investigation led to an address in Los Mochis, where officials began detecting "suspicious movements" Wednesday, Gonzalez said, and later found it was Guzman's hideout.

The Mexican navy detailed the predawn raid in Los Mochis where five people, none of them law enforcement officers, were killed. Six people were arrested, but they were not immediately identified.
Guzman was able to flee during the ensuing gunfight, Mexico's attorney general said, at one point running through underground sewers and then crawling up a manhole to steal a car.
A woman quickly reported the car stolen, she said, and authorities were able to surround the vehicle and take the reputed leader of the Sinaloa cartel into custody.
With Guzman back in the custody of Mexican authorities, there is also a question of whether or not he will be extradited to face criminal charges in the U.S.
Mexican authorities have previously stated "El Chapo" would not be sent to the United States, but Mexico's Attorney General's office said in a statement Saturday the extradition process for Guzman will resume now that he is back behind bars.
The U.S. requested the leader of the Sinaloa cartel be extradited in June 16, less than a month before he escaped from the high-security prison of Altiplano.
The process will now resume, according to the statement from the Attorney General's office, which said it would follow the order of the district judges who will make the ruling.
Guzman's lawyers are expected to fight extradition, and have been doing so even while Guzman was on the lam, according to the Attorney General's office.
But before that legal battle ensues, Mexican officials have been noting the capture of the notorious drug lord as a victory for the government, and its agencies.
Friday night, Mexican authorities brought Guzman in front of reporters at Mexico City's airport.
From there, he was placed on a Navy helicopter where he was to be transferred back to Altiplano — the same maximum-security federal prison he escaped from in July.
"Today, our institutions have demonstrated once again that they are worthy of citizens' trust," Nieto said during a press conference at the National Palace in Mexico City. "With this operation, we have captured or killed 98 out of the 122 most wanted criminals in Mexico."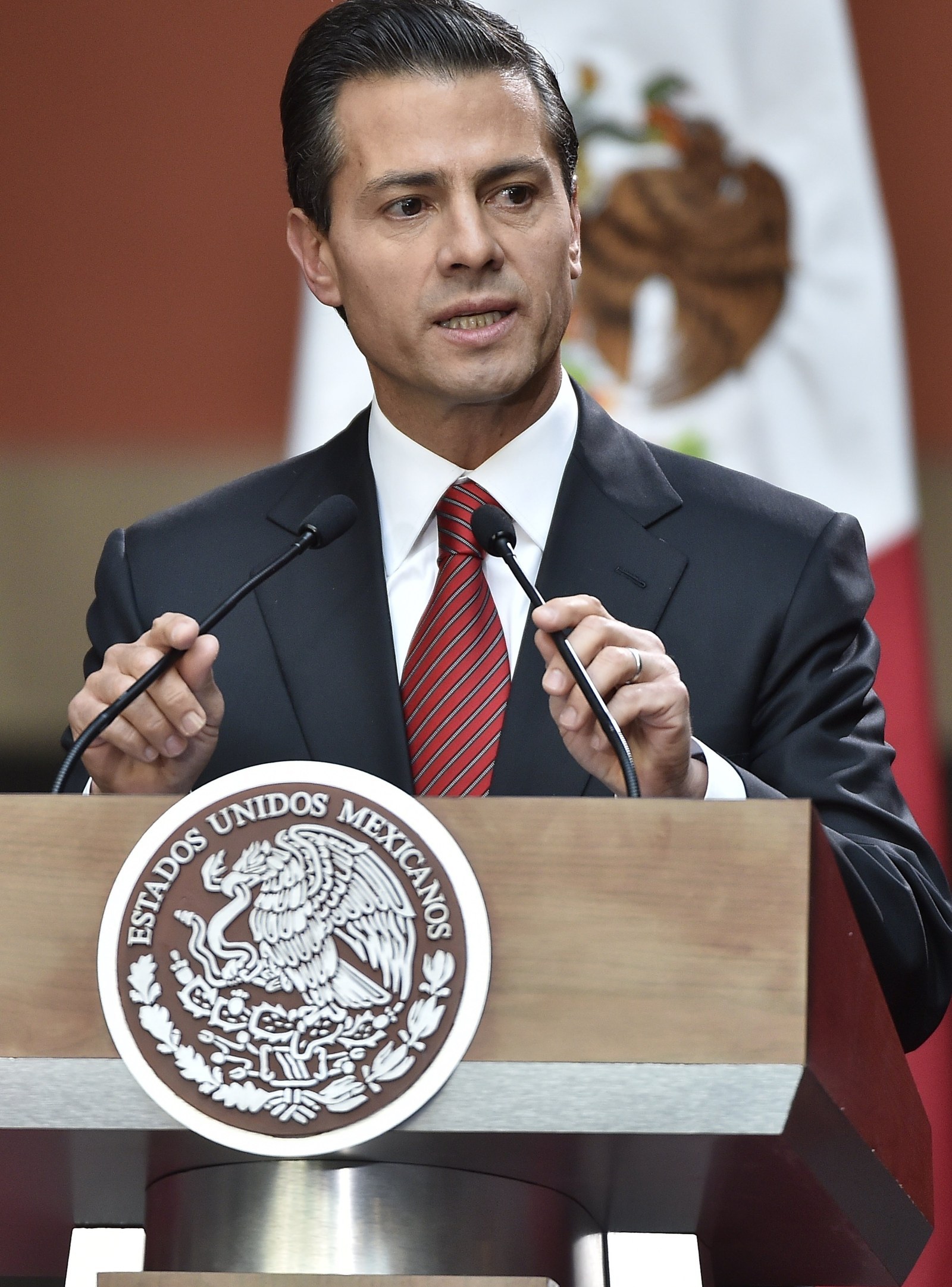 U.S. Attorney General Loretta Lynch praised the recapture of Guzman as "a victory for the citizens" of the U.S. and Mexico, and "vindication of the rule of law."

"He will now have to answer for his alleged crimes, which have resulted in significant violence, suffering and corruption on multiple continents," Lynch said in a statement.
The most wanted drug lord in the world, Guzmán became a source of embarrassment for Peña Nieto's government after he escaped from prison in July 2015 by riding a motorcycle through a mile-long tunnel that his cronies had dug under his cell. He had previously escaped from another facility in 2001.
Guzmán's two escapes made him a symbol of the violence and corruption that have seized Mexico since the beginning of the so-called drug war several decades ago. Based in the western Mexican state of Sinaloa, Guzmán's organization remains one of the most powerful and feared drug-trafficking syndicates in the world. The cartel's gunmen are believed to have been responsible for the deaths of thousands of rival traffickers, law enforcement officers, and innocent civilians.
Yet many in Mexico also saw Guzmán as a kind of folk hero. His largesse with some local populations lent the kingpin the aura of a Robin Hood or a Pancho Villa — a kindly bandit from a poor peasant family who, unlike corrupt politicians, had the best interest of the people at heart.
In the past, the United States had sought to extradite Guzmán, who faces drug-related charges in several American jurisdictions. But the Mexican authorities insisted on having the kingpin serve his full sentence in a Mexican prison before being sent to the United States. After his latest escape, however, the Mexican authorities signaled that they would allow the kingpin's extradition.
In a statement, the Drug Enforcement Agency called it "a significant achievement in our shared fight against transnational organized crime."