Mexican-American Studies Elective Now Standard In Texas Public Schools After Vote
A ruling Wednesday allows Mexican-American, Native-American, Asian American, and African-American studies to be a part of state-wide school curricula.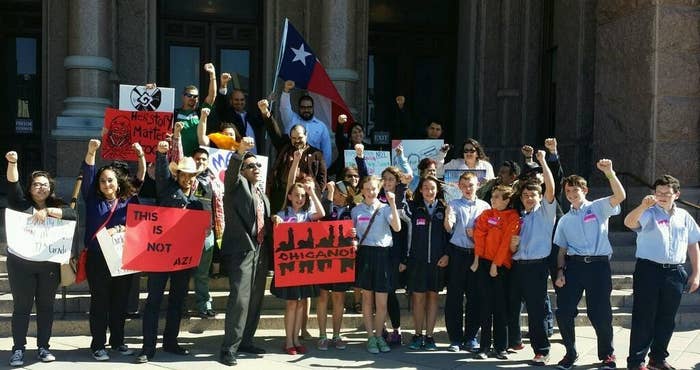 The Texas State Board of Education voted on Wednesday for the creation of elective courses in ethnic studies for the state's public high schools.
The 11-to-3 vote comes after months of debate, and instructs the Texas Education Agency to begin developing curricular standards for Mexican-American, African-American, Native American, and Asian-American studies.
The vote modifies the curriculum of special topics in the social sciences, tailoring it to address the histories and cultures of the state's non-white groups.
While the vote rules broadly on ethnic studies, Mexican-American studies have been a focus, particularly for Latino activists, who played a central role in promoting the vote.
Many took to Twitter to celebrate.
The vote is the latest development in a debate that has raged across the Southwest for years. Conservatives have argued that "ethnic studies" are inherently divisive, emphasizing racial and class divisions rather than easing them.
"I might have to pull a Cesar Chavez and call for a boycott," Republican board member David Bradley said on Tuesday, according to the Associated Press. "We're all Americans. To suggest otherwise is to further segregate and divide the community. I'm sorry if I disappoint some folks, but it's almost reverse racism."
Latino activists hold that Mexican-Americans have played a central role in American history but are nonetheless silenced by traditional curricula. They also say that Latino students deserve to engage with their cultural heritage in the classroom.
Before the vote, Texas public schools could already teach ethnic studies under the "innovative courses" rubric, a broad category of electives that include dance, theater, and advanced science classes. Proponents of the new course said that Mexican-American studies deserve a place in the state's official curriculum, pointing to the fact that 51.3% of Texas' public school students are Hispanic.
The new curriculum, which will not be ready until at least 2015, sets Texas apart from other border states. Arizona, for example, has passed legislation explicitly prohibiting courses that "advocate ethnic solidarity."