Meet The People Who Are Cleaning Up West Baltimore
After protests over the death of Freddie Gray turned violent, residents of West Baltimore came out early Tuesday morning to clean their streets. Here are the children, store managers, and librarians who were at the scene of the worst of the riots.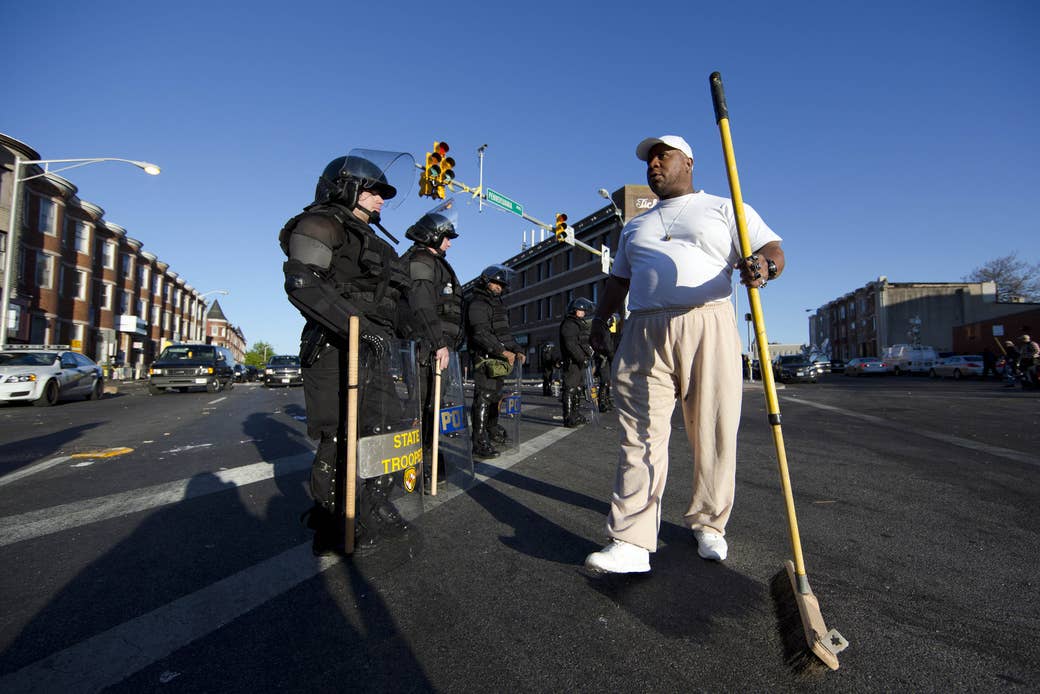 BALTIMORE — Crowds of people holding brooms took to the streets of West Baltimore on Tuesday morning, determined to clean their neighborhood after protests demanding justice for an unarmed black man who died in police custody became violent on Monday night.
Freddie Gray, a 25-year-old resident of West Baltimore, died of a spine injury while in custody on April 19 after the Baltimore Police Department arrested him and loaded him, while conscious, into a police van. The police have not explained what could have lead to Gray's death, but have said that the arrest occurred "without force."
Peaceful protests in Gray's name began almost immediately after his death, but on Monday afternoon a group of young people became violent, looting several stores and setting fire to more than one hundred vehicles. There were 201 arrests.
The disturbances affected large swaths of the city, but the intersection of Pennsylvania and West North avenues saw the worst of the damage. On Tuesday, a CVS pharmacy at the intersection stood hollowed out and covered in ash after demonstrators set it on fire. The empty pharmacy became the unlikely gathering point for a large crowd of volunteer cleaners.
The cleaning efforts did not appear to be centrally organized, but rather seemed to be a spontaneous effort on the part of a wide cross section of residents. Byron Murphy, a 45 year-old who works for the city's health department, said that he had taken time off to come help his neighbors clean. Across the street, a group of teenagers with red bandanas covering their faces could be seen chatting and holding brooms.
Many among those cleaning were children, who had the day off after the city announced that none of Baltimore's public schools would be open on Tuesday as a precautionary measure.
Among the younger folks cleaning were Zamarai, a 9 year-old boy, and Milan, an 8 year-old girl, both of whom live close to the CVS. Asked about why they had decided to come help clean, the children told BuzzFeed news that they "wanted to help the community."
"But our community should get cleaned anyway" Milan said, apparently displeased that people were only sweeping the streets after the looting.
The atmosphere on Tuesday appeared to be generally hopeful, even joyous, but there was also anger in the air. Onisha Anthony, a 27-year-old who lives near the CVS that burned down, said she was furious. "Do you know how long I'm gonna have to walk now to get some milk?" she told BuzzFeed News.
Although a number of stores suffered arson, most businesses in the area were intact on Tuesday morning. Among the stores left untouched was the Pennsylvania Kwick Mart, a deli and grocery store near the intersection of Pennsylvania and Cumberland.

"I only opened a month ago," Ahmed Alawadhi, the 45-year-old owner of the grocery store, told BuzzFeed News. "Thankfully, everything is OK, but I was worried. I closed and went home. I don't care about the store. The important thing is my life."
Alawadhi told BuzzFeed News that he emigrated from Yemen to Baltimore 15 years ago. "We moved here to get safety and then this happens!" he said.
Another business that did not suffer damage was a Metro PCS franchise on North Avenue, just off Pennsylvania. On Tuesday morning, James Carter, the store's manager, was standing on the store's stoop, smoking cigarettes and telling people that he was open for business — boarded windows notwithstanding.

"I might close early, but I'm here for y'all," Carter told a passerby. At one point, a young man asked him to fix the time on his cell phone. He did it on the spot, free of charge.
"Look, I'm not gonna sugarcoat it," Carter told BuzzFeed News. "We all know what's going on here. There's a lot of drugs. But they don't sell them in my store. You know why? Cause if you treat people good, people will treat you better. My store is intact. My inventory is intact. They broke down my door, but the neighborhood came out and helped me. My neighbors, they took care of me."
Across the street from the burnt-out shell of the CVS pharmacy stands the Pennsylvania Avenue Branch of the Enoch Pratt Free Library. Melanie Diggs, the branch manager, was in the building when the protesters set fire to the pharmacy.
Diggs, who has worked as a public librarian for 20 years, decided to let her customers stay in the library while the looting and arson took place across the street. She told BuzzFeed News that some 30 people took refuge in the building.

"I locked the doors, and then went to each of them and told them that if they wanted to leave, they could, but they could also stay," Diggs said. "Most of them decided to stay, so we told them to stay away from the windows."
Diggs kept the library open through the worst of the violence. She said that watching the looting from the library's floor-to-ceiling windows was "frustrating," because many of the young people involved in the vandalism are her clients.
"We have a lot of young people who come to the library," she said. "Just Saturday, we had an open mic for teens, so that they could come and express themselves. We always endeavor to have programs that are fun, so that they can have an outlet."
Diggs said the branch has a graphic novel club, a comic book club, scheduled story-telling times for children, and events for adults. Recently, the library hosted an event to honor Billie Holiday, who was from the neighborhood.
"And then there's the folks who come here to use the computers," she said. "Many of them are looking for jobs."
On Tuesday morning, Diggs pasted a sign that said "We're Open!" on the library's front door.