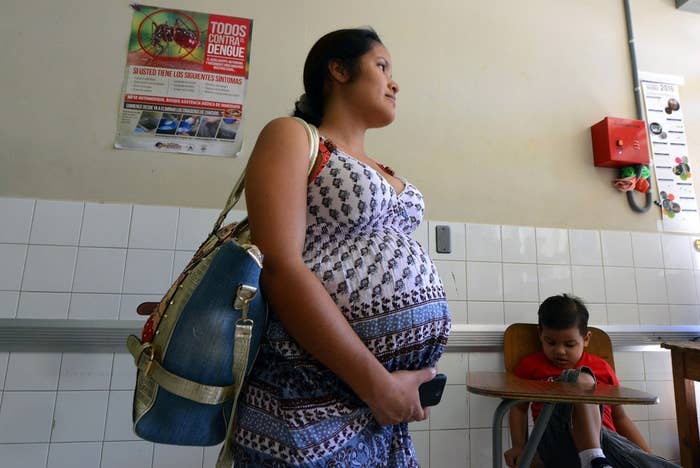 A U.S. medical panel on Tuesday recommended that pregnant women, or those who have recently given birth, be screened for depression.
The new guidance marks the first time the U.S. Preventive Services Task Force — an independent body of scientists that has in the past advised doctors on when to test for various types of cancer — has specifically called for mental health screenings for expectant mothers and new parents.
"Depression is common in postpartum and pregnant women and affects not only the woman but her child as well," the new recommendation states.
According to one study, as many as one in every five pregnant women experience depression at some point during their pregnancy.
The task force had previously recommended mental health screenings for all adults whenever clinics have staffers who can treat depression. The new recommendation calls for screening for all adults, regardless of whether clinics have specialized staff, and also includes specific recommendations for pregnant women.
The task force based its recommendation on an exhaustive review of clinical trials and studies about the effectiveness and accuracy — but not the cost — of depression screening. The experts concluded there is enough certainty that screenings help people to require the Affordable Care Act — also known as Obamacare — to cover them.
Among the screening tests recommended by the task force is the Edinburgh Postnatal Depression Scale. The test asks respondents to react to 10 statements, including "I have been able to laugh and see the funny side of things," "I have been so unhappy that I have had difficulty sleeping," and "The thought of harming myself has occurred to me."
Depression in pregnant women has long been a running concern among medical experts, the New York Times Magazine reported. Expecting women with mental health issues often feel ashamed of their feelings, while some doctors fear that a diagnosis of depression could make matters worse because of the social expectation that parents-to-be are supposed to be happy.

The question of how to treat depression in pregnant patients has also stirred considerable debate. In its recommendation, the task force said that certain types of psychotherapy — in particular, cognitive behavioral therapy — have been shown to be effective in treating depression in pregnant people and new parents. But it also cautioned that some antidepressants could potentially cause harm to fetuses, adding that "the likelihood of these serious harms is low."
Still, some doctors and public health experts welcomed the new recommendations.
"It's very significant that the task force is now putting forth a recommendation that's specific to pregnant and postpartum women," Katy Kozhimannil, professor of public health at the University of Minnesota, told the New York Times. "Policy makers will pay attention to it. Increased screening and detection of depression is an enormous public health need."