Massive Oil Fire In Libya Prompts Evacuation Order From European Nations
Fighting among rival militias has ignited a fuel depot close to the Tripoli airport. Western governments have ordered their citizens to leave the country.
Several European governments ordered their citizens to leave Libya on Monday after intense fighting resulted in an uncontrollable oil fire near the Tripoli airport.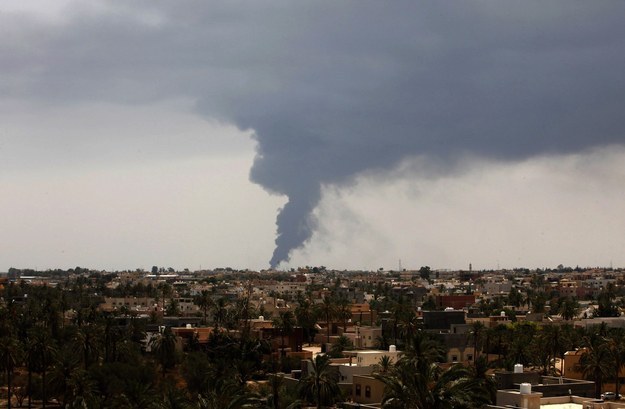 The massive fire, which the interim Libyan government called a "humanitarian and environmental disaster," has prompted local television stations to call for civilians to evacuate a 3-mile area around the airport. The inferno represents the latest chapter in a protracted civil war that began three years ago with the ousting of dictator Muammar al-Qaddafi and has continued with infighting among a mosaic of factions with conflicting religious and ideological motivations.
Rival militias have been fighting for control of the capital and its airport for two weeks. It was not immediately clear whether anyone was hurt in Monday's fire, but the Libyan health ministry said on Sunday that the recent fight for the airport had left about 80 dead and some 400 wounded.
Partly in response to the fire, Britain, France, Germany, and the Netherlands ordered their citizens to leave the North African country as soon as possible, keeping only a skeleton staff at their embassies. The European nations were also responding to an incident on Sunday in which rebel militias shot at a vehicle carrying British diplomats.
The European evacuation follows the decision by the United States to completely shut down the American embassy in Tripoli, moving all diplomatic personnel to nearby Tunisia. The U.S. State Department has been especially cautious in Libya since the American ambassador was killed in an attack on the Benghazi Consulate two years ago.
The oil fires highlight the continued impact of the civil war on the international economy. Libya possesses some of the world's largest oil reserves, but the fighting has reduced its daily output from nearly 3.1 million barrels per day in 2010 to a mere 500,000 barrels on Monday, putting pressure on oil prices across the world.