Inspector General: NYPD Routinely Doesn't Discipline Officers Who Use Excess Force
Nearly 40% of the police officers who were found to have abused force between 2010 and 2014 did not receive any kind of punishment.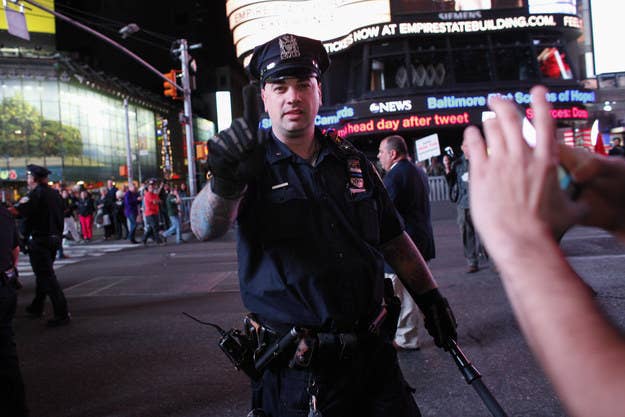 The New York City Police Department routinely fails to discipline officers who have been proven to have used excessive force, does not adequately track instances of abuse of power, and does not properly instruct officers on how to de-escalate tense situations, according to a report released Thursday by the department's Inspector General

The scathing report, the first of its kind prepared by the new regulatory agency, was based on an analysis of 179 cases from 2010 through 2014 in which the Civilian Complaint and Review Board, the independent agency that investigates police misconduct, found that officers had used excessive force. The report also examined internal NYPD records for over 100 of those cases.
Among the Inspector General's most troubling findings was the fact that top department brass declined to discipline a large portion of officers who were found to have used excess force. In 36% of the cases where independent investigators found evidence of misconduct, the police commissioner, who ultimately decides the fate of police officers accused of wrongdoing, "refused to impose any form of discipline."
Since Police Commissioner Bill Bratton took control of the department in January 2014, the percentage of officers who received no punishment despite having used excessive force decreased to 11%. For those cases reviewed under Police Commissioner Ray Kelly's tenure, 44% of the officers went unpunished.
The report also found that the NYPD "has no centralized form for reporting use of force and no department-wide system for tracking use of force in order to monitor the problem" and that the department "has insufficient training on de-escalation tactics necessary to prevent excessive force in the first instance."
"As promised by our Constitution, the use of force against a member of the public must be reasonable under the circumstances of that encounter," Philip Eure, the NYPD Inspector General, said in a statement. "As shown in our report, however, NYPD can greatly enhance police accountability by establishing clear policies regarding the use of force, training officers on those policies, ensuring that police use of force is properly reported, and holding officers accountable when they resort to excessive force."
In a letter responding to the report, Lawrence Byrne, the NYPD's deputy commissioner for legal matters, said that the department "has been in dialogue with the Office of the Inspector General" to design policies to improve its use of force practices.
"For almost a year, the NYPD conducted an exhaustive review of use of force policies and related issues," Byrne wrote in the letter. "The result of this review is significantly enhanced policies, procedures, and training along with standardization of investigative tactics and reporting."
Commissioner Bratton is expected to hold a press conference Thursday afternoon detailing the department's new use-of-force policies. The New York Times published a preview of those new practices, reporting that the policies are expected to track "virtually all instances of force" used against civilians.
Patrick Lynch, the president of the Patrolmen's Benevolent Association, the largest NYPD union, spoke out against the implementation of additional training and paperwork, saying that "more paperwork coupled with a serious shortage of police officers and the continual second-guessing of their actions is a formula for disaster."
"We've lived through the era of reactive policing where cops could do nothing but respond to 911 calls, causing crime and disorderly behavior to run rampant in our neighborhoods," he said.