In America's Broken Immigration System, The Best Business To Be In Is GPS Trackers
President Obama's executive actions don't change the fact that thousands enter the country every year. And that means good business for companies like B.I. — which sells GPS trackers.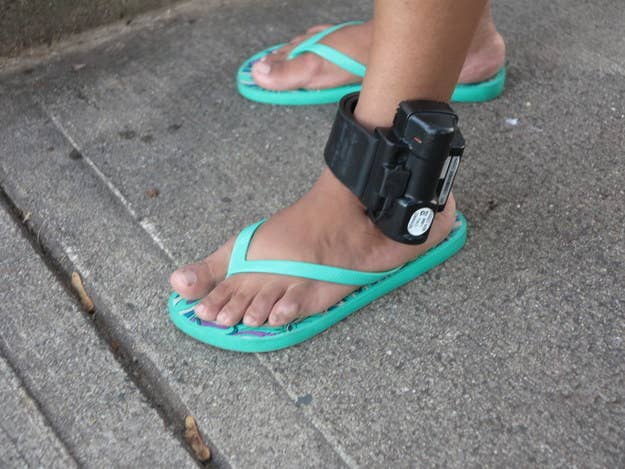 In the aftermath of President Obama's executive actions on immigration, one thing hasn't changed: The enforcement of current U.S. immigration law is big business.
Contractors supply Border Patrol agents with military-grade gear, for example, while charter airlines supply the transportation for deportations.
There's also a lesser-known company at the center of how thousands of undocumented immigrants' cases are handled: Behavioral Interventions, Inc. — or B.I. The firm sells something that's been heralded as a humane innovation, derided as constant surveillance, and accounts for hundreds of millions in revenue.
B.I. sells GPS ankle monitors.
Last week, Obama announced a series of executive actions that will slow deportations of undocumented immigrants and soften some other aspects of U.S. immigration law-enforcement. But the actions likely won't change the everyday reality that thousands of undocumented immigrants enter the country each year, or what happens to them when they are detained.
B.I. has an exclusive contract with Immigration and Customs Enforcement — if you are detained and released by ICE agents with one of these GPS devices, it is a B.I. product.
How much money the federal government has paid B.I. is unclear; estimates range from about $200 million to $375 million since the late 2000s. In late September, the ICE contract was extended for five years — and is expected to earn the company $47 million in annual revenues.
ICE uses the GPS monitors in an "alternative to detention" program that B.I. also manages. This program, called "Intensive Supervision and Appearance" or ISAP, allows some undocumented immigrants to spend the duration of their immigration cases at home, instead of in detention facilities. About 24,000 people are enrolled in the program.
ISAP is divisive. Many praise the program as a successful effort by the Department of Homeland Security to humanize the government's treatment of undocumented immigrants. The program is also much cheaper than detention: ICE told BuzzFeed News that the average daily cost of keeping someone in immigration jail is $120, while the equivalent figure for ISAP is $4.50. Immigration courts are incredibly backlogged — a single immigration case can take years to process — so the savings are significant.
"As bad as it is, it is not as bad as detention," said Anoop Prasad, an immigration attorney based in California who often represents clients enrolled in the program.
The program also draws criticism from immigration advocates and attorneys, who say that it places an unfair economic and psychological burden on vulnerable people, and complain that the decision process to select enrollees is opaque and often arbitrary.
"We don't see it as an alternative to detention," said Silky Shah, the co-director of Detention Watch. "We see it as an alternative form of detention."
But one thing is clear as far as B.I. is concerned: Changes to the current immigration system are unwelcome.
The company is a wholly owned subsidiary of one of the largest for-profit prison companies in the world — the GEO Group, whose top two clients are ICE and the U.S. Bureau of Prisons.
Most of GEO's $1.5 billion in annual revenue does not come from "alternative to detention" programs, however, but from the company's mainstay business: building and managing prisons and immigration detention centers with a combined capacity of 70,000 beds.
Despite its relatively small size, B.I.'s contract with ICE holds an outsize importance for GEO. When the conglomerate bought the surveillance firm in 2011 for $415 million, the merger represented an effort to diversify its business and hedge against potential changes in legislation that could reduce the number of people in immigration detention and prison.
And GEO Group is very clear about what poses a threat to the company's business. In its latest filing with the Securities and Exchange Commission, the company listed changes to the U.S. immigration system as a potential risk to investors.
"Immigration reform laws which are currently a focus for legislators and politicians at the federal, state and local level could materially adversely impact [the GEO Group]," the company wrote, as could any "relaxation of criminal or immigration enforcement efforts, leniency in conviction, sentencing or deportation practices."
So far, investors seem reassured by the GEO Group's strategy. The company has consistently outperformed standard market indicators. In the past six months, as prospects for a comprehensive immigration overhaul faded, the price of the company's publicly traded stock grew a whopping 17.66%.
Representatives for both B.I. and GEO declined to comment for this article.

Business, at least for B.I. and GEO, boomed in 2014.
Nearly 70,000 families crossed the U.S.-Mexico border this year, driven out of Guatemala and other Central American countries by widespread violence and dim prospects, and drawn to the United States by rumors of legal status and far brighter prospects.
When detained in the United States, because of a quirk in immigration law, undocumented minors and parents with children from countries that aren't Mexico and Canada are automatically held rather than deported immediately. Because of the burden on the already burdened detention system, many of those parents and children are then released to the custody of relatives.
And some of those parents, most of them young mothers, are now wearing B.I.-made anklets, or checking in at B.I.-managed facilities. (Undocumented minors are never asked to wear GPS bracelets.)
In practice, there aren't hard and fast rules for when a detained undocumented immigrant is assigned a tracker. Currently, when an immigrant is detained, an ICE officer interviews him or her and then ascertains whether they would make good candidates for release on a promise that they will appear in court or under ISAP. The officer has wide discretion for that decision, and does not need to consult with a judge, or with the immigrant's attorney.
Programs like ISAP were originally implemented as a way to reduce the number of people held in immigration jail. Today, however, many of those enrolled with the program are not people who would have otherwise been held in detention, but people who could have been released under less intrusive supervision. Instead of reducing the number of detained immigrants, ISAP and other alternatives to detention have in fact increased the number of people under surveillance.
BuzzFeed News was able to document six cases across the country in which undocumented immigrants who do not appear to meet ICE's criteria for enrollment in ISAP were nonetheless enrolled in the program. Although the sample size is too small to be statistically significant, it highlights what some advocates call the capriciousness of the selection process for ISAP participants.
In one case, an undocumented immigrant from El Salvador called Sergio Flores was arrested in Los Angeles for a traffic violation. Local police held him in detention for four days — twice what is permitted by law — so that ICE could come and pick him up. Flores had no criminal record, had been in the country for several years, and had strong ties to his community — including a young son. All of those factors should have made him eligible for release without a tracker. However, ICE agents enrolled him in ISAP, asking him to wear a GPS bracelet. Flores was also asked to check in at the local B.I. office, which proved time consuming and almost cost him his job. ICE eventually agreed to remove his GPS tracker after local organizations raised awareness around Flores' case.
"It was an ugly experience," Flores told BuzzFeed News over the phone. "We are good people, we came here to work, because we have a dream. My kid would see the bracelet and say he wanted to be a robot like me. It was hard to explain to him what the bracelet actually meant."
ICE told BuzzFeed News that the agents making the determination are not given a standardized or number scale to judge the case. Instead, he or she is instructed to evaluate each undocumented immigrant using criteria that include the person's criminal record, current immigration status, length of stay in the United States, and ties to the community. Agents are also told to consider whether the migrant is a caretaker or breadwinner, whether he or she has a medical condition, and any other humanitarian concerns.
"While headquarters may provide general guidelines, ICE officers in the field make the final determination on case management and technology assignment," Bryan Cox, an ICE spokesman, wrote to BuzzFeed News in an email.
Unlike most law-enforcement agencies, such as the FBI or the New York Police Department, ICE has the legal authority to set release conditions for everyone it detains. Those conditions can include enrollment in an "alternative to detention" program such as ISAP. In most cases, however, ICE releases undocumented people either on bond or "on their own recognizance" — on a promise that they will show up to immigration court.
Statistics on court appearances are vague and tightly-held, but generally indicate most undocumented immigrants show up to immigration court. Many undocumented immigrants are also required to check in with ICE agents, or at facilities for programs like ISAP — and those rates of compliance are lower.
"ICE sometimes doesn't do a good job of explaining the difference between court and a check-in appointment," said David Bennion, a Philadelphia-based immigration attorney. "Then you add ISAP private monitoring and family court proceedings, and families can get very confused about what is going on in their cases. It is encouraging to see that most families are focusing on court, which is the most important thing."
But enrolling in programs like ISAP is entirely voluntary, an ICE spokesman pointed out to BuzzFeed News. The alternative offered to undocumented immigrants, the spokesman noted, is usually staying in detention centers.
Many of those centers are also operated by the GEO Group.